As fans begin to return to sports venues, questions abound. Even in pre-pandemic times, fans naturally have questions. Where's the best place to park? What am I allowed to bring in? Where in the stadium can I purchase a craft beer?
Throughout the COVID-19 pandemic, uncertainty only yields more questions.
"Even with limited capacity, the amount of questioning has increased because people now perceive that information is the equal of safety," says Don White, CEO of Satisfi Labs, which provides sports organizations with a unique way to answer those questions — a solution White calls "answer engines," a tool that utilizes artificial intelligence and natural language to provide a conversational response to user inquiries.
"It's in an automated database and in a conversational form," he says. "It's a high-level way for customers to access information, discover more about the brand and make direct purchases through either a chat or a voice assistant. So, whereas people go to Google, put in a question and get a bunch of results, we enable you to have that similar experience, but directly with the brand or the team that you want to talk to."
Georgia Tech has been utilizing Satisfi Labs technology to help answer fan questions for the past several years, but the tool became particularly useful in 2020. With fan attendance at Bobby Dodd Stadium in Atlanta capped at 20 percent, questions poured in.
"With the return to sports, they had a lot of information, but not a lot of people to deliver it," White says of Georgia Tech officials. "As athletic departments now have a lot of contactless payment, a lot of food delivery options, ticketing — all of these questions are flooding in."
The pandemic may help to explain the surge in fan questions, but sports teams that invest in addressing those questions could see dividends even after society emerges on the other side of COVID-19.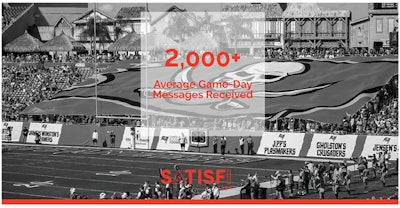 Answers anywhere
Most venues that host large events make policies available in some form, such as a frequently-asked-questions web page or subject listings filed alphabetically.
While those approaches may help, White suggests they might not provide an optimal customer experience. "Websites in general, but particularly in sports, are very challenged with having a lot of information and organizing it in an easy way," White says. "At the end of the day, I just want to ask the question: 'Can I bring a stroller to the game?' "
Those seeking answers can quickly find them with a solution such as a chatbot, which many businesses embed into websites and mobile apps for just that purpose. These solutions rely on artificial intelligence to field high-level customer questions for athletic departments, and can even help fitness and recreation facilities turn queries into sales leads.
The Satisfi Labs solution can be implemented on numerous channels. Websites and mobile apps are supported, as are SMS, WhatsApp and even popular voice assistants such as Amazon Alexa. "We want to be wherever the consumer is going already," White says. "So you don't have to download anything, you don't have to go to a certain place."
Implementation across multiple channels allows sports organizations to experiment in new areas, and potentially reach new audiences. "When they see the other [channels], they realize there might be new audiences they can touch that they hadn't perceived before," says White.

Data-driven business decisions
Sports organizations can use data captured from customers — via fan surveys, for example — to craft optimal game-day experiences, and inquiries captured by Satisfi Labs can serve as another data point.
"We've been able to use the data to predict new amenities or service options that would increase revenue or increase customer experience by saying, 'Hey, people think you should have this,' " says White.
In-venue customer support staff can use the tool to provide direct customer support and to log inquiries and capture more data.
"We want to equip employees so that if someone were to ask them a question, they could look it up themselves," White says, adding, "We still collect the data about the question they're being asked, so at least we have something, and yet they'd still be able to deliver a higher level of service."
White knows that user-generated data can help inform business decisions down the road — suggesting that if thousands of inquiries about a specific item or experience were logged, special attention could be paid to that item. "What if a thousand people asked that game-day attendant about a specific food item or ticket package or merchandise?" White asks.

Sponsorship opportunities
Sports organizations and collegiate athletic departments affected by COVID-19 are likely to seek new revenue opportunities wherever they may be available. Savvy administrators can use tools such as chatbots and answer engines to create those opportunities via sponsorship.
According to White, Satisfi Labs users can monetize the solution in a few ways: with banner placements, avatar logos and within the system-generated answers.
White describes a scenario in which the avatar representing the answer engine in a Q&A exchange belongs to a sponsor. In every interaction, users would see and interact with the brand. Leveraging sponsorship agreements within an answer to a question could help influence buying right at the point of sale.
"Since the answers are curated by the school or the team, there are a lot of opportunities," White says. "If someone asks, 'What's the best beer here?' I can really help you with that if I've got an agreement with a certain beer brand."
Interacting with artificial intelligence in the context of attending a live sporting event may not yet be mainstream, but answer engines and chatbots could be the wave of the future when it comes to providing the best possible fan experience.
---
This article originally appeared in the April 2021 issue of Athletic Business with the title "How artificial intelligence can improve the fan experience." Athletic Business is a free magazine for professionals in the athletic, fitness and recreation industry. Click here to subscribe.