In April, the Centers for Disease Control and Prevention revised its guidance around cleaning and sanitizing, noting that while it is possible to be infected with coronavirus through contact with contaminated surfaces or objects, "the risk is generally considered to be low." The CDC estimates that the chance of contracting COVID-19 through surface transmission is lower than 1 in 10,000.
With that in mind, college rec professionals have prioritized distancing as key to providing a safe environment. To that end, many departments have turned to their software providers for help, as scheduling and reservations become key to maintaining capacity limitations and managing contact tracing. Here's a look at how one technology company and a pair of campuses have implemented new software and applications as they seek to efficiently and safely resume operations.

Attack of the bots
Any kindergarten teacher will tell you that students always want to be at the head of the line. In their minds, single-file is more of a guideline than a rule. College students are apparently no different than kindergartners, and with time slots at rec centers limited, they're still looking for any way possible to cut in line.
"Now we're seeing bots," says Paul Duerden, director of sales at InnoSoft Fusion. "Schools are reporting that students are writing up code to win the registration war."
As a result, InnoSoft's latest software update will now include Captcha technology so there's a way for students who are legitimately making a reservation at the rec center to prove they're not a robot. Duerden says that this is just the latest in a string of challenges as his company tries to meet the demands of a changing landscape.
"You know, we're just trying to roll with the punches and continue to listen to feedback," he says. "It's been a huge learning process and an exercise in being fluid and able to change with what clients are telling us."
Retooling for a pandemic
Paul Duerden, director of sales at InnoSoft Fusion, which makes a widely-used recreation management platform for college rec departments, says the pandemic was reason to reassess plans for a new software update.
"A year ago, we had our development roadmap planned, and we wanted to do some things feature-wise, but then this lockdown happened and we kind of hit the pause button and waited a few weeks to try to understand what was going on," Duerden says. "After talking with clients, all the talk started shifting to what it was going to look like to reopen. So, we were kind of wondering at the time how we could help our clients and keep Fusion relevant. Because if clients can't be open and we can't support them, then what value do we bring?"
After consulting with clients and examining guidance from local, regional and national health authorities, InnoSoft decided to shelve some of its near-term plans and get to work on new features aimed at addressing their clients' immediate concerns related to COVID-19.
"Fusion wasn't set up for people to schedule visits to the facility," Duerden explains. "We had to work with our clients so that people could schedule programs and have it actually counted as a visit to the facility. On the developer side, we went to work on a three-pronged approach. What functionality can we use to help staff keep track of how many people are in the building? We added a live facility counter to the access window so they could set a limit, and we added a color dial to the access window so it changes color when you're getting to the maximum number of people in the building."
Duerden says the pandemic spurred clients to discover features that already existed but weren't widely utilized. In one instance, InnoSoft took an existing court-booking tool and reimagined it as a broader booking system so that facilities could track exactly how many people were in the building at any given time. The trick was to ensure that the tool was versatile enough to fill a variety of needs.
"Some schools were just having a cap number. And then the really big schools went to a full reservation mode. And then other schools were doing something else," Duerden explains. "It was trying to provide the right functionality for three or four different needs and different methods for tackling this problem. And it was different from state to state and school to school, depending on what they could and couldn't do. That was the real challenge — trying to just modify existing functionality to support existing workflows or just provide more information in an easier way."


Custom solutions
Jason Werle, associate director of Facilities and Operations at Penn State's Department of Campus Recreation, says the pandemic only compounded the reasons to pursue, with help from a third-party developer, a new mobile application to manage student visits and access to programming.
"From a departmental perspective, the app was something we had been interested in for a while," says Werle. "But once we started putting our plans together and looked at what campus recreation was going to look like coming back from COVID, it was really a no-brainer."
As part of the rollout, Penn State hoped its new app would aid in eliminating physical touch points upon entering and exiting the building. "The app right away was able to provide that with the barcode feature to give access to facilities," Werle says. "And at every single individual workout station or area, they can scan the barcodes to check into those locations, as well. We provided the Penn State students an option to really come in and be touchless at all points in the facility. That was really a reason to press forward quicker and get the app created from a COVID perspective."
While contactless access at the facility went a long way toward making students feel more comfortable, reliable reservations and scheduling turned out to be the most important functionality of the app.
"This was a point in time and in the progression of COVID when we didn't know as much as we know now," says Lisa Stuppy, senior associate director of Campus Recreation at Penn State. "Touch points were really important at that time, but we realized that this app was going to be important not only for facility access, but for program entry, too. The whole reservation system goes across access to facilities, but access to a yoga class could be touchless, as well."
As Penn State has reopened its recreation facilities with limited capacity, demand for those spots has risen, highlighting the need for a robust reservation system. "We will reach full capacity in less than 60 seconds," Werle says. "All of our spaces become live on the website 48 hours prior to that session. So, a Friday 2 p.m. slot will open up Wednesday at 2 p.m. By 2:01, our high-traffic, high-demand areas will already be full."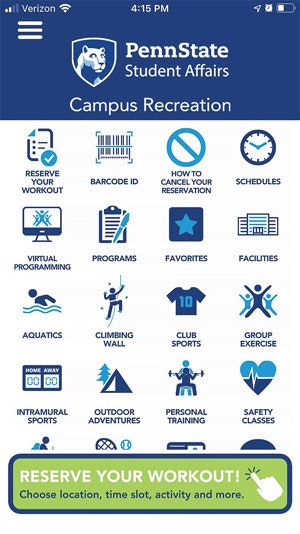 Counting heads
Beth Asfahl, associate department director at University of Minnesota Recreation and Wellness, says her department has "been through a lot in a year." Confined by state guidelines for much of 2020, Minnesota rec was closed from March 16 through July 19, after which it reopened until being closed down again Nov. 1 through Dec. 18.
"It's been challenging, because with each shutdown there's been different rules when you reopen — different capacities, different distancing rules," says Asfahl.
On April 1, Minnesota raised capacity at its facilities from 250 to 500, which has required new tracking of who is in the building, when and where — meaning visitors now have to swipe in and out. The change required outreach to ensure everyone knew about the new policies.
"We had some social media pushes to kind of inform people that they had to swipe when they exited the building, and we blocked off some of our turnstiles to kind of force people in that direction," explains Julie Faulkner, director of membership and outreach at Minnesota. "And then we had directional signage, as well."
At Penn State this type of tracking has been aided by new kiosks at entrances and exits, where students can use the new mobile application to scan a barcode. "We're now tasked with having to know who is where for contact tracing purposes," says Stuppy. "So, it is super valuable in terms of contact tracing. We have been fortunate there haven't been any outbreaks in any of our facilities or areas, and we want to continue that. But if Joe Smith was in an area, we can tell you if anyone else was in that area and when they were there. It's made our lives much easier than having to figure out how to do that without this app."

Scheduling beyond the building
Outside of scheduling the facility, the demand for virtual programming brings with it new operational challenges and opportunities. A common refrain repeated by college rec professionals in recent months is that the prompt to engage students beyond the walls of the facility during COVID has been an incredibly positive development.
"I think potentially we may have attracted some students that maybe we haven't in the past. And we certainly want to continue to engage them in what we have to offer," says Faulkner.
That kind of connection with a previously untapped segment of the student population isn't something college rec administrators want to lose when facilities fully reopen without restrictions.
Duerden adds that the pandemic brought the logistics of virtual programming to his doorstep, as well. "We're definitely interested in this virtual thing. A few things that worked well during COVID may stick around," he says. "One thing we did last summer was to include functionality so that group fitness classes could have a Zoom link embedded in there. So, if you had a yoga class, the instructor could still post the class, but then when you register, you also get a link so you can do it virtually from your home or dorm room if you want."
Duerden says esports have also required his team's attention, noting that InnoSoft's FusionIM product is now being used to run esports leagues.
At Penn State, Stuppy says that the pandemic has really helped leaders in college recreation think about engagement in new and exciting ways.
"If we can reach someone who never did a fitness class but will do it now because they're able to from their room, or maybe they've never thought of recreation because they're a gamer — esports and virtual have been booming for us," she says. "There are ways to expand that honor our traditional ways of offering recreation and welcome in a new group of people. At the end of the day, that's what we all wanted pre-COVID anyway. We always want that next group of people in our facility and engaging with us. I think it's so important for us to remember that as we welcome all of our students back on campus."
---
This article originally appeared in the May 2021 issue of Athletic Business with the title "Software helps campus rec centers schedule around COVID-19." Athletic Business is a free magazine for professionals in the athletic, fitness and recreation industry. Click here to subscribe.