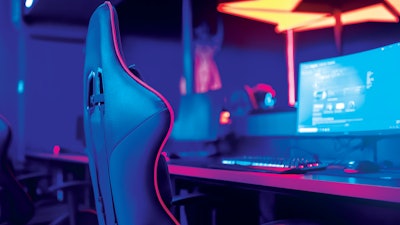 An inaugural esports experience — presented by Microsoft with the Special Olympics — took place in September, connecting hundreds of thousands of esports competitors and spectators of all abilities across the globe for a virtual, multiday tournament that organizers call the first of its kind.
"It's clear that gaming and esports are a valuable way to connect with others, compete and have fun," says Jenn Panattoni, head of the Xbox Social Impact team at Microsoft. "Many athletes will leave the tournament with new friendships, and we hope to bring this experience to more people in the future."
From Sept. 12 to 17, Special Olympics athletes competed in "Rocket League," "Madden NFL 22" and "Forza Motorsport 7" on Xbox as part of the first Gaming for Inclusion tournament. The event brought together more than 90 athletes from 16 states for a week of esports competition. More than 550,000 viewers watched, livestreaming the events on the Xbox Twitch channel and the Special Olympics YouTube channel, according to Xbox officials.
The prize was an opportunity to play alongside celebrities such as NBA All-Star Jayson Tatum, NFL legend Jamaal Charles, WNBA superstar Jewell Loyd and WWE Superstars Dominik Mysterio and Ember Moon.
The 2021 Gaming for Inclusion champions in the Rocket League tournament were Jackie Nash, Isaac Myers, Billy Seide and Evan Pikscher. Chris Santacroce and Colton Rice took home the gold in Forza Motorsport 7, and Tommy Crocco earned the Madden NFL 22 trophy.
The event wasn't only about trophies, however. Organizers say it was also about bringing awareness that virtual competition is a space for everyone.
Laying the foundation
Even before the global coronavirus pandemic put in-person competitions on hold in March 2020, the foundation for the Gaming for Inclusion tournament had been figuratively poured, Panattoni says.  
Microsoft had several years of collaboration with the Special Olympics before the two decided in 2018 to expand the partnership into gaming, creating their first esports tournament, which was held in-person. Then the pandemic hit.
"Cue 2020: traditional sports are being canceled left and right, it was a stressful time, and so Special Olympics reached out and said, 'Hey, can we do this again?' " Panattoni says. "The people at Xbox and Microsoft are so passionate about making this kind of stuff happen, so we said, 'Let's figure it out, let's see what we can do.' So we did."
Prianka Nandy, chief information and technology officer for Special Olympics, joined the organization in November 2020, months after lockdowns and Zoom meetings had become a way of life amid COVID.
"The challenge we've had with COVID specifically, it's been pretty devastating," Nandy says. "It's been devastating because our athletes are the most vulnerable in terms of their health and wellness. They just statistically have a much higher chance of having an adverse effect — or catastrophic effect — from COVID."
The Special Olympics and Microsoft collaborated on a virtual esports tournament held in May 2020 to combat the effects of loneliness and isolation brought on by the pandemic.
"I think the gaming community is one of those places where they're open, the population of the gamers can be fairly young, and getting to young people early and often is a really big win for us," Nandy says. "I'm really proud that we went down this path to look at the gaming community, and to look at ways we can engage in the gaming community that makes it fun, and inclusive, and shows our athletes in that light.
"They're amazing on the field, and they're also amazing off the field."
The 2020 event earned Microsoft a trophy, too. The company earned a Corporate Community Impact Award at the 2021 Sports Humanitarian Awards, presented by ESPN, for using its platform and the power of sport to create social change.
Power of inclusion, full circle
Panattoni says the goal of the tournaments was to make sure that esports is approachable and accessible. "We want to reach as many people to participate and play as possible because we do believe that gaming is for everyone," she adds. "And a shared mission between Special Olympics and Xbox is inclusion."
Panattoni says something that happened during the 2018 tournament illustrated the connective power that inclusive esports can bestow. A pair of competitors that year didn't know each other before they qualified together at a Microsoft store's preliminary event. Tim Dempsey, a Special Olympics esports competitor, and Nicholas Rassmusen formed a unified pair and ended up winning.
"When they won, they asked Tim, 'What was it like? What was the highlight for you?' " Panattoni recalls. "He said, 'You know, I didn't just gain a teammate, I gained a brother.' It melts my heart. But they were practicing every week. They became really good friends."
It doesn't end there, though. During the Gaming for Inclusion tournament, that connection re-emerged. Panattoni came across one video among many submitted to cheer on the competitors.
"Of course, I was checking [videos] the entire day, because it was just so heartwarming," Panattoni says. "And I actually saw a video from Nick — I think it's about a minute long. He's like, 'Hey, I was part of 2018, I was part of Team Shake and Bake' — that's what they called themselves. And he said, 'I see Tim's competing again, and Tim, I'm here for you man, I'm rooting for you.'
"It was just so heartwarming to see that it even came full circle."