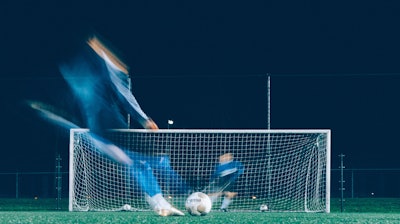 The Manchester (N.H.) School District's athletic department has been working on a five-year contract to livestream its high schools' games and matches, but concerns raised at last week's school board meeting have delayed that vote until sometime next month.
As reported by The New Hampshire Union Leader, athletic director Christine Pariseau-Telge told board members the district has been looking at installing a hard-wired camera system into local gymnasiums to broadcast games, specifically a Pixellot system. If the full school board approves the agreement before the end of the school year, Queen City athletes could appear via live feeds from each high school gym and field by next fall.
The Play On/Pixellot camera system is automated, meaning it does not require an operator or production team. It can be used indoors or outdoors with a connection to the NFHS Network, a national live streaming service. The system is used in more than 5,000 schools across the country, and by five school districts in New Hampshire.
According to Pariseau-Telge, Manchester Memorial and Central are the only two Division I NHIAA schools unable to livestream games in some manner. Many districts are charging people to view the broadcasts, Pariseau-Telge said. Fees range from $11 a month to $70 a year.
The athletic department has worked with Play On/Pixellot to provide six cameras and install them at no cost to the district, according to the Union Leader. Three of the cameras would be installed in gymnasiums at Manchester Central High School, Manchester Memorial High School and West High School. The remaining three cameras would be installed at three turf facilities: Gill Stadium, the stadium at West High School and the Clem Lemire Athletic Complex on Weston Road, near Memorial High.
"The ability to film practices and games will give our coaches and athletes another tool to assist in preparation for game play," Pariseau-Telge wrote in a memo to school board members. "Furthermore, our athletes can freely use this footage for their personal collegiate highlight videos."
Viewers can "freely watch downloaded video at any time," Pariseau-Telge wrote.
Last week, school board vice chairman Jim O'Connell said he has "a lot of questions around this contract."
"I think that it would be so beneficial, what this project would envision, parents and students and others would be able to review and watch what's going on on those fields in real time," O'Connell said. "My problem is there is a cost for this service. Parents in this city would have to pay $10.99, or $11 month. I think about the equity issue."
Subscribers can pay for one month, three months or annually.
Pariseau-Telge said that though there is a subscription fee to stream games "live" as they happen, the fee is only for livestreaming.
"Once a game is complete, that game is downloaded onto the high school website and that game is free for anyone to watch once it is downloaded," Pariseau-Telge said. "A subscription really is only for live game watching."
O'Connell also aired concerns over wording in the proposed contract he said leaves the district without any control over what advertising content is shown during video replays.
"We lose control of this video once it is taken," O'Connell said. "Six months from now or a year from now you could be sitting watching CNN, and one of our very talented players becomes a great tennis champion, and all the video of this champion and the rights to it would be owned by this company. We wouldn't own the rights to it."
O'Connell said he also had concerns over Better Business Bureau reviews for Play On/Pixellot, which claim families had trouble canceling recurring monthly subscriptions.
"I would prefer if we went back to the drawing board," O'Connell said.
Board member Peter Argeropoulos asked whether the district might face additional costs after the five-year term of the proposed contract. Board member Leslie Want said she is looking for feedback from other school districts using the system.
The proposal was sent back to the Finance and Facilities Subcommittee for discussion at its June 8 meeting, with the hope the full board will vote on the matter before the end of the month, the Union Leader reported.