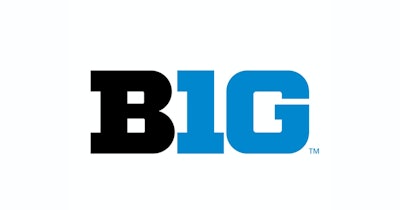 The Big Ten, on its way to becoming a 16-team conference with the addition of USC and UCLA in 2024, is ending its 40-year relationship with ESPN.
According to the Associated Press, which cited two people familiar with the negotiations, the Big Ten was looking for a seven-year deal worth $380 million per year to broadcast both football and basketball games. ESPN reportedly declined the deal.
Both sources spoke to the AP on condition of anonymity because the negotiations were not being made public.
ESPN has held television rights to Big Ten football since 1982, and the network shared football and basketball rights with Fox in the current contract, which ends in 2023.
Fox, which owns 61 percent of the Big Ten Network, will remain the conference's primary rights holder, with CBS and NBC set to join as partners, one of the people told The AP.
For $300 million per year, ESPN will be the exclusive home of the SEC under a contract begins in 2024.
"The conference continues to have productive meetings with both linear and direct-to-consumer media partners," the Big Ten said in a statement on Tuesday.
The AP reports that a new set of deal that is expected to be worth $1 billion annually to the Big Ten will be announced soon.