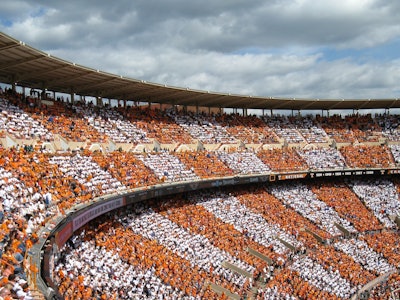 The University of Tennessee is being proactive in its implementation of a new digital ticketing platform, as officials met with fans at the stadium to answer any questions.
According to the local NBC affiliate, fans had a lot of questions after the move was announced back in July.
"Quite frankly, some of the internet connections to the stadium are not that great," he said. "So if you do not do an accurate download, or a transfer to, you know, a wallet type of app to use your tickets... if you are trying to do that outside the gate, it could be problematic."
Blake Pallansch, associate athletic director of ticket sales at UT, said the move to digital will help lines move quicker on game days at Neyland Satdium.
"We noticed pretty long lines last year and our goal is to have more folks at Neyland each and every season," he added.
The new system is also aimed at stemming ticket fraud.
"With a paper ticket, there is nothing keeping somebody from photocopying, that, selling it out on the street corner," he explained. "And, ultimately, this is a lot safer for our fans to make sure that their tickets do not get stolen."
Vols fans who do not own a smartphone won't be left out in the cold, as UT will still have staff at box offices to help get them in the game.