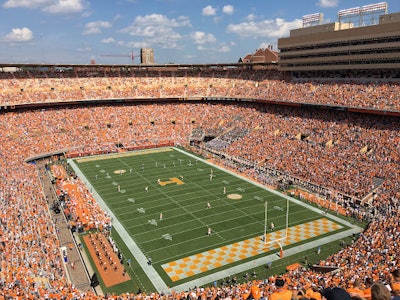 A University of Tennessee sideline reporter has been fired after social media posts from eight years ago resurfaced wherein she used the N-word.
Kasey Funderburg has reportedly stepped down after old tweets surfaced in which she allegedly used the racial slur.
Just moments before Funderburg was exposed, she had called out a Knoxville reporter for a racist joke. Reporter Richard G. West tweeted that, "Tennessee will be announcing Dark Mode for the 7pm matchup this Saturday against Kentucky. All fans will be asked to wear black clothes and paint their face all black as well."
Funderburg responded by quoting the tweet and telling fans not to fall for it, saying it would turn out to be one big blackface mess. In response, someone took the time to dig up and repost old tweets where Funderburg had used the N-word.
A Tennessee athletic department spokesperson told Knox News that she resigned from her role as a Vols sideline reporter, and Funderburg's profile page on the UT website has been deleted.
Not everyone believe Funderburg should have been fired, as a petition has been started at Vol Network to have her reinstated.
"We want Kasey to know we are here to help and want her to have her job at Vol Network back and we know what she said was wrong but she clearly has changed because she was trying to stop someone racist and we love Kasey and her work at VFL," read the petition.