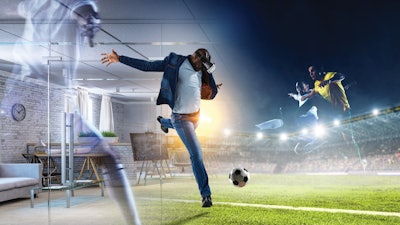 Admit it, exercise can be boring, especially if you're feeling lazy or otherwise unmotivated. That's why an entire segment of the fitness industry is working on ways to "gamify" the typical hum-drum workout, and there's good evidence that adding some fun to working up a sweat is an excellent way to get people moving their bodies.
A recent study from the University of Pennsylvania tested the effectiveness of gamification in promoting physical activity and weight loss among adults with uncontrolled type 2 diabetes. It found that gamification worked best in changing behaviors when used as a competition with others or with support from friends and family.
Myriad new products and solutions for putting the fun back in workouts have emerged in recent years, and most of them employ some type of technology to make that magic happen. Here's a look at some of the companies innovating in the arena of fitness gamification:
Blazepod
For athletes looking to improve their reaction times, BlazePod's programmable LED pods might be just the ticket. The BlazePod kit consists of light-up Pods that provide visual cues in eight different colors aimed at triggering the brain to focus, ignore distractions and react. The Pods have touch-sensors in them, and track every hit accurately. The data is fed instantly into the BlazePod app, presenting the athlete's reaction speed at every part of the drill.
According to the company, the BlazePod app offers a library of activities and customization options. Coaches can create an inherently motivating environment, combining gamification and competition with attention-capturing lights. The Pods motivate athletes in any sport by providing them with instant results.
Exergame
Exergame offers a variety of fitness gaming solutions for all ages, but the company's offering for adults is particularly intriguing. The Performance X Fitness Room is designed for group training in strength and conditioning, as well as reaction training. The built-in games in the Performance X Room are designed to make training fun. "You won't even realize that you're working out until you start breaking a sweat," the company boasts.
The modules within a Performance X Room include solutions such as Nexersys — an interactive and intelligent HITT workout that works through cardio, core, technique and strike video training, plus Avatar sparring and multiplayer/gaming rounds; Pavigym 3.0, an intelligent and interactive floor with integrated LED lights controlled by touchscreen software, enabling trainers to design and track their training sessions; and 3 Kick, which is designed with foam pads that can be punched, kicked, slapped or tapped with shoes or bare feet, a fist or an open palm. (A light is activated in the 3 Kick pad and a tone sounds, then when the pad is hit the light goes off and randomly another comes on.)
Exergame offers a host of other training modules, as well as designs for how to bring them all together into an exciting fitness environment.
Quell
Quell pairs video games with controllers that are strapped to the player's body with resistance bands. According to the company, the device turns the player's body into the controller, avoiding the need for heavy and uncomfortable virtual reality or camera equipment, and enables users to feel the impact of their movements as they run, jump and fight their way through the games.
The Shardfall game is an intense combat experience during which players battle mystical creatures that threaten the sanctity of the Sacred Forest. Quell professes a "gaming-first" approach, and says the product achieves "gym-quality exercise that covers both cardio and strength."
With different weights of resistance bands, Quell is suitable for all fitness levels and abilities. The inbuilt fitness trackers measure calories burned, heart rate and speed, and can automatically adjust the game and the workout difficulty.
MultiBall
Based on a host of software applications built specifically for its massive interactive video boards, MultiBall merges physical movement and visual gaming. Tennis players can improve accuracy by blasting spaceships with each ball hit against MultiBall's screen. Soccer players can try to get a goal past a fire-breathing dragon. With an open software development kit — or SDK — the possibilities seem endless.
The company also notes that its games can help kids stay active while learning. For example, a game might attribute points for a soccer ball connecting with the correct solution to a math equation.
MultiBall envisions its boards being installed in gyms, rec centers, hotels, schools and homes.
Stealth Fitness
For those looking to firm up their core, Stealth Fitness offers a planking platform that interacts with an app on the user's smartphone. The phone is placed in a dedicated holder on the planking platform, and the user interacts with games on the phone by shifting their weight while holding their plank. The app includes four games — Stealth Speed Gliding, Color Chase, Galaxy Adventure and Space Escape — and tracks the user's score on a real-time worldwide leaderboard.
A premium version of the app is available with new games every month.