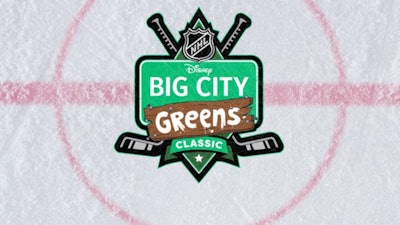 In an effort to attract a new generation of fan to professional ice hockey, the National Hockey League and Disney teamed up to animate an alternative broadcast of Tuesday night's Washington Capitals at New York Rangers game.
The "NHL Big City Greens Classic," inspired by Disney's Emmy-award winning comedy "Big City Greens," featured live, real-time volumetric animation of players and teams modeled after characters on the show.
That's a wrap on the @NHL #BigCityGreens Classic!@MikaZibanejad zipped two goals into the Washington net as the @NYRangers earned a 5-3 win in the first-ever live, animated NHL game telecast. #NHLStats: https://t.co/SCzyP8SLVQ pic.twitter.com/UOXR7Dmgh8

— NHL Public Relations (@PR_NHL) March 15, 2023
Steve Levy and Mark Messier handled the traditional broadcast of the game from Madison Square Garden, while Drew Carter and Kevin Weekes called the special broadcast. In ESPN's Studio Z this past Friday, each wore motion capture suits working to display animation and respective avatars for the simulation modeled after characters from the show.
"I really want my curiosity to be deep, my excitement for it," said Weekes, a former NHL goalie, as reported by NHL.com. "Hopefully that ends up translating into the broadcast itself because we're being transported, certainly for me, I'll be transported into a different world. And more importantly, we want to be able to transport the viewer, the listener, into a different world.
"Not only are the players the artists, but so too are the characters, and now we're going to kind of merge and integrate those two in the storytelling via the animation and via that technology."
As described by NHL.com staff writer Jon Lane, the virtual scene was Big City, where Bill Green, 10-year-old son Cricket, older sister Tilly and Gramma Alice relocate from the country town of Smalton. Cricket and Tilly were in the guise of chosen Rangers and Capitals skaters, and the starting goalies were played by Gramma Alice and another character.
Big City Greens is Disney's No. 1 animated comedy and television's No. 2 most-watched series among kids ages 6-11 from Dec. 27, 2021, to Dec. 25, 2022, according to Nielsen Media Research.
"Promotion has bred intrigue," Lane wrote Monday in advance of the groundbreaking broadcast. "While watching a tune-in spot, NHL executive vice president of business development and innovation David Lehanski wondered what viewers would be thinking. What is the first animated live NHL game? Is it a cartoon? Is it an NHL game with live animation around it?
"How is it different from the 'NFL on Nickelodeon' and ESPN's Emmy-nominated "NBA Marvel Arena of Heroes," traditional telecasts with overlays of animated characters?"
Said Lehanski, "We are airing an animated version of the Rangers-Capitals game and it's the real game. The players are moving in real time. The puck is moving in real time. It's the same game, but it's animated and it's three-dimensional. It's really cool to think about where this can go. Beyond excited about where we are, who we're doing this with and the way it's been received to date."
According to Lane's reporting, NHL Edge, the league's puck- and player-tracking technology uses 14 infrared cameras in each of the 32 NHL arenas throughout every game to track the movements of the puck and each on-ice player via sensors inside the puck and in the players' jerseys. The data generated is for teams, media and fans. Beyond Sports, an AI-based visualization company, has collaborated with the NHL for the capability to produce live games and highlights via NHL Edge data using animated character overlays for 2D and 3D environments. Motion capture is the foundation of Silver Spoon Animation, whose expertise includes live 3D graphics, character animation and visual effects (VFX) with real lighting, camera tracking and stats integration.
That technology takes the puck- and player-tracking data to recreate the game in a virtual 3D environment with animated players and camera angles.
"Washington, New York, big city, kind of ties into the theme as it is," Johanna Goldblatt, manager of programming and acquisitions at ESPN, told NHL.com. "We gave ourselves enough time to really make this special and if we're going to do this, we're going to do it the right way."
Appearing on ESPN's "Get Up" morning show Wednesday, Dan Graziano, a national NFL insider at the network, mentioned that he watched the alternative game broadcast and, despite not having Disney-aged kids, said he thought it was a cool experience and watched until the end.
The broadcast drew rave reviews elsewhere, as well, as reported by silive.com.
New York survived a late Washington rally to win the games — real and animated — 5-3.