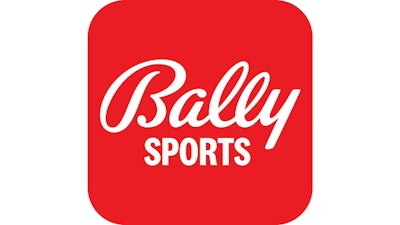 Diamond Sports Group, owner of 19 regional sports networks under the Bally Sports brand, filed for Chapter 11 bankruptcy protection on Tuesday.
The move by Diamond came after the company missed a $140 million interest payment last month. Diamond owns the network rights to 42 professional teams, including 14 baseball teams, 16 NBA teams and 12 NHL teams.
The company said it intends to continue operations through bankruptcy proceedings and that broadcast of games should not be affected.
According to the Associated Press, Diamond Sports also said it is negotiating a restructuring agreement with debt holders that will eliminate most of its debt. Under an agreement with creditors, it would become a separate company from Sinclair Broadcast Group.
"DSG will continue broadcasting games and connecting fans across the country with the sports and teams they love," Diamond Sports CEO David Preschlack said in a statement. "We look forward to working constructively with our team and league partners and all DSG stakeholders throughout this process and beyond."
Diamond said in a financial filing last fall that it had $8.67 billion in debt. Sinclair purchased the regional networks from The Walt Disney Co. for $10 billion in 2019.
Major League Baseball has set up a local media department in case it has to take over broadcasts for teams. Games would air locally via MLB Network or streamed on MLB.TV in case that happened.
"Diamond Sports Group's bankruptcy declaration today is an unfortunate development that we have been expecting. Despite Diamond's economic situation, there is every expectation that they will continue televising all games they are committed to during the bankruptcy process," MLB said in a statement late Tuesday night. "Over the long term, we will reimagine our distribution model to address the changing media climate and ultimately reach an even larger number of fans."