Before "60 Minutes" devoted two of three segments during its April 16 broadcast to artificial intelligence (that's roughly 40 minutes by our calculations) … Before Geoffrey Hinton, the "Godfather of AI," left Google shortly thereafter to warn of the dangers of a technology he helped create ("Paging Dr. Frankenstein") … Before actor/investor Ashton Kutcher told a business panel May 1 to embrace AI or risk being shuttered (and we're pretty sure he wasn't punking) … Before Hollywood screenwriters went on strike for the first time in a decade May 2, their grievances including a fear that AI-generated scripts might write their profession completely out of the picture ("The End") …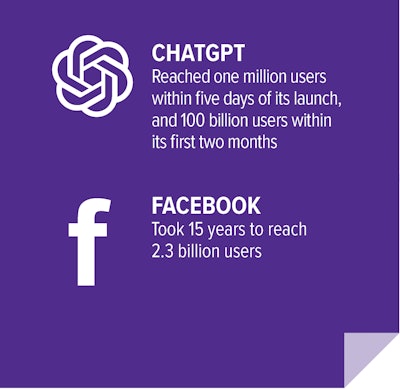 Before any of that, Athletic Business executive editor Andy Berg summoned ChatGPT — an increasingly popular AI chatbot designed to take instructions and provide a detailed response — and asked it to author a feature-length article for AB on synthetic turf in the style of senior editor Paul Steinbach. Not for publication, mind you. Just for, you know, fun! The result was sufficiently on point as to be nothing short of terrifying — for one of the two editors in particular. Your own intelligence should suffice to inform you which one.
While the AI-generated article captured Steinbach's lyrical prose to near perfection (no small feat), it didn't quite have all its facts in order, nor the perspectives of informed industry professionals.
Berg's impromptu experiment nonetheless got us to thinking (while we can still think for ourselves): What impact is AI going to have (or likely already having) on sports architecture? To find out, we went decidedly old school — we asked human beings for their opinion. Here's a sampling of what leading architects are noodling over in terms of AI and the future of their profession.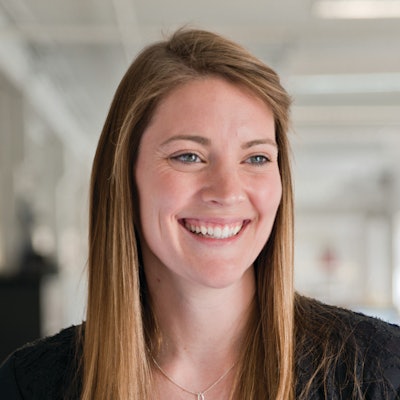 Emily Parris, senior associate, Sasaki
"When it comes to artificial intelligence, I am genuinely torn between completely fascinated and utterly terrified. I find myself back in design school seated next to an incredibly talented peer whom I am both inspired by and also forced to compete with. Until recently, I had always envisioned the concept of AI in a manner that benefitted me, 'Maybe I can get a robot to number these doors and label my drawing sheets.' More recently however, this introverted desk mate has been flashing some sophisticated design concepts and pulling from the most exotic and relevant precedent projects. It is becoming more and more clear that her interests are not in document production.
"There are going to be incredible opportunities to partner with AI moving forward. As a designer who has played competitive sports my whole life, I feel like I will always have the upper hand because I can relate to the human experience through memory and emotion, but maybe my design concepts could benefit from a first-time view of the world with endless access to case studies and examples of blended first-year imagery."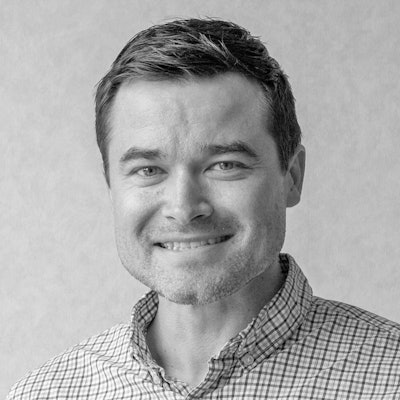 Adam Bastjan, lead designer, Kahler Slater
"While some see AI in the design world as a threat to both creative and pragmatic solutions for sports architecture, I firmly believe that technology will not replace the architect in the design process. Personally, I see AI as another tool that has the potential to complement and integrate with many other technological advances that have popped up in the industry over the last few years. Kahler Slater is already using AI 'systems' to streamline our automation efforts around repetitive production tasks, which has allowed our designers more time to focus on creating unique and memorable design solutions for our clients.
"When used in an interactive and iterative way, where the designers have full control over the narrative, AI can help them visualize space and building form in new ways. When done correctly, the overall design process can better align the goals and vision of each individual project, and create thoughtful and customized solutions that solve the challenges our clients face every day."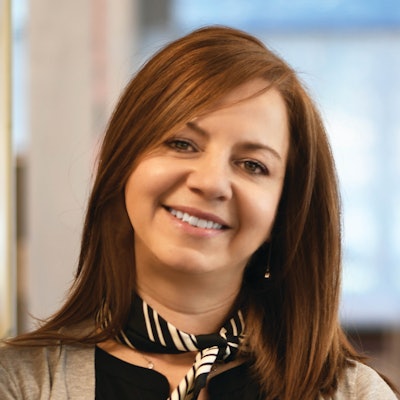 Lynn Reda, principal, Hughes Group Architects
"In my opinion, AI is exciting. While at first glance it appears to threaten our profession, over the last several hundred years, all manner of ideas and technology have 'threatened' the profession — the most recent 'threat' being computer drafting and 3D modeling. Each time, the profession has adapted and become stronger through the process.
"Good project teams require diversity of skill levels and abilities. Perhaps we don't have the same proportion of drafters to designers, and, sure, computer-aided drafting allows for far more precise documents. However, it still requires human interaction to be effective. AI responds to the inputs we give it. For example, if you ask for 'a building that evokes happiness,' the first response is a facade with a smiling emoji on it. Not exactly high design.
"The challenge for us as architects, problem-solvers and environment-shapers is to find ways to use AI that continue to improve the way we design and provide benefit to our clients. Perhaps AI can take on code compliance in a way that streamlines permit reviews. Maybe AI can provide better clash-detection, or reduce construction schedules, thereby reducing costs to owners.
"Regardless, it is imperative that we as architects embrace AI before it embraces us. It is on us to develop the skills in asking the right questions and having a dialogue with the AI, to use the tool with meaningful human revision and refinement, allowing us to become even more creative in our design solutions for every type of building we design. I see AI as an opportunity to enhance the visioning process, improve dialog and provide a new tool to explore creativity in an open-minded, innovative way."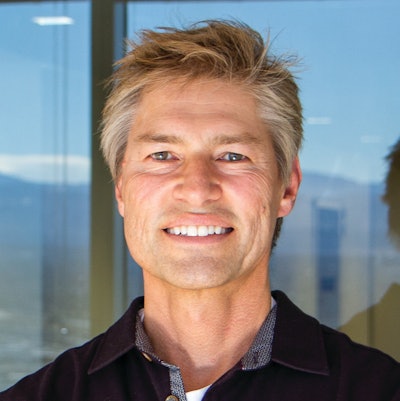 James Braam, design principal, HDR
"The ability to imagine with clients and studio teammates — asking 'what if?' — is one of our best methods of collaboration. And while it's natural to be intimidated by the unknown, we're discovering AI as a supplemental instrument to test, listen and engage with clients, even including its words to influence our sketches. Our Denver studio embraces this way of thinking. We used AI resources such as Veras and Midjourney on a natatorium project to explore this question of 'what if?' We're embracing exploration of AI and see its potential, yet ultimately, we rely upon our own skilled evaluation, intuition and design authorship to evaluate the outcome."
Viktors Jaunkalns, partner, MJMA Architecture & Design
"We hope that AI will be able to help us in a couple of key areas of design. We are faced with several overlapping issues of environmental sustainability and the need to accelerate our efforts to mitigate and adapt to climate change. Given our energy-intensive building types, we are hoping that AI will help us model the many decarbonization options of alternative energy sources, direct us in combining high-performance materials and help us in selecting building systems based on embodied carbon. Our building types are also important pieces of social infrastructure that are increasingly defined by a public engagement process. We are hoping that AI will be a research tool to analyze the collective needs of community groups and support the needs of equity-seeking indigenous and racialized communities."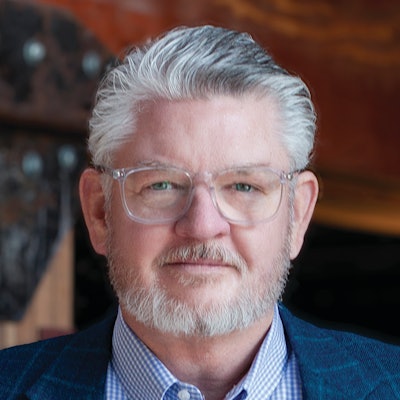 Jack Patton, principal, RDG Planning & Design
"Excitement around practical and potential application of artificial intelligence is growing rapidly in our industry of architecture, planning and design. Its direct impact on sports architecture is robust in selected parts of our design process — elevation studies, form manipulation, and translating blocking to 3D. This application of what is called augmented intelligence and augmented algorithms — kinds of AI lite, as I see them — saves time in many of our standard processes by automating the implementation of known standards and options in our designs and documents, allowing time for more detailed design and form-making the old-fashioned way. We use this data-based intelligence to crank out 100 options of a given facade, from which we pick the best and then develop only those further. Similar with stadium seating, evaluating the best sightlines and structural geometry. Powerful.
"While not yet profoundly impacting the outgoing design expressions from our firm — all new buildings in 100 mouse clicks or less, right? — the advent of ChatGPT will soon clearly change the way some of our clients and employee prospects communicate with our team.
"AI design solutions today are figments of one's imagination — a pretty picture without structure, support or integration into our real world. That will change over time. When designing with AI, most people do not understand what they just created. They know what the image looks like, but even with the image, you can't get to the real world directly from a virtual one — at least not yet.
In the current marketplace, AI tools upsize a low-res image, idea, design, building plan, etc., into a larger-format, higher-res image through a process called hallucination. The 'machine' sees a red dot next to a blue dot — think pixel — and based on the number of these colors in the area, it makes a data-based decision or interpretation for creating the new dot — well, dots, plural, as there may be millions of new pixels — in either the color red, blue or purple. Simple and logical, perhaps, but it is interpretation, not creativity. Hallucinations. Wow. Not the artist's new stroke.
"This is an exciting and intriguing time. AI is not inherently good or evil, but it can be used for either. So, for me, AI is weird, wild, wacky and maybe wonderful all at the same time."
Erik Kocher, Hastings+Chivetta ARCHITECTS
"I am a part-time futurist and have been contemplating how sports and recreation will be designed and played long after I am gone. At the moment, AI has become a hot topic in architectural firms as to whether it will improve or diminish design. Our firm has tested several available AI software programs and finds most have limited value at this time. Currently, I have not seen any AI software that relates specifically to sports and recreation design. That said, many components of a recreation center can be considered repetitious — basketball and volleyball courts, swimming pools, multipurpose rooms — so AI might eventually be used in the development of sports facilities. Of course, this entire message was created using ChatGPT."
While the individuals (real people, we assure you) whose names appear in the byline of this article admittedly launched this discussion from a mental state that could best be described as giggling past the graveyard, we are comforted to find that at least a few of the sports architects we consulted share some of our anxieties while most expressed ways to embrace AI technology, continually identifying its potential benefits to their firms, clients and profession at large. Certainly, there's comfort in reaching out to our friends in the industry and receiving conscientious and prompt, if not instantaneous, replies replete with deep thought and — dare we say — personality.