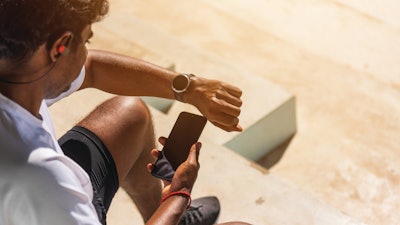 Our understanding of how the body moves, adapts and recovers continues to deepen as we collect and analyze available data. New and innovative ways for collecting that data are constantly being devised. Wearables, for instance, can track everything from heart rate and glucose levels to how high an athlete can jump. Imagine the amount of data generated when an entire professional soccer league is fitted with wearables. Indeed, it's quite substantial, which means there has to be a complementary (and very sophisticated) software component to crunch all that data and glean insights from it.
Movella is one company that's doing just that. It offers hardware in the way of sensors, as well as an AI-enabled software platform to help coaches, athletes and trainers make sense of what the body is doing and how well it's doing it, and in turn make informed adjustments to prevent injury and improve performance.
"We value this data to really power the four demands of the market," says Travis McDonough, vice president of business development for Health and Sports at Movella. "One, how do you create the stronger, the faster, the more efficient athlete? Two, how do we mitigate the escalating costs of soft tissue injuries, which are a major economic concern in health and sports? Three, how can somebody identify talent? And four, how do you amass data for all kinds of purposes?"
McDonough says that one of the problems with realizing what Movella calls the "digitization of movement" is that available data wasn't centralized, making it hard to draw any meaningful insights from that information. Part of the solution to that problem for Movella was to offer its own end-to-end hardware/software solution. "We offer both biomechanical sensors and the software solution to make sense of the data in one product offering," he says.
The end goal for Movella was to allow other companies to build innovative products on top of its hardware and software platform. McDonough calls Movella's offerings the "paintbrush and canvas" for these companies, offered at a fraction of what it would cost companies to develop such a platform themselves.
McDonough explains, "At the end of the day, our wearables are allowing the detection of very subtle biomechanical movement that is essentially not seen by the human eye and returning something that was subjective to objective measurements of movements, and allowing a wide plethora of experts to look for limitations, liabilities or capabilities in their respective fields to drive better outcomes."
Movella currently works in a number of markets, including high-performance athletics, the military, and industries looking to improve ergonomics for their workers.
"We have a lot of professional sporting teams who use our biomechanical solutions," says McDonough. "They're looking for performance, biomechanics, return-to-play rehabilitation protocols. But we're also working with large Department of Defense organizations that are using the solution to detect potential injuries before they happen — which, again, is a way for them to save a ton of costs. And we're also working to allow organizations to identify inefficiencies in the workplace for people who are in unfavorable environments as they execute their work tasks, with the goal of trying to prevent injury and in turn save a lot of money."
Here's a look at a few companies currently employing Movella's software and hardware to better understand and refine how an athlete's body moves:
Myontec
Myontec currently works with professional sports teams to monitor and analyze performance by directly measuring the muscular system through its intelligent clothing line. The company promises "new tools to truly know your muscles and get precise data for adjustments and improvement, no matter what you do or where you are." Myontec believes its muscle measurement tools will have an impact not only in elite sport and ergonomics but in everyday life, as the company also focuses on research and rehabilitation.
Exonetics
Exonetics produces a clothing line with built-in sensors that allow body movement to be analyzed in real time. Advanced algorithms then convert precise individual movement into clear, reliable data and real-time insights. Exonetics focuses on everything from return-to-play protocols to developing form, technique and strength training.
Output Sports
Output Sports' biomechanical technology provides real-time metrics such as joint angles, muscle activation, and force data during athletic movements. This data is collected through high-tech sensors and provides valuable insights for coaches and trainers to optimize performance and reduce injury risk. Through the use of Movella's technology, Output Sports users can now access and analyze Output Sports' biomechanical data within Movella's Athlete Performance Management platform, streamlining performance analysis and strengthening athlete monitoring capabilities.