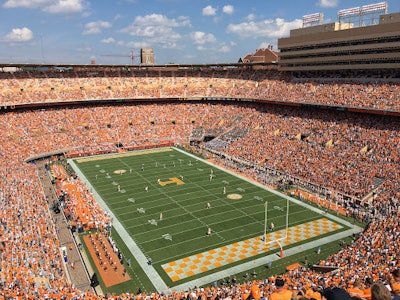 For the first time in school history, the University of Tennessee will offer a Spanish-language audio broadcast of the Vols' game against UTSA this weekend.
The broadcast will be available on the Tennessee Athletics App and UTsports.com at 4 p.m.
According to the local NBC affiliate, Carlos Lopez will handle play-by-play and will be assisted in the broadcast by VFL and former All-SEC and NFL placekicker Fuad Reveiz.
"This unique opportunity to continue to grow our fan base is exciting," said vice chancellor and director of athletics Danny White. "We have explored various models to increase Spanish broadcasts across several of our sports in future years and felt this will be a great test run to start the process and expand our Vol Nation footprint."
Lopez grew up and moved to the United States when he was 11. He grew up playing soccer, skills he employed at Seymour High School as a special teams player. Lopez earned a football scholarship as a kicker at Carson Newman College, graduating early, finishing his playing career at Middle Tennessee State University, and receiving a master's degree. He played professionally in the Arena Football League for the Tampa Bay Storm before returning to Tennessee and earning a second master's degree in World Language at Tennessee in 2015.
"I have created something special to embrace the growing Hispanic Community in Tennessee where I get to go inside UT Athletics and interview the Spanish-speaking athletes," said Lopez. "Leaving a legacy for the young Hispanic children is very important to me and I am happy I get to represent not only UT Athletics but Hispanics in our community."
Reveiz was the Vols' starting placekicker from 1981-84 and earned All-SEC honors in 1982 and second-team honors in 1984. He led the team in scoring all four years of his career and still holds the school record for field goals attempted (95) and made (71) in a career. He also has the school record for the longest field goal in UT history, a 60-yarder versus Georgia Tech in 1982.