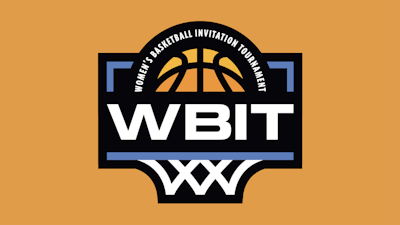 The NCAA announced the tournament format, broadcast partners, selection committee and criteria for the newly created 32-team Women's Basketball Invitation Tournament, which will be played for the first time in 2024.
WBIT games in 2024 will be played March 21 (first round), March 24 (second round) and March 28 (quarterfinals), with the highest-seeded teams hosting games. WBIT semifinal and final games will be played April 1 and 3 at Butler's historic Hinkle Fieldhouse in Indianapolis.
The WBIT and men's National Invitation Tournament semifinals and finals will both be decided at Hinkle Fieldhouse over the same week in 2024, with the men's NIT semifinals and finals played April 2 and 4. Sometimes referred to as "Indiana's basketball cathedral," Hinkle Fieldhouse will be the championship location for 2024 only, with future host sites beyond this season to be announced.
"The upcoming women's basketball season will be monumental for a number of reasons," said Lynn Holzman, NCAA vice president of women's basketball. "The addition of the 32 additional postseason opportunities provided by the WBIT is a landmark moment for the game. Now that the framework is in place for the WBIT, we are looking forward to the 2023-24 women's basketball season, which we anticipate will be compelling and competitive and will lead us into an even more exciting postseason with the talents, skills and storylines of our student-athletes and programs leading the way."
ESPN will serve as the television broadcast partner for all WBIT games, with ESPN+ being the exclusive home for all preliminary-round games. The semifinals will air on ESPNU at 2:30 p.m. and 5 p.m. Eastern time April 1, and the championship will air on ESPN2 at 7 p.m. April 3.
"ESPN's portfolio of women's basketball events has never been stronger," said Dan Ochs, ESPN director of programming and acquisitions. "Presenting the inaugural WBIT across ESPN platforms further expands ESPN and Disney's commitment to elevating women's sports and investing in the growth of women's basketball at multiple levels."
Westwood One Sports will provide radio coverage of the semifinals and finals of the WBIT to its many affiliate stations across the nation, SiriusXM Satellite Radio, and TuneIn.
"Westwood One and the NCAA have a very long history of capturing exhilarating championship moments," said Suzanne Grimes, president, Westwood One, and executive vice president corporate marketing, Cumulus Media. "Partnering with the NCAA to broadcast the WBIT semifinals and finals continues this tradition and?provides?an?exciting new slate of women's hoops games for our basketball-hungry fans."?
The 2023-24 WBIT Selection Committee consists of eight former women's basketball head coaches and administrators. The committee includes former head coaches Ceal Barry (Colorado), Brian Giorgis (Marist), Sue Guevara (Central Michigan), Bernadette Locke-Mattox (Kentucky) and Marsha Sharp (Texas Tech). Former collegiate administrators on the committee are Barbara Burke (Iowa), Kelcey Roegiers (Georgia State) and Janice Ruggiero (New Mexico). Barry, Burke and Ruggiero are all alumni of the NCAA Division I Women's Basketball Committee, while Giorgis served on the Women's Basketball Issues Committee and Roegiers on the Women's Basketball Rules Committee. A former president of the Women's Basketball Coaches Association, Sharp led Texas Tech to the 1993 national championship. Burke will serve as chair of the committee in 2023-24.
Two appointees, Barry and Ruggiero, are slated to serve on the committee for one year, while Giorgis and Guevara will serve for two years, with all four eligible for reappointment after their terms. Two appointees, Locke-Mattox and Roegiers, will serve three years through 2026, while Sharp and Burke are scheduled to serve four years, through 2027. After these initial appointments, all future appointments will be for four years.
The principles and procedures for establishing the bracket are available, with the full document available on the WBIT website at ncaa.com/wbit. The regular-season champion of any NCAA Division I conference (as determined by the conference's tiebreaking protocol) not otherwise selected for the NCAA Division I Women's Basketball Championship will secure an automatic qualification invitation to the WBIT. Like the Division I tournament committee, the WBIT Selection Committee will use a variety of resources to determine the participating teams.
The WBIT is owned and funded by the NCAA. Combined, the WBIT and the 68-team NCAA Division I Women's Basketball Championship will provide 100 postseason NCAA-funded opportunities for Division I women's basketball teams.