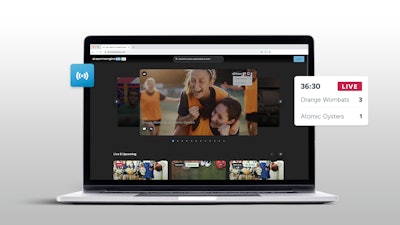 NBC Sports Next announced today the launch of SportsEngine Play, a new subscription-based streaming service for capturing and viewing live and on-demand video of youth and amateur sporting events.
While SportsEngine Play delivers live and on-demand streaming of youth and amateur sporting events on a variety of devices, the service also offers video editing tools, so teams can create their own highlight reels. NBC is also focused on building a collection of player development and training content, including instructional videos from athletes such as Michael Phelps, Larry Fitzgerald, Shaun White, Maria Sharapova, Kerri Walsh Jennings, and Justin Jefferson, among others.
"We're thrilled to introduce SportsEngine Play to the more than 30,000 youth sports organizations and the millions of players and families we serve through our NBC Sports Next technology platforms and applications," said Brett MacKinnon, senior vice president and general manager, Youth and Recreational Sports, NBC Sports Next. "Given our sports and media DNA, we're uniquely positioned to deliver this product to the sports community – a preeminent streaming platform for all youth and amateur sports, with personalized video content, the best instructional and player development videos, and much more to come as we continue to grow."
Part of NBC Sports Next's roadmap includes plans to launch a SportsEngine Play connected TV streaming app in 2024, providing athletes and their families with an additional way to view content at home.
HOW IT WORKS
Video streaming through SportsEngine Play can originate from a variety of camera sources, ranging from a personal phone with video capabilities to autonomous cameras professionally installed at sporting venues. To date, more than 90 cameras have been installed at more than 85 sporting venues – numbers that will continue to grow as more organizations join the platform. Hundreds of hours of live and on-demand streaming content (are being or have been) captured on SportsEngine Play already, representing major participation sports, including football, basketball, baseball, hockey, volleyball, soccer, and lacrosse, but also additional sports like cheer, dance, figure skating, gymnastics, and martial arts. SportsEngine Play customers range from National Governing Bodies of sport to major club programs to individual teams.
NBC Sports Next is also building client branded SportsEngine Play platforms for its partner organizations. For its recently established relationship with Frisco Independent School District, one of the largest districts in Texas, NBC Sports Next launched a Frisco Sports Live web portal powered by SportsEngine Play, which will stream approximately 4,000 sporting events for the district's 12 high schools and 18 middle schools during the school year.
"Frisco ISD is excited that the achievements of its students will be showcased on NBC Sports Next's SportsEngine Play," Frisco ISD Athletic Director Jerry Littlejohn said. "The quality of the video is outstanding and it adds to the experience of participants, families and fans throughout the district and beyond."
SUBSCRIPTION TIERS
For a limited time, SportsEngine Play is offering its subscription plans – Free, Premier and All Access – with introductory discount pricing:
Free plan enables users to capture and view live-streamed content.
Premier plan includes live streaming and on-demand viewing of game replays, plus access to editing tools to create highlight videos. $9.99 monthly/$79.99 annual (20% discount)
All Access plan includes all live and on-demand streaming, editing tools, plus access to hundreds of hours of expertly produced sports content, including player development videos, instructional content from world-class athletes and organizations, access to premier amateur sports competitions, and more. $9.99 monthly/$79.99 annual (60% discount)
FEATURED IN THE ALL ACCESS PLAN
In addition to live and on-demand event streaming, SportsEngine Play's All Access subscription offers a growing library of video content that provides young athletes and their families with everything they need to know about their sports of choice, from rules and equipment to training and skills to mental health, fitness and more. The plan features exclusive instructional videos from world-class athletes like Michael Phelps, Larry Fitzgerald, Shaun White, Kerri Walsh Jennings, and others, who offer video collections featuring tips and techniques highlighting their training regimens, as well insight on leadership and mental health.
"It's a powerful thing to create opportunities to learn, grow and inspire within a deserving community, such as youth sports," Walsh Jennings said. "I'm proud of the work my fellow champions and I have created with The Pros and so happy our content has found such a great home. My goal is to forever inspire and empower as many people as I can, and this partnership will allow for great and positive impact."
Other premier video content on SportsEngine Play will be offered from National Governing Bodies of sport like USA Hockey, major clubs like Diamond Allegiance baseball, and leading industry voices like the U.S. Anti-Doping Agency's TrueSport program. SportsEngine Play is constantly adding new content to the platform, even acquiring streaming rights to elite amateur sports competition that will entertain and inspire young athletes.