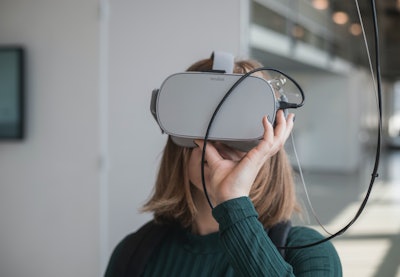 The Emory Sports Performance And Research Center (SPARC) has received a $4.5 million grant from the Arthur M. Blank Family Foundation to establish the Georgia Initiative for Virtual Reality, Education and Sport program. The school-based program will leverage virtual reality technology and disseminate scientific discoveries from EMORY SPARC to reduce injury risk in young athletes and improve their game performance.
"Our foundation has a long history of supporting youth athletics," says Fay Twersky, president of the Arthur M. Blank Family Foundation in a statement. "We're pleased to fund this innovative initiative from the EMORY SPARC and GIVES programs that will bring more equitable access to state-of-the-art injury prevention for young athletes, enhancing both their physical and mental well-being."
Designed to be fun and engaging, state-of-the-art VR technology will help youth and high school athletes train effectively for their sports while learning to play safely. Data collected through the platform will inform targeted treatments after injury and support safer return-to-play decision making.
"We will be able to train our student athletes using technology that is similar to what professional athletes use," says Jimmy Lawler, athletic director at Flowery Branch High School. "The excitement around VR will not only help our students enjoy the benefits of injury-free physical activity and sport but will also position them for new career paths in science and technology."
In the long term, organizers of the GIVES program expect the exercise-based VR methods to foster excitement for physical activity and sports participation more broadly. Their goal is to help athletes play well and stay well, ultimately enhancing the lives of Georgia youth through sport-related injury prevention.
"Research shows participation in athletics not only improves health and well-being, but also builds character and resilience," says Ravi Thadhani, MD, MPH, executive vice president for health affairs at Emory University and executive director of Emory's Woodruff Health Sciences Center. "We believe the youth who take part in this program will make meaningful lifestyle changes that improve lifelong mental and physical health."
Collaboration between the Arthur M. Blank Family Foundation, Emory SPARC and Georgia high schools will make this unique program scalable and sustainable. The Blank Family Foundation will subsidize start-up and equipment costs. Emory SPARC research staff and outreach teams will develop and deploy the GIVES program. Physical education teachers, administrators, coaches, and STEM (science, technology, engineering and math) facilitators will support the program's implementation with the involvement of work-based learning students who will engage with existing high school curricula and sports programs.
Rollout is expected to begin this fall in Hall County, home of IBM Performance Field, the Atlanta Falcons practice facility, with additional metro Atlanta-area schools to follow.
"As leaders in discovering new methods for injury prevention and school outreach care for athletes we are committed to helping youth throughout Georgia achieve their best ability in sports," says Scott D. Boden, MD, chair of the Department of Orthopaedics at Emory University School of Medicine and Chief Strategy Officer for Emory Healthcare. "This starts with improving availability of knowledge gained from injury prevention research. We are most excited with this program's potential to uniquely engage school districts that are underserved and have limited access to these types of technologies or resources."