No, the behemoth, whimsical Gathering Place in Tulsa, Okla., is not an amusement park.
"There's amusing things, and there's a level of interaction that's more intense than your typical park, for sure," says Matthew Urbanski, partner at landscape architecture firm Michael Van Valkenburgh Associates. "But I think the fact that it's a park, and it has a lot of passive beauty, and beautiful horticulture, and more of the things that you find in your typical park than Disneyland has set it apart."
The park space is something else.
It's a land-water meeting of the city of Tulsa and the east bank of the Arkansas River, a crossroads of public and private, and an intensively designed open public landscape built to bring diverse communities together to explore and play.

'Thousands and thousands of ideas'
The idea for a park began in 2008 with Tulsan-born oil-and-banking businessman and philanthropist George B. Kaiser, of Kaiser-Francis Oil Co., and his family foundation. He wanted to create a welcoming, natural space that appeals to all Tulsans.
MVVA won the design competition for the park and joined the project, embarking on a two-year design process that involved gathering input from the community before finalizing creative ideas and plans. Residents of Tulsa — Oklahoma's second-largest city at a population of 400,000 — provided plenty of input.
"We had literally thousands and thousands of ideas for how the park could be used, and we classified all of those and did an analysis," says Jeff Stava, of the Tulsa Community Foundation and the George Kaiser Family Foundation, who helped helm the Gathering Place project. "A lot of the ideas were multiple ideas, like a yoga lawn, a driving range, a Frisbee golf course. We basically took all of those program ideas and then we segmented them. We did an analysis of the community and what was there, and then really tried to pick the things that were unique and different and special, and that would make the Gathering Place kind of an attraction that was unlike anything else we had."
The Gathering Place features about 20 special zones — what MVVA calls "landscaped rooms" — across the sprawling park, ranging from places to read to places to skate.
Now in its second of three construction phases, the park opened in September 2018 with 65 acres, six million gallons of water, 80 tree species and extensive trails throughout and around the venue. Eventually, the Gathering Place will span 100 acres, about the same size as Disneyland. But unlike Disneyland, visiting the Gathering Place is free (though there are optional costs for retail, food and beverage).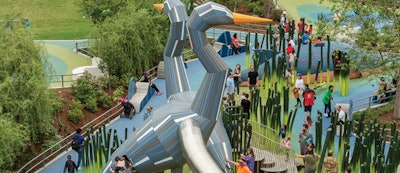 Designing a place for everyone
Stava says user groups were formed to help inform the design and better understand how the features would be used. For example, the skate and bike park was created with the help of California Skateparks, which visited Tulsa and held a charrette with about 40 young skateboarders and BMXers.
"It was super fun, and the kids kind of got to design, and the California Skatepark folks were 'California' and super cool," Stava says. "So, we just did that with every single feature. We had user groups and designers and people that were involved all along the process to help us make sure what we were designing would be workable and functional, and that people would like it."
The multiuse sport courts can be adjusted for basketball, volleyball, street hockey or street soccer by changing out some of the equipment.
The designers also received input on playgrounds from safety specialists and outdoor nature play experts. Stava describes cutting-edge playground experiences designed to push kids to take chances while still engaging in a safe environment.
"We have a lot of tactical, fun, educational things, like a whole sensory garden where kids can make music, or they can jump up and down and make certain sounds," Stava says. There's also a big water column in which visitors can create a tornado by turning a crank. The water play area has a confluence of sand and water and is a great place for visitors to cool off, but it's also an educational experience in which children can move mechanized sand loaders and turn big water wheels.
Stava describes a teeter totter at the top of the hill that creates water spray out of fountains, which he says promotes teamwork and communication.
"Because if you stop teeter-tottering, then the water stops," he says. "All the kids are like, 'Hey, I wanna take a turn!' So they're just going to promote gathering and communicating and teamwork. And really, almost every feature has some sort of teaching moment that's included with it. It's not just passive play, it's active play."
A variety of experiences means the Gathering Place isn't a destination that residents visit once and leave having seen it all.
"There are hundreds of different experiences you can have at the park, even if you only have, say, 20 or 30 minutes," Stava says. "Whether it's in the wetland garden area, or maybe it's walking the perimeter path, maybe just walking up Four Seasons pathway, up into the Sky Garden, but you can have a moment — an experience — that's just a 20- or 30-minute experience."
Designing a place to attract all Tulsans also meant considering what elements would draw people from their neighborhoods.
"Another thing that we were thinking about a lot was what's appropriate for Tulsa, in terms of a park," says Urbanski. "Because if you look at Tulsa, it's really a city that's got a lot of single-family houses with yards in them already, so you wonder, 'Well, what's going to attract people to a public landscape?' That's one reason why the park is a kind of large public garden, instead of your kind of typical park with more, and larger, program spaces. It's rather intensively designed, in terms of even just horticultural display. People can go there and actually walk through the park and get ideas about their own garden."


Nurturing nostalgia
Another lofty idea behind the grand park: To create something lasting, and nurture a sentimental yearning and attachment to the public space.
"The foundation's ambitions were to create a place that will actually generate nostalgic memories in children and really make them have a strong connection to Tulsa," Urbanski says. "Therefore, when they grow up and have kids, they actually want to raise their families there and have a shared experience like they did when they were kids. I thought that was a really interesting idea: How can we make this a kind of magical place that kids remember?"
And there have already been plenty of memories made. The Tulsa World reported the park had more than 300,000 visitors during its first month, which included about 55,000 on its opening weekend alone.
Now in its third year, Stava says the park has between 4,000 and 8,000 visitors during weekdays, and weekends bring bigger numbers, usually starting around 8,000. An event or special program can draw 25,000 attendees. Eco-Counters along all of the main pathways in and out of the park let officials know the in-park attendance at any moment, as well as the total daily attendance.
"It's really the kind of experience that you can come and just be in a certain area, and then come another time and be in another area, and have a completely different experience," Stava says. "And I think that's why our attendance is just so high, because people can literally have a different type of experience every time they come."


The big challenge of parks: funding
The idea of creating an enduring public good is not a new one.
Urbanski points to steel industrialist Andrew Carnegie's effort at the turn of the 20th century to build free-to-the-people libraries across the United States and in Europe. Carnegie built more than 1,600 libraries in the U.S., spending $55 million on the philanthropic effort.
"To me, that was an amazing attempt by somebody who had made a lot of money to create this kind of civic permanence in something that was a great thing, a great asset for a city to be proud of," Urbanski says. "It seems to me like almost the equivalent of Andrew Carnegie's libraries on a different scale, and satisfying a need that our society has. Because we have gathering places, but many times, they're for separate communities. They're not for everyone across the city."
Through collaboration with more than 80 corporate and philanthropic organizations, the Gathering Place is a privately funded park. The George Kaiser Foundation raised a $100 million endowment, and the park keeps within the endowment budget to operate.
Stava says the price tag on the Gathering Place is about $465 million: The $100 million endowment, plus about $60 million in the form of public infrastructure — mostly around and through the site — and the main Riverside Drive Road had to be rebuilt. The park itself was around $250 million, the land was $50 million, and the annual operating budget is between $6 million and $7.5 million.
"They set up an endowment that would yield the interest to operate the Gathering Place annually. A big, huge endowment," Urbanski says. "That's probably the most important thing, because in the history of park-making, no matter how expensive a park is to make, sometimes communities come up with the money for it. But what they don't come up with is the money to keep it clean, to keep it repaired, to keep it up. And then also to run all the fun, engaging programs that you can have."

While Urbanski highlights the funding formula as one element that has made the Gathering Place a success, Stava adds that including the input from the people they'd hoped would gather at their unique and sprawling riverfront park was also essential.
"That's what I think has been the secret success," Stava says. "We really listened to the community and we really wanted to make it a place for everyone, and it really has turned into that."
Gathering places aplenty
The Gathering Place is (so far) 65 acres dotted with amenities, including:
Williams Lodge: An iconic building offering restrooms, cafés, educational activity rooms and indoor lounge spaces with eclectic furnishings.
Peggy's Pond: A body of water in the heart of the park providing visual landscape diversity and recreational opportunities.
Mist Mountain: The site of numerous water play features, including water cannons, jets of water, mist areas and interactive water fountains.
Chapman Adventure Playground: A five-acre kingdom in which kids can explore the playground's signature towers, slides, climbing features, play gardens, a sand lot and water areas.
QuickTrip Great Lawn: One of the park's three lawns — along with Riverview Lawn and Lakeview Lawn — that serve as large, multifunctional spaces suitable for concerts, picnics, Frisbee, reading and relaxing.
ONEOK Boathouse: A social hot spot, with restaurant and educational spaces, as well as a launch for paddle boats, kayaks and canoes on Peggy's Pond.
Swing Hill: The park's highest elevation (at 56 feet above Peggy's Pond) affords unobstructed views of downtown Tulsa, as well as a swing experience that gives visitors the sensation of flying.
Williford Four Seasons Garden: An area providing a place to rest out of the summer sun as it artfully celebrates the native landscape, including 1,000 linear feet of rock towers.
Skate Park: An adrenaline-filled area that is immaculately lit in the evening to provide a safe experience for skateboarders.
Sport Courts: Five, fully lit courts accommodate basketball, volleyball, street soccer and street hockey.
---
This article originally appeared in the September 2021 issue of Athletic Business with the title "How Tusla Brought Its Free Waterfront 'Gathering Place' to Life" Athletic Business is a free magazine for professionals in the athletic, fitness and recreation industry. Click here to subscribe.