An Endangered Owl Spurs Debate Surrounding A City's Passive and Active Recreation Spaces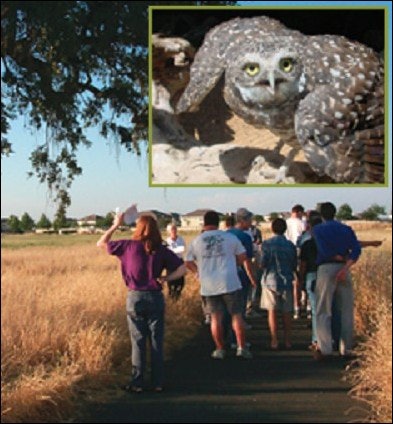 The practice of acquiring urban open space is far from new for many municipalities, but it is one that city officials in Davis, Calif., pride themselves upon. They tout the city's ability to maintain its small-town atmosphere and serene landscape, thanks largely to ambitious efforts to increase the amount of open space within city limits. More than 2,500 acres were acquired between 1988 and 1998.
Unfortunately for city leaders, those efforts have failed to please all of Davis' 62,000 residents. Some still say that acquiring open space has done very little to address the city's dire need for more active recreation facilities. Davis suffers from a shortage of baseball, softball and soccer fields, in particular - a detriment to any community, but even more so for a city like this. "Anyone familiar with Davis will note that it is a city very into recreational sports and activities," says Donna Silva, the city's director of parks and community services. "There is a strong push for athletic facilities."
Not everyone enjoys active recreation, though, and according to Silva, some residents simply prefer "to be outside amid the trees, in a more passive setting." Enter Mace Ranch Park, which is little more than a children's playground on five acres of land. Ever since construction began on homes in the Mace Ranch neighborhood several years ago, the park has been slated for expansion into a 15acre community park to serve a host of residents on Davis' east side. Originally, Mace Ranch Park's development was to include a soccer field, a baseball diamond, a basketball court, a 5,000-square foot community center and two acres of buffered wildlife area.
Those plans were put on hold, however, when a number of local environmentalists raised concerns over the fate of another group of area inhabitants: a colony of 15 to 20 burrowing owls listed on the California Department of Wildlife's threatened species list. The owls have made their home in Mace Ranch for years, and are a sentimental favorite with many residents. "People love them; they're very cute," says city councilwoman Sue Greenwald. "Those of us who live near them have made the observation that they're pretty flexible guys, as long as they have holes to nest in.
Although there's concern about how many can survive with limited foraging area. They've been seen perching on people's mailboxes, looking for things to eat."
Thus the dilemma for Davis officials has become even more challenging as residents take sides, each lobbying for either a passive or active recreation-based community park. Those in favor of an active park have suggested providing a habitat for the owls on land farther away from residential development. Of course, environmentalists say relocating the owls isn't as simple as moving them to another parcel of land. Meanwhile, Davis Mayor Susie Boyd says that even if the park were developed as a nature preserve, biologists can't ensure the owls would remain in Mace Ranch. "The park is surrounded by development," she says. "The owls won't stay there because it's too close to residential housing. It's not good for the owls, and it's not fair to our children to deprive them of sufficient recreation fields."
Despite its diverse makeup - Davis is also home to a 26,000-student University of California campus - officials have been successful in satisfying the interests of both active and passive recreation enthusiasts in at least one case. At Northstar Park - nestled along Davis' northern fringes - active sports participants are able to use two full-size soccer fields. On the opposite end of the park, residents can enjoy a drainage basin that has been turned into a scenic pond and grazing area for waterfowl migrating from Canada.
City officials are hoping that a similar solution will work in Mace Ranch. In February, a third alternative for the park's development was introduced, a compromise plan that sacrifices the baseball field and reduces the size of the soccer field, creating an even split of the 10 undeveloped acres for each type of recreational use. An environmental impact review was ordered for the option in March (studies are already available for the first two plans), but no final decision has been made as to the type of park Mace Ranch will be. According to Greenwald, there are even more options to be considered.
"There's an undeveloped school site and an undeveloped retail site that flank one end of the park," she says of approximately 17 acres of land that sit directly to the north and east of Mace Ranch Park. The Davis Joint Unified School District, which owns the northern parcel of eight acres, plans to build an elementary school there within the next three years, while a private developer hopes to construct a shopping center plaza on the 8.6-acre parcel to the east of Mace Ranch Park. "These sites have potential because there are some agreements that might change," Greenwald continues. "There's potential to renegotiate with the developer about the retail site. As far as the school site is concerned, we could negotiate to share athletic fields."
If all else should fail, the latter choice might be the best the council can do to satisfy Mace Ranch residents for the time being. Talk has circulated of the possibility of constructing a much larger sports complex on the outskirts of town, where residents might be less concerned with such issues as disturbing the owl habitat, artificial-light pollution and traffic flow. Ideally, says Greenwald, the city could partner with the school district to acquire the approximately 80 acres of land located less than a mile away from the Mace Ranch site. The district plans to use 40 acres to build an expandable junior high school campus, and according to Greenwald, is open to providing the city access to the remaining 40 acres for recreational use. However, all of this is contingent upon the school district's decision to buy the property, a one- or two-year-long process for which Davis city officials don't have the luxury of waiting.
Mace Ranch residents have been waiting longer than that for their promised community park. Upon building their homes, residents were required to pay into a bond called "Mello-roos," the nickname for the local funding mechanism by which new development infrastructure expenses are paid. The Mello-roos fund has paid the tab for the park's first phase of construction, and money still exists to finish the park - regardless of its type. Now, with the March passage of Measure D - a parcel tax levy providing $1.3 million in park maintenance funds - neighborhood residents feel justified in clamoring for some sort of decisive action from their civic leaders.
As recently as February, Davis city council members met informally at the Mace Ranch Park site, discussing the benefits and drawbacks of each of the three plans. Approximately 30 community members attended, as well, offering their input without restraint. "It's interesting to note that the residents surrounding the area are adamantly committed to an active recreation park," says Boyd. "The president of the Mace Ranch Neighborhood Association approached me with a survey that they had sent out. It got a 30 percent return, and out of that number, 84 percent were very supportive of an active recreation park."
Silva says that as the issue gains attention, other Davis residents should also be given the opportunity to speak their minds. "It's a community park, so it should be something that receives input from across the city," she says. "But oftentimes, the people who are residents around that park will have the loudest voices."
A decision from the city council is expected sometime this month. However, in April, the council welcomed two newly elected members, a change that is expected to ultimately affect Mace Ranch Park's fate. "Based on casual conversations that I heard at the park meeting in February, it sounded like one council member wanted a passive park, one member wanted an active park and the rest of them were settling for something in between," Silva says. "But with the new council coming in, that could all change."