Youth League Coach Fights for Better Programs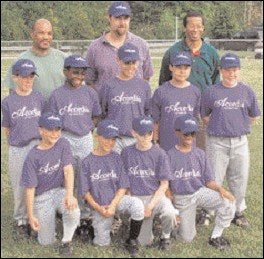 Two of Steve Allison's sons, aged 10 and 8, were all-stars this summer in a baseball league cosponsored by the South Buncombe Recreation and Athletics Association and the Asheville (N.C.) Parks and Recreation Department. Allison was supposed to have the honor of coaching them but couldn't, either because he is - take your pick - a virtuous caretaker or a libelous troublemaker. Whichever - in June, Allison says he was approached on the field by a group of league commissioners and fired from coaching in the league, threatened with a lawsuit for slander and told if he didn't leave the premises he'd be given a police escort.
Reached for comment, Jeff Joyce, athletic director of Asheville Parks and Recreation, denies this, seems to admit it and then denies it again. "It was not done during a game out in public," Joyce asserts. Asked how the firing was handled, he adds, "I don't know exactly how it was communicated to him. They suspended him from coaching, and because of some of the things that he had done, yes, they said that if there were any further instances, they would call the police and have him removed from the park if that's what it took. To my knowledge, nothing like that has taken place."
If any clearer explanation exists, Alan Medlock, the commissioner who carried out the execution, isn't the person to ask. "That's a private issue and I'm not at liberty to discuss it at all," he says.
Whether public or private, Allison's dismissal was brought about by what at the time seemed rather innocuous. Inspired by Fred Engh's book, Why Johnny Hates Sports: Why Organized Sports Are Failing Our Children and What We Can Do About It, and having long heard parents gripe about real and imagined systemic problems in the administration of youth sports, Allison printed up and began distributing, at the game in question, a letter asking parents to share their local youth-sports experiences. "Tell me the good, the bad, the ugly about your Asheville and Buncombe County youth sports experiences," the letter states. "Is your child having fun? Do they leave practices and games motivated and feeling good about themselves? Were you satisfied as a parent?"
Ricky Butler, the league commissioner who Allison says delivered the on-field lawsuit threat, insists the letter is only one of a handful of reasons for Allison's dismissal. Still, the letter is what seems to rankle him the most. "The literature accused our league of cheating, abusing kids, misappropriation of funds, things like that," he says. "The second paragraph starts, 'cheating, lying, poor sportsmanship, special privileges, favoritism, underhanded manipulation, misappropriation of funds, humiliation, degradation, undermining competitive integrity and modeling poor character.' The first sentence of the letter says, 'This youth sports organization...' It's implied."
Allison says the commissioners are seeing what they want to see in his letter. Certainly, they're misreading it. The letter actually begins, "Dear Parents, Did you and your child enjoy your involvement with this youth sports organization? Do you think that your child benefited, mentally and physically? Did you think that the coaches, commissioners, board members and parents of this youth sports organization kept a healthy perspective on promoting physical fitness, good character, and fun? Your responses to these questions will help me in my effort to ensure that local youth sports organizations are doing everything possible to utilize the potential of sports and recreation activities to teach lasting values and good character to our children while they exercise and have fun!"
Butler says the letter's implications emphasize what Allison has stated, out of print, to league commissioners and other parents - a claim Allison doesn't deny.
"Actual behaviors I'd seen in my community were described in the books and articles I read," Allison says. "I'd seen a lot of unethical adult behaviors in all the sports my kids played. I thought these are things that maybe happen impulsively or naturally, and we need to heighten awareness of it. I wanted feedback about what people were seeing, to use the power of the group to give voice to some of those concerns and have us refocus ourselves so that we're not doing damage to kids."
Allison continues to work with kids (he's a full-time drug counselor), but doesn't know yet how he'll be spending his free time this fall and winter. As parents and friends dropped by his house or called him in the weeks after his dismissal to voice their support, he wondered whether he'll also be barred from coaching football or basketball.
"It was sort of a nebulous goal that I had," he says. "I wanted to maybe start a newsletter or something about youth sports. I didn't have any definite plans. I thought that maybe we're missing our potential to teach kids some important life lessons. But this - the whole thing was really bizarre. I mean, I thought this was America."