Action sports have permeated the mainstream, prompting facility operators and programmers to accommodate a new generation of recreation enthusiasts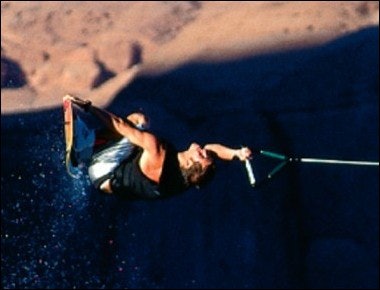 Visible were a number of mainstream companies and brands - Warner Bros., Jeep, Taco Bell, Mountain Dew, Right Guard, Reese's, Sony - all lending their names to a made-for-TV sporting event featuring sports that, until recently, were far outside the boundaries of mainstream culture.
With its eighth installment the Winter X Games - a weeklong tournament featuring competitions in a variety of action sports including snowboarding, skiing and motocross - has finally caught the eye of Madison Avenue moguls. This isn't to say that the Games are threatening to dethrone well-entrenched televised events such as the Super Bowl (40 companies paid $140 million for commercial airtime during this year's game) or March Madness (an estimated 140 million viewers tuned in to the recently concluded NCAA Tournament's 77 hours of programming).
Yet given the fact that Disney's ESPN (which owns the Winter X Games and its summertime counterpart, the X Games) garnered anywhere from $1 million to $2 million per commercial ad, and had an audience of more than 530,000 U.S. households (a 30 percent increase over last year), observers of the action sports industry contend that the event is making inroads into previously exclusive territory.
"Networks understand that they have to change or become stagnant," says Rufus Frost, chief operating officer and co-founder of Aura360, a Portland, Maine-based action sports marketing firm. "They're competing for the next generation of consumers and viewers. Now all of them are starting to address these sports."
According to Board-Trac, a market research company that tracks consumer purchasing habits within the waveriding (surfing and bodyboarding), skateboarding and snowboarding market segments, action sports have the potential to be huge moneymakers. Last year, 25.8 million participants spent $12.8 billion on waveriding, skateboarding and snowboarding combined. "This isn't everyone who put a toe on a board, or who bought a Quiksilver shirt," says Marie Case, Board-Trac's managing director. "These are active participants."
Reports from American Sports Data Inc. suggest that the number of action sports participants, particularly among preteens and adolescents, is on the rise. For example, from 1998 to 2003, the number of wakeboarders increased 49 percent, from 3.1 to 3.4 million. Paintball participation jumped 66 percent during the same period, from 7.7 million participants to 9.8 million. Also, last year there were 84 percent more people trying indoor rock climbing than there were in 1998. Meanwhile, participation levels for traditional team sports such as basketball and baseball remained flat. "Participation levels are going to increase," says Rob Gracie, co-founder and chairman of the International Action Sports Alliance, a nonprofit organization whose purpose is to market the talents and protect the interests of action sports athletes. "Action sports are not going away."
"These things happen every so often," says Frost of the action sports phenomenon. "And it really takes a while for people to understand that it's not a fad."
Sports and recreation facility operators and programmers are just now beginning to understand. The transition skate park boom of the late 1990s notwithstanding, there remains a dearth of action sports facilities and programs at both the high school and college levels, as well as within municipal recreation departments. "We have a long way to go. You can find a lot of programs that haven't changed since the dark ages," admits George Graham, president of the National Association for Sport & Physical Education. "But you can also find programmers who are willingly bringing in these extreme sports."
Doing so, however, can be tricky, especially if facility operators fail to make an effort to understand the action sports culture and why it is so eagerly embraced by its enthusiasts. "The term 'extreme' came from skiing. But there's nothing extreme about these sports; that's a mainstream term," says Gracie, adding that "action sports" is a more accurate label. "If you're a core person, you don't call these sports 'extreme.' That's what we're trying to teach these Fortune 500 companies."
"There's still that Hollywood stigma that we all talk like, 'Yeah, dude!' and that we're all a bunch of stoners. My friends and I see that stuff and laugh. It's corny," says Rob Dyrdek, a professional skateboarder and founder of the Rob Dyrdek/DC Shoes Skate Plaza Foundation. "Skateboarding is more about showing individuality and style than winning. To me, there's a place for competition, but not in skateboarding. In the Midwest, where I grew up, they pump organized sports down your throat. Because I was more of an individual, I was drawn to skateboarding."
That said, trying to develop action sports programs using the same models proven to be successful with team sports (think youth soccer or Little League baseball) will likely turn off members of the target audience. "There are definitely ways to do this wrong," says Frost. "These kids are defining themselves on their own terms. Whenever you introduce rules and governing bodies, the sports probably lose some of their appeal."
It's also important to appreciate that not all action sports are alike. Depending on the source, there are as many as 20 distinct action sports, from BMX biking to mountainboarding to paintball to kiteboarding. "I don't like the whole packaging of 'extreme sports,' " says Dyrdek. "How is skateboarding, in any way, like inline skating?"
There are even two styles of skateboarding: transition - which utilizes bowls, twists and other manufactured embankments - and street, which involves performing maneuvers on common urban obstacles such as curbs, stairs, handrails and planters. Because public skate parks built over the past decade cater primarily to transition skateboarders, Dyrdek's nonprofit foundation is working to develop partnerships with municipal governments to build what he calls "skate plazas," which are essentially replicated urban streetscapes. "Transition skateboarders make up a very small part of all skateboarders," says Dyrdek, citing a Board-Trac survey reporting that 78 percent of 13 million skateboarders identify themselves as street skaters. "At the beginning of the skate park boom, we didn't really care that these parks were for transition skating. At least there was someplace to skate. But now cities make it illegal to skate anywhere but a skate park."
Through his foundation, Dyrdek hopes to convince municipal government leaders of the need for street skateboarding facilities nationwide. Dyrdek has already found a sympathetic ear in his hometown of Kettering, Ohio, where construction on what is believed to be the first true skate plaza in the country is under way. The Dyrdek foundation contributed half of the $500,000 cost of construction, which is expected to wrap up late this fall.
The 39,000-square-foot facility - which Dyrdek and a team of architects redesigned to feature less concrete and metal elements and more landscaping - is intended to serve a variety of user groups, in addition to street skateboarders. "That was my selling point," he says. "By making it multiuse, the city will also have a beautiful park at which it can hold special events."
It's also hoped that street skateboarders will appreciate the plaza's separate areas for novice and experienced riders. Mary Beth Thaman, Kettering's parks and recreation director, expects her department will host clinics at the skate plaza, but believes that most facility users will end up learning from each other. "I think it's great that these kids are so creative and independent, yet they also have a cooperative spirit and share trick ideas," she says. "They are very respectful of each other, and it's something we need to recognize, although I think most of my colleagues do."
Perceptions of action sports participants are changing in Palm Bay, Fla., where as recently as last year paintball enthusiasts - many of them teenagers - were ostracized and punished for playing pickup games in backyards and empty lots. But that's all in the past, at least now that the Palm Bay Parks and Recreation Department has struck up a partnership with a local business last fall to create a 15-acre paintball park. "Before, people were calling these kids hoodlums and accusing them of tearing up public property," says Julio Bustamante, Palm Bay's senior recreation leader. "We've provided a safe, affordable alternative to what was considered to be renegade play."
The city of Palm Bay's Hurricane Paintball Park is only open on weekend days, during which customers have a choice of participating in two styles of games: 20- to 30-minute scenarios (such as "Capture the Flag") and speedball, in which players play tag on a 50-yard field with few hiding places. "Those games go so quickly, they run closer to two or three minutes," says Bustamante.
Because the paintball park gets as many as 200 visitors each day, the Palm Bay recreation staff does its best to provide ample supervision. All games are monitored by four or five contracted officials who are aided on the field by a cadre of as many as 15 volunteer referees. The volunteer referee program allows individuals who can't afford the admission fee ($7.50 for an all-day kids' pass, $12 for adults) to volunteer to referee either a morning or an afternoon shift, and then play one shift for free.
To avoid potential conflicts between players and volunteers, the park's contracted officials meet with all volunteer referees before their shift. "Our officials are really good at explaining to the volunteer refs how to work the games," says Bustamante. "The most common problem is kids forgetting to put on their helmet strap. Instead of just yelling at them, our volunteers are pulling people aside who forget and explaining to them why they need their safety strap."
Should someone get injured, the recreation department is protected on several fronts - first, by a citywide insurance policy, and second, by an insurance policy it purchased through the National Paintball Association. "Liability was not an issue," insists Palm Bay recreation director Steve Riser.
Education is critical, though. Rules on safety and etiquette are especially emphasized during Hurricane Paintball Park's clinics and day camps. "Close to 80 percent of our customers are teens. We're trying to teach them good sportsmanship," says Bustamante, adding that the park's emphasis on safety has quelled the fears of once-leery parents. "We invited the moms who initially said they weren't comfortable with this whole thing to come with their kids to watch. The second time they came, they were saying, 'This is wonderful.' And by the third time, they were out there playing with their kids."
Bustamante says that getting parents involved with their kids' recreation activity, albeit one often portrayed in a negative light, has helped the Palm Bay community embrace action sports. City officials are now contemplating building an off-road park to accommodate either motocross or BMX racing.
Funding for that project could be made possible by the paintball park's receipts. "We've been pleasantly surprised by the amount of revenue generated by the facility," says Riser. "We're using the excess revenue to improve the park and other programs."
Charlie Fagan, director of recreation for the city of Golden, Colo., knows all about the revenue-generating abilities of action sports facilities. It has been more than six years since the opening of his city's Clear Creek Whitewater Park, an 800-foot-long course that traverses downtown Golden and accommodates kayaking, canoeing and inner-tubing.
Over a three-year period, the whitewater park was credited with attracting an estimated 45,000 users and creating an economic impact of $23 million, most of that coming from special events held at the park. Local retail businesses have received much of that windfall (to protect itself under recreational immunity, the city doesn't charge for access to the park), but the rec department does get a percentage of fees charged by businesses that offer kayaking lessons in Golden's city pool. "I knew there were a few kayakers in our area," says Fagan. "But now it seems like every other car has a kayak on top."
Beginners generally frequent the whitewater park in the spring, when its water level is at its lowest. Fagan reports that as the water gets higher and more challenging, more-experienced kayakers take over the course while novices observe from the banks. Also watching are an untold number of spectators. "This park has led to increased foot traffic downtown," says Fagan. "It's amazing how many people enjoy it."
It remains to be seen how many visitors will descend upon secluded Garrett County, Md., where officials with the nonprofit organization Adventure Sports Center International (ASCI), Garrett College and D.C. Development are partnering to develop a multimillion-dollar adventure sports complex that is being envisioned as the future national headquarters for action sports. "There are something like 26 million people who live within a day's drive of here," says ASCI executive director Eric Urfer of the complex, which is less than 200 miles from such major cities as Pittsburgh, Baltimore and Washington, D.C. "It's going to be wildly diverse."
The project's first phase, which breaks ground next month at a cost of $10 million, will feature a 600-seat outdoor amphitheater and the nation's first recirculating whitewater course. At 1,000 feet in length, the course is designed to be versatile enough to accommodate qualifying events for Olympic-caliber kayakers as well as family rafting trips.
Expected to begin construction in summer 2005, the second phase will add an athletic and recreation center to be jointly operated by the county and Garrett College, an outdoor rockclimbing venue, an adventure sports museum and hall of fame, 550 acres of trails, lodging, shops, restaurants and ASCI's headquarters. Urfer has even extended the invitation to other action sports organizations to join the campus. "We'll construct additional office space just for that reason," he says. "I would love for folks to base their headquarters with us."
Whether any of the myriad organizations involved in action sports will take ASCI up on its offer is unknown, especially considering that the industry remains largely untamed. "It's like herding cats," says the International Action Sports Alliance's Gracie. "Part of the reason is because of existing governing bodies and associations. But not all sports have them. And then other sports have multiple governing bodies."
"The groups that are trying to organize action sports are part of an interesting development," adds Aura360's Frost. "The business side of action sports has been highly unregulated. While athletes are looking to strengthen their rights, companies see that they are highly marketable. One camp thinks it's best to leave things unregulated, while another camp thinks it's time to get this going."
Where the industry goes - or for that matter, which action sports will last and which ones will fade into history - no one can say for sure at this point. While it appears that board sports such as skateboarding and snowboarding have found their niche audiences and that water sports like kayaking are poised for major growth, other activities like mountainboarding (a hybrid of skateboarding and mountain biking in which long boards are outfitted with all-terrain tires) remain mired in obscurity. Perhaps that is because, at least at this juncture, the popularity of action sports seems directly tied to their representation in the media. "It's incredibly hard to pinpoint," says Frost. "The people who run the X Games continue to concentrate on sports that make for good TV. The ones that don't - although they aren't necessarily failures - go on to live their lives elsewhere."
Perhaps those less-popular action sports can survive within the enclaves of sports and recreation facilities. After all, consider the success certain lesser-known sports have had in college intramural programs (see "The Unusual Suspects," April, p. 59). But there's a significant difference between those activities and action sports, says Frost. "The attractiveness of action sports is that it's part recreation, part grassroots," he says. "Part of the appeal of the sports is going where you shouldn't go. The minute you rope off areas, add rules and say, 'This is where you go after school,' the activities lose their appeal."
That said, should sports and recreation professionals hold off on developing action sports facilities and programs? "I don't think that's the answer, either," says Frost, emphasizing that, at this stage, the best thing facility operators can do is keep an open mind to the possibility of incorporating action sports - in spite of any anxieties they may have about doing so. "The danger for adults is trying to make too much sense of it. In time, we'll probably look back and think that all this concern was unnecessary."