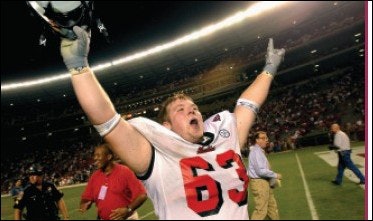 Schedule posters hang in the Fresno State football offices, their handwritten game scores serving as a historical record of the program's success under eighth-year coach Pat Hill. They're also visual evidence for prospective recruits of Hill's scheduling philosophy: "If you want to be considered among the best, you have to play the best - even if the odds are stacked against you."
Since 2001, Hill has become the media's poster boy for aggressive scheduling. That season, Fresno State, a member of the mid-major Western Athletic Conference, toppled a non-conference lineup that included Colorado, Oregon State and Wisconsin. And while subsequent marquee opponents have included Oregon, Tennessee and Oklahoma, other teams among the nation's Goliaths have begun to dodge David's slingshot. Michigan opted not to sign a contract to host Fresno State in 2002. Texas Tech exercised a buyout clause that same season. Oklahoma State, due to visit Fresno in 2003 as part of a home-and-home commitment, reneged.
Moreover, Fresno State thought it was going to renew a rivalry with Colorado State this season, but the Rams managed to slip into an Oct. 2 opening at USC - a date on the defending national champion Trojans' schedule Hill had lobbied for himself. Fresno State will instead host Division I-AA Portland State that day. "It's getting harder and harder to get games," says Hill, who has taken his teams on the road seven times in each of the past three seasons.
Getting teams to commit to specific dates and mutually satisfying matchups has become an increasingly complex exercise these days, with mid-major schools and conferences trying to gain national respect, members of the six major conferences looking to protect their elite status, and broadcast and cable television networks plugging in games at a four-night-per-week pace.
As a result, considerations both financial and competitive must be carefully weighed. "If you have the opportunity to play Saturday one week and then Thursday night the next, you want to make sure your opponent is up against equal constraints in terms of preparation," says collegiate sports consultant Bill Carr, a former athletic director at the Universities of Florida and Houston.
Other considerations include whether the arrangement will involve a single game, a home-and-home exchange or a two-for-one series spread over three seasons. Complicating matters further, the scheduling process - largely because of sports television's fickle nature - has become much more time-compressed. It's no longer the norm for non-conference dates to be cast in stone five or more years in advance, but rather two years out. Flexibility is key. Earlier this year, the University of Notre Dame (which, as an independent, plays at least 11 non-conference games each season) moved its away game against Brigham Young University from Oct. 30 to Sept. 4 as a tune-up for its home opener against Michigan, which also will have a game under its belt when the rivals meet Sept. 11 in South Bend. The switch, which gives the Irish two weeks to prepare for a Nov. 6 trip to Tennessee, required months of phone calls (and in some cases reprinting of tickets and schedule cards) among a number of affected schools, including USC (which was originally set to host BYU on Sept. 4), Stanford, Nevada and San Diego State. To help seal the deal, Notre Dame agreed to host the latter two schools (both Mountain West Conference members) sometime before 2010.
Some look at the BYU move as heralding a necessary paradigm shift for Notre Dame - one that might eventually unburden the school of its traditionally brutal schedule. According to The Sporting News, Notre Dame heads into the 2004 season with the fifth toughest schedule in the country. By comparison, USC's schedule ranks 32nd. Meanwhile, the debate pitting those Irish fans favoring a lighter load against traditionalists embracing tough rivalries rages on. (As Blue and Gold Illustrated columnist Pete Sampson wrote in July, "No one prints 'Strength of Schedule National Champion' T-shirts.") Says associate athletic director John Heisler, "We've spent the past year working through this, and we're still trying to figure out what we want to do relative to our future schedules. Just 10 years ago, we finished 6-4-1 and played in the Fiesta Bowl. Today, 6-4-1 isn't going to get you anywhere near the Fiesta Bowl."
Notre Dame must also consider the interests of NBC, which is under contract to televise every Irish home game through 2010. Only time will tell whether a national audience eagerly embraces a Nevada-at-Notre Dame matchup.
TV's influence aside, selecting non-conference opposition is often a philosophical reflection of the athletic director, the coach, the school or the conference in which the team competes. Northern Illinois University has essentially suspended the scheduling of non-conference games until its search for a new athletic director is complete. Kansas State head football coach Bill Snyder has defended his program's climb to national prominence amid critics' complaints that it came on the backs of weak non-conference opponents. "I feel like I know what's best for the program," Snyder told The New York Times last August, before the Wildcats outscored their first four non-conference foes (including three Division I-AA teams), 176-54. They then fell to Marshall of the MidAmerican Conference, 27-7, recovered from an 0-2 Big 12 start and won the conference championship.
"Basically, the only way a team like Kansas State can schedule is to schedule down," says Joe Novak, head football coach at Northern Illinois, another MAC member. "We're at the other end of the spectrum. We can't schedule down, unless it's against I-AA teams."
"Sometimes you're looking for a guaranteed win," Carr says. "If you play in a tough conference and you've already got two non-conference games scheduled against tough teams, you're not looking to play the best team in the country in that remaining game. You want to play a team that allows you to maintain your level of preparation and emotion, but not wear you out."
Carr adds that soft scheduling often amounts to buying wins, since the host school typically guarantees large payouts to the visiting underdogs. In fact, the latter school may equate a visit to a venue such as 101,568-seat Ohio Stadium as its "bowl" game. The upside for the underdog becomes virtually immeasurable should it pull an upset. Last season, Northern Illinois received $450,000 for traveling to then No. 21 Alabama, but it brought home something much more valuable: a 19-16 victory. That, combined with quality home wins over Maryland and Iowa State, garnered a Top 20 ranking and the nation's attention. "The Tuesday before we played Iowa State, we had 25 media people at practice," recalls Mike Korcek, an NIU alum and 31year veteran of the school's sports information department. "There were years when we didn't have 25 people at media day. Northern had never achieved this kind of notoriety. It was just phenomenal."
Over the decades, NIU has taken its nonconference lumps against the likes of Nebraska, Miami of Florida, West Virginia and seven of the 11 teams now competing in the Big Ten Conference. From 1996 to 1998, the Huskies lost 23 straight games under Novak. "People were lining up to play us. Now, no one wants to play us," Korcek says, adding that Nevada-Reno, Louisiana Tech and Temple were among schools that refused invitations to play at Northern Illinois in 2004. Only a trip to Northwestern has been penciled onto next year's schedule.
As Korcek assembled NIU's football media guide this spring, he was reminded of the team's bittersweet 10-2 season - one that included victories over three schools representing conferences that are guaranteed berths in the now five postseason games that make up the Bowl Championship Series, but not a single bid from any of the 24 non-BCS bowls. "Was Northern Illinois going to be in a Jan. 1 bowl? No," Korcek says. "But we should have been in something."
On July 15, BCS officials announced still more changes to the formula used to compile BCS standings and ultimately produce a national championship matchup between the two highest-ranked teams. No longer will strength of schedule, team record and quality wins be factored separately. Rather, the new rankings assume that these measures will sufficiently influence the Associated Press and USA Today/ESPN polls, which, along with a combination of computer rankings, now carry equal weight within the formula.
What impact, if any, this latest BCS tweak might have on the future of non-conference scheduling is unclear. Most likely, coaches will continue to take their own philosophical approaches to best prepare their teams to compete at the highest level. "Here at Fresno State, our thoughts are that if we play a great schedule and go undefeated, we can get to one of these BCS games," says Hill. "That should be the goal of every coach in Division I football. If that's your goal, then you must play a schedule that warrants you being there."