An Indiana school adopts a university-style fund-raising system and gains impressive results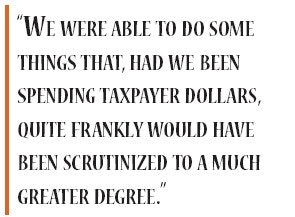 As a former high school athletic director, Vince Bertrand knows a thing or two about raising money. But none of his experiences prepared the principal of Jefferson High School in Lafayette, Ind., for the massive fund-raising campaign that would result in the newly christened $4.75 million, 6,000-seat John B. Scheumann Stadium. Featuring a $250,000 scoreboard with instant replay capability, a synthetic-turf field and a 10-lane all-weather track, the multipurpose stadium was financed entirely by private donations. Additionally, a $3.5 million, 20,000-square-foot athletic center is expected to open next fall and will house a press box and locker, weight and training rooms.
With its five-year "Build the Future" campaign - which draws on relationships the school has cultivated during its 92-year connection to the community - Jefferson High has essentially adopted the traditional university-based concept of soliciting alumni donations, thus freeing up existing money for academic needs that otherwise would have gone to, say, replace rotting bleachers. Plus, because taxpayer dollars weren't involved, the school didn't have to settle for the lowest project bidders.
"There's a paradigm shift here," Bertrand says. "Schools usually say, 'We're a taxing unit, and if we can raise taxes to do something, why not do it? Why go to alumni? Why ask for private contributions?' By going with private contributions, we were able to build a stadium that we couldn't have built with tax dollars, anyway - not only because of the magnitude of the campaign but also because of the features of the stadium. We were able to do some things that, had we been spending taxpayer dollars, quite frankly would have been scrutinized to a much greater degree."
That was the case about 100 miles southeast of Lafayette, in Franklin, where residents in August were incensed when Central High School opened the gates to its new $4.3 million football stadium, which has already earned the nickname "Taj Mahal," thanks to a brick facade and a two-story press box. "When you have nine portable classrooms, did the money need to be spent on a stadium that grand?" Franklin resident Kasie Foster asked The Indianapolis Star. "I'd rather pay high taxes for better academics for my child than for better athletic facilities."
In Lafayette, taxpayers will get both. The Build the Future campaign proposes not only donation-funded capital-improvement projects through 2008, but also new strategies to enhance curriculum, staff, resources, community partnerships and technology. As of September, it had already yielded more than $12 million in donations toward the stadium, the athletic center and an $8.75 million performing arts facility slated to open in fall 2006. All told, the current phases of the Build the Future capital-projects campaign require more than $16 million in contributions. That required figure could nearly double if Jefferson administrators move forward with other planned building projects.
The school chose to kick off its campaign with the new stadium, "because we felt it would be something very visible, something that people could get excited about and that people would support," Bertrand says. "To do that, we had to come up with a concept that made sense to people."
Jefferson officials didn't have a dime when they began drafting the Build the Future plan back in 2002, a year after Bertram's arrival at the school. All they had was a worn-out, 1960s-era natural-grass field, a cramped 9 1 / 2 -by-23-foot press box and wooden bleachers that were so deteriorated that the school's insurance company was on the brink of canceling its policy.
"We had nothing," Bertram says. "But we talked to a lot of people to make sure we had the support in place to allow us to move forward, and we felt very comfortable about doing that."
School administrators put together a committee of business-savvy community members (including at least one person active in fund-raising for Ball State University) to work out the details - which included building a facility open to groups outside of the school's athletic department. Bertrand stresses that planners spent a great deal of time designing a multipurpose stadium that would prove ideal for events as diverse as elementary school football games, high school track meets and soccer matches, and statewide band competitions. "We wanted it to be, for a particular event on a given night, a facility strictly for that purpose," he says.
That's why, for example, the words "Lafayette" and "Jefferson" run horizontally across the middle of the field rather than vertically in the end zones. "We didn't want lettering going through our soccer boxes," Bertrand says.
"My biggest challenge was educating everyone on what we were trying to do, from both a fund-raising and a design perspective," says Maurie Denney, Jefferson's athletic director, who not only serves as Bertrand's right-hand man but who also acts as a project manager, working with contractors and architects on a daily basis. "During preliminary meetings, my football, soccer and track coaches were looking at me like I was crazy."
Once the school went public with its Build the Future plans, securing donations was easy. Witness the contribution of Scheumann, the Jefferson alum and Indianapolis businessman who donated $3.5 million to the cause and got his name on the stadium. "The first lesson I learned was that if you're doing something that people like, they're going to get involved," Denney says. "I had gone and asked a guy for $1,500 for radio advertising to help broadcast our games, and he told me that considering how bad the economy was, he just didn't think he could do it. Yet, when we started doing this, he jumped on with a $100,000 donation. Apparently, radio advertising wasn't as important to him."
Other contributions came via four deceased booster club members who requested before their deaths that memorials be made to the Build the Future fund, a gesture that resulted in at least a couple thousand dollars. And although donation denominations officially begin at $100 for a brick, community members have been giving whatever they can. "I had one retired guy give me $10," Denney recalls. "I can't put his name on anything, but he came in here one day and said, 'I just want to help out. I don't have much but here you go.' That's pretty neat."
Not everybody, however, was so gracious. "Some people didn't want to give any money, because they feel the project should have been paid for with tax money," Denney says, admitting the damned-if-you-do, damned-if-you-don't position in which the school found itself. "That was just a good excuse for why they were saying 'no' to our request for money. Our response to that is, where would the universities be if they didn't have private donations?"
Indeed, Jefferson's fund-raising model has drawn comparisons to nearby Purdue University, which has set a goal of raising $1.3 billion in donations by 2007. "I think there are opportunities at all high schools to tap into private resources and alumni - although perhaps not to the same extent," Bertrand says. "Then there will be schools that will go well beyond what we're doing. I think there's a wonderful opportunity there."
"If you had said to me two-and-a-half years ago, 'Hey, I think we ought to go out and raise $16 million to build some new facilities at Jefferson High School,' I probably would have laughed at you," Denney adds. "Not every community has somebody like John Scheumann, who can give you three-and-a-half million dollars. But even without his money, we've raised $8 million."