At 10,200 feet, every sport is a winter sport for students at Lake County High School in Leadville, Colo.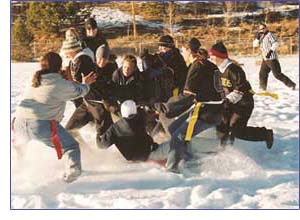 Friday, Aug. 26, dawned bright and, it would seem, seasonable by Leadville, Colo., standards. Brad Plackemeier, Lake County High School's new athletic director and dean of its 315 students, sat in his office looking out at the state's two tallest mountains, 14,433-foot Mount Elbert and 14,421-foot Mount Massive, which were dusted by new snow above the timber line. "It's about 40 degrees right now," Plackemeier said. "It's not too bad." Not too bad at all, considering that his predecessor in the job, Rick Ince, got snowed on when he interviewed at the school back in August 1974.
It's all a part of life at 10,200 feet, a statistic that makes Leadville North America's highest incorporated town. Just 1,000 feet below timber line, Leadville's thin air makes it a town of stark contrasts. Bread won't rise and water won't boil -- but on the plus side, mosquitoes have trouble staying airborne. Football officials sometimes have to be driven the hundred yards separating the field from the school's locker room at halftime, and players get so winded that oxygen masks are a sideline staple. But as the cross-country team's numerous state titles suggest, the school's athletes have used the thin air to their advantage.
And then there's the snow. Leadville typically gets 250 to 300 inches of the stuff every year, from the first day of school all the way to commencement exercises. The ski team is the biggest beneficiary, winning many alpine and cross-country state titles, but the other sports squads walk a harder trail. The baseball team plays all road games and practices on an asphalt parking lot -- weather permitting. The golf team has access to the continent's highest-elevation golf course but, as with most years, it has no home events this fall. The football field usually must be plowed before games -- and usually just before game time, meaning that practices take place in the snow. The track team does most of its practicing and competing on the middle school's indoor, three-lane track, since the high school's outdoor track stays snow-covered most of the year. The Class 2A football playoffs begin with a play-in game, with Lake County High playing host in odd-numbered years; this year's contest is slated for Oct. 29. "We're anticipating we'll be getting the plow out," Plackemeier says.
The weather sounds like a burdensome draw, but Plackemeier is bringing to the job a lot of enthusiasm as he waits to see just how bad a 10-month-long winter can get. A former Kansas City high school coach, he had just one year under his belt in the Castle Rock, Colo., school system before he took the Lake County job. Back in K.C., he stressed strength and conditioning to his athletes, and says he sees a lot of potential up in the mountains.
"We have a great weight-training facility, and we're going to use it," Plackemeier says. "In Kansas City, we had a comprehensive weight-training program, and our core athletes were bigger, faster and stronger than those at a lot of the other schools we played. That was a huge advantage. When we get that in place here, combined with the geographical advantage we have living up high, I think that's going to make a big difference."