A world-class swimmer, a court rules, is no different from any other athlete.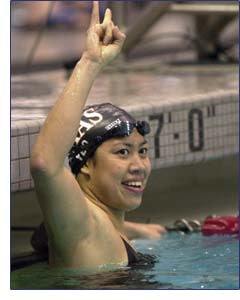 As a general rule, state and federal courts are reluctant to interfere with any rule or regulation governing athletic associations in which membership is voluntary. The traditional reasoning behind such reticence is that it is assumed by courts that if a complainant does not like or agree with a particular rule, he or she (or they) can always leave the organization.
As with all rules, however, there are exceptions. For example, state and federal courts are willing to provide judicial oversight and intervene when they deem that the rules or regulations of an athletic association violate constitutional law or public policy, or are enforced in an arbitrary or capricious manner. When to intervene and overturn the rules, however, is not always clear to the courts.
A good example of this challenge is National Collegiate Athletic Association v. Yeo [48 Tex. Sup. J. 1016 (2005)]. As highlighted once before in this space [see "Over Their Heads," Nov. 2003, p. 24], Joscelin Yeo was a world-class swimmer who had gained considerable fame in the Republic of Singapore based on her swimming talent. As a result, Yeo was offered a scholarship to attend the University of California at Berkeley, where she won numerous All-American awards and was a member of a world record-setting relay team in 1999.
In the spring of 2000, Michael Walker, the coach of the Cal-Berkeley swim team who was also the coach of the Singapore Olympic team, accepted a coaching position at the University of Texas. In order to continue training with Walker, Yeo, who was preparing to compete in the 2000 Summer Olympics, transferred to Texas. Under NCAA rules, however, any athlete who transfers from one four-year institution to another must fulfill a residency requirement of one full academic year before he or she can participate in athletics. As a result, Yeo was declared ineligible for the 2000-01 academic year. (Under NCAA rules, Cal-Berkeley could have, but refused, to waive the residency requirement.)
During the fall semester of 2000, in order to train and compete in the Olympics, Yeo enrolled at Texas as a part-time student. In the spring of 2001, Yeo enrolled full-time at Texas and did not compete in any NCAA events. Both Yeo and the University of Texas mistakenly believed that Yeo's first semester had counted toward satisfying the association's restriction and that she was free to engage in competition beginning in the fall semester of 2001. However, after complaints were lodged by Cal-Berkeley and Texas failed in several attempts to comply with NCAA rules, Texas was told that Yeo would have to sit out, among other meets, the 2002 NCAA women's swimming and diving championships.
Texas immediately appealed the decision to the NCAA Student-Athlete Reinstatement Committee (SARC), and a hearing was scheduled for the next day. For the first time, Texas told Yeo of the problem and advised her simply to plead for sympathy. She did, but at the conclusion of the hearing, the SARC upheld the NCAA penalty.
At this point, Texas recommended to Yeo that she seek independent legal counsel. With the help of her new attorney, Yeo was able to gain a waiver of the residency requirement from Cal-Berkeley. The NCAA, however, refused to review its determination or adjust the penalty, claiming that the newly acquired waiver did not satisfy the threshold requirements for reconsideration by the committee.
Concerned that if she were suddenly declared ineligible it would harm her reputation as an athlete, Yeo filed a lawsuit against the University of Texas. In the suit, Yeo claimed that the school violated her due-process rights by failing to provide her with notice and adequate procedural safeguards in approaching her eligibility difficulties. With the NCAA championships just days away, Yeo sought and was awarded a temporary restraining order allowing her to compete in the championship meet.
Although the case seemed moot (since Yeo was allowed to compete and in the meantime graduated from the University of Texas, ending her college swimming career), it was allowed to wend its way through the courts because the injunction prevented the NCAA from imposing retroactive sanctions. Citing the due-process clause of the Texas Constitution, the trial court ruled that the University of Texas had denied Yeo her procedural due-process rights, thereby depriving her of protected liberty and property interests. As a result, the court permanently enjoined the university from declaring her ineligible in the future without affording her due process, and from punishing her for participating in past competitions.
On appeal, the Texas Court of Appeals, in NCAA v. Yeo [114 S.W.3d 584 (2003)], ruled that because Yeo's athletic reputation was established before she began competing under NCAA regulations, she had a constitutionally protected interest in extracurricular participation. In particular, the court noted that Yeo had competed in two Olympic Games before attending college, and had been named sportswoman of the year and served as the Olympic flag bearer for her native Singapore. Therefore, the Court of Appeals ruled, the interest Yeo was trying to protect was not her right to participate in intercollegiate athletics generally, but rather the right to protect her reputation and good name.
The NCAA and the University of Texas argued that no matter what an athlete's reputation, extracurricular activities were a privilege, not a constitutionally protected right, and appealed to the Texas Supreme Court. While Yeo acknowledged that under the Texas Constitution students do not have a constitutionally protected interest in participating in extracurricular activities, she argued that, because of her unique reputation and earning potential, she was entitled to notice and a meaningful hearing before NCAA rules were applied to her. In particular, Yeo argued that if she were disqualified from competing in the championship meet, people would have suspected that it was for her own misconduct and not as a result of the University of Texas' mistakes in attempting to comply with NCAA rules. Therefore, even though the United States Supreme Court has held that reputation alone is not a protected liberty or property interest, Yeo argued that when the degree of her interests are considered, and not merely their character, that brings them within constitutional protection. A student-athlete with a lesser reputation, or who was less certain of her earning potential, Yeo conceded, would not have the same rights.
While recognizing that Yeo had established a world-class reputation long before she came to this country, the Texas Supreme Court rejected Yeo's argument and overturned the holding of the lower courts. In particular, the court held that since the United States Supreme Court has determined that a person's reputation is not protected under the due-process clause, it does not matter how valuable a person's reputation may be. While Yeo agreed with this principle, she argued that because she had a financial interest in protecting her world-class reputation, a stellar reputation like hers is categorically different from a more modest reputation. The Texas Supreme Court, however, disagreed and held that even though Yeo had a world-class reputation as a swimmer, her reputation as an athlete was no different from that of any other athlete. In addition, since there was no way to measure a person's reputation, the Texas Supreme Court ruled that the nature of one's interest in a good reputation is the same, no matter how good the reputation.
As for Yeo's claimed interest in future financial opportunities, the Texas Supreme Court ruled that such interests are too speculative for due-process protection. In order for an interest to be protected, a person clearly must have more than a unilateral expectation of it. He or she must have a legitimate claim of actual legal entitlement. As a result, as long as student-athletes remain amateurs, their future financial opportunities remain expectations.
The decision of the Texas Supreme Court reinforces the general rule that state and federal courts should be careful about when to interfere with the rules and regulations of voluntary athletic associations. As the Texas Supreme Court reminded the lower courts, "judicial intervention in student athletic disputes often does more harm than good" and, furthermore, judges should not act as "super referees." The decision, however, also reinforces the doctrine that participation in extracurricular activities is a privilege and not a constitutionally protected right.
Attorney John T. Wolohan is an associate professor of sports law and chair of the Sport Management & Media Department at Ithaca College, where Steve Barnes is a graduate student.