Summer campers get exposed to manufacturing careers, thanks to a local partnership and national grant program.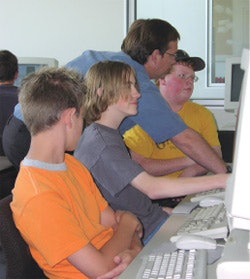 the activities offered by YMCA Camp Matawa outside of West Bend, Wis., sound much like those available at a typical summer camp - archery, arts and crafts, canoeing, swimming, welding.
Welding?
It's not the only manufacturing-themed activity. Matawa summer campers will also be able to spend parts of their days learning computer-aided design (CAD), computer numeric control (CNC) programming, die making and machining as part of a new partnership between the YMCA and a local technical college.
Designed for youths ages 12 to 16, the inaugural "Toolin' It!" program is a residential (or overnight) camp experience to be held July 16-21. Its purpose is to expose teenagers to potential careers in advanced manufacturing - which is experiencing an abundance of vacancies as baby boomers reach retirement age - within the fun setting of a traditional summer camp.
"Hopefully, it's a nice pairing of giving the kids a good educational experience and a good recreational experience," says YMCA Camp Matawa branch executive Jen Feltz. "I've had two phone calls from manufacturers saying, 'Wow, you guys hit the nail right on the head with this. We're hiring people who are in their forties and fifties, and that's fine. But what do we do as they age out?' It just doesn't seem like there are young people coming into this field ready to do the job. We really need to spread the word and let kids know that this is a viable career they should look into if they're not headed to a four-year college."
That's the idea being advocated by Terrance Egan, who, as director of the charitable foundation of the Rockford, Ill.-based Fabricators & Manufacturers Association, is charged with attracting aspiring industrial workers to his field and nurturing their education. One of the FMA's most ambitious endeavors yet is its manufacturing camp grant initiative, begun just two years ago. The $4,700 grant used by Camp Matawa to start the Toolin' It! program was one of at least seven grants - ranging from $2,500 to $5,000 - handed out by the FMA this year.
Although all FMA grant recipients are nonprofit organizations and educational institutions capable of offering youths ages 12 to 16 overnight or day camp experiences, the programs run the gamut from Providence, R.I.'s "Camp MetalHead" - which is conducted by a community-build program that will teach 15- and 16-year-olds how to fabricate and install steel urban furniture in local parks - to Fitzgerald, Ga.'s "Ignite," in which a dozen campers will have an opportunity to tour an underwater welding training center.
Of this year's grant recipients, two are affiliated with the YMCA and none are municipal parks and recreation agencies. But Egan extends the invitation to all interested and eligible entities to submit their proposals for the 2007 grant program by December (for more information, visit fma-foundation.org). Organizations serving minority populations are encouraged to apply, as are collaborations between educational institutions and camp organizations.
Already pleased with the diversity of applications received in the past, Egan hopes to expand the grant program to 50 communities by 2008. "The National Association of Manufacturers, the biggest manufacturing association in the world, is doing a megamillion-dollar campaign to draw young people into manufacturing," he says. "Our association is smaller and we can't afford to do something on that scale. But what we can do is effect change in local communities where younger kids get a hands-on experience."
Egan believes that the manufacturing camps' greatest appeal is the opportunity they provide kids to make things. "I remember shop class as a kid and being on a hand press brake, bending and cutting, making a toolbox. I wish I still had that toolbox," he says. "These camps are going well beyond hand press brakes. These kids are being introduced to higher technology at local companies."
Two years ago, students at the first FMA-sponsored manufacturing camp in Rockford were trained to input data into CAD systems to produce workable designs and were given tours of factories that use robotic welders and plasma and laser cutters.
Such behind-the-scenes glimpses are particularly helpful at dispelling common myths among adults and their children that manufacturing work is inglorious and grimy, requires great physical exertion and is solely a man's world. That may have been so in the factories of Henry Ford's day, but modern manufacturing plants better resemble science labs, complete with white coats and computer screens. "There's been that feeling out there that manufacturing is dirty and not all that fun. But it's a really clean environment and the technology takes it to a whole different level," says Marcia Arndt, dean of manufacturing technology at West Bend's Moraine Park Technical College, which co-sponsors the Toolin' It! program. "It's now something that many women are attracted to."
Indeed, such jobs often require the same type of analytical skills demanded by work in medicine, engineering and other high-profile careers. "Kids are being steered that way, by advisors and their parents," says Egan. "The truth of the matter is that there are jobs in manufacturing, good-paying jobs. But those jobs are not for unskilled labor. They're for skilled kids who can excel in math and science. And quite frankly, companies are looking for employees who are proactive and can show some leadership."
In turn, camp proponents hope that those companies show a little leadership, as well. Although local factories are already counted on to help stage manufacturing summer camps by opening up their facilities for tours and classroom experiences, soon enough they'll also need to open up their checkbooks.
This summer's Toolin' It! camp costs registrants $500 each - although campers from low-income families pay reduced fees, thanks to the Y's sliding-scale scholarship policy. Feltz anticipates that sponsorships from partner firms would help lower the camp's cost significantly and sustain it indefinitely.
Securing this financial support is critical, as the FMA's grants are seed grants only, made possible so far by donations from FMA members. "We just want to give a little boost to local communities to help get these things going," says Egan. "We're hoping that local companies will see the value of these camps and help take ownership of them and fund them in the future. That's our vision."