An archery program that pairs schools with wildlife agencies hits the bull's-eye.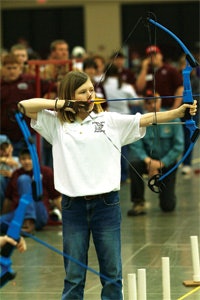 Some days, when she has time to think about the direction her life has taken during the past decade, Jennie Richardson can't help but wonder how it all went so right.
A shoulder separation sidelined the successful Kentucky high school softball coach in 1997, and she used the downtime during rehab to take up archery. Richardson enjoyed the centuries-old sport so much that she turned pro the following year and jump-started a fledgling after-school archery club at Whitley County Middle School in Williamsburg, Ky., where she also taught math.
Now, as education administrator for the Kentucky Department of Fish and Wildlife Resources, Richardson is the state coordinator for the National Archery in the Schools Program - an effort designed to teach "international style" target archery to kids in fourth- through 12th-grades via physical education classes and after-school programs. Employees from 40 state departments of conservation, natural resources, and fish and wildlife resources oversee it, and NASP officials have set 2008 as their target for introducing archery to schools in all 50 states.
Meanwhile, back at Whitley County, where Richardson was able to convince bow-and-arrow manufacturers to donate equipment to the cause, participation in the after-school archery program has shot up from 15 participants to 232 - nearly one-third of the school's enrollment. "I used to think that was a pretty decent participation rate," Richardson says, "until I heard some of the numbers from other schools in the state. One middle school had 440 out of 550 kids sign up for archery."
Kids with bows and arrows? Richardson can understand the concerns of administrators who recoil at the thought of young people wielding weapons (in a school-sponsored activity, no less). But according to her, there's no need to worry. "What makes a weapon is determined by a person's intent. Arrows could be used as a weapon, but in a classroom, so could a pencil or a compass," she says. "You're never going to hear the word `hunting' come out of our mouths when we're addressing kids, because it's not about hunting. It's about building lifetime skills. It gives kids an intrinsic target, and what they do with the bow and arrow gives them immediate feedback and results."
Archery is also an individual sport that places participants - no matter how fast, tall or strong - on a level playing field. An archer in a wheelchair competes at the same level as an able-bodied archer. Few other sports can make the same claim.
Those assets may be why the successful Kentucky Archery in the Schools pilot program (which included Whitley County Middle School) eventually became the National Archery in the Schools Program in 2002 and moved its headquarters to Sparta, Wis. - home to Brennan Industries Inc., manufacturer of the one-size-fits-all, NASP-approved Genesisr bow.
In March, despite archery's status as nothing more than a club sport in most states, 2,164 elementary, middle and high school participants attended NASP's fourth annual open-invitation national tournament. In the interest of streamlining event logistics, next June's national championships will be capped at approximately 1,500 shooters who will have earned the right to participate after winning district, regional and state tournaments during the previous months.
Before teaching the sport, educators must complete an eight-hour "basic archery instructor" course, which usually costs $50 and uses a structured series of whistle commands (approved early on by the Kentucky Department of Education's Safe School Committee) that alert student archers when to proceed to the shooting area, shoot at their targets and then retrieve their arrows. In addition to the training, all schools must purchase a standardized equipment kit that sells for a discounted price of $2,250 to $2,900 and typically contains 10 Genesis right-hand bows and one left-hand bow, 60 full-length aluminum arrows, five targets, bow racks and a curtain backstop to deflect errant arrows - enough equipment to serve 30 participants.
Many schools use federal Physical Education for Progress grant money to fund their archery programs, while others split the cost with the state departments of wildlife or natural resources. "The whole idea behind getting aligned with a government agency is so that running the program becomes someone's job and it won't go away," says NASP spokesman Jon Gauthier, an archer who is also a Brennan Industries employee.
Wildlife conservation agencies and schools participate in the program for different reasons. "Education departments are interested in NASP because it has been designed to be part of the physical education curriculum and relates to core-content subject matter such as history, math, science and language. Archery is a subject that most young people can have success doing," says Roy Grimes, NASP's president. "Wildlife agencies are interested in NASP because participation in shooting sports has been in decline in many states for several years. The agencies hope that teaching an outdoor skill like archery will inspire more people to spend time in wild places. If people spend time in wild places, they might be more interested in helping the agency in its mission to conserve and enhance wildlife habitat."
"Eventually, introducing more people to archery is going to provide more revenue to the states because people will buy archery equipment," Richardson adds, referring to the national Pittman-Robertson Wildlife Restoration Act, which provides state funding for wildlife management research and the improvement of wildlife habitat using money derived from a federal excise tax on, among other items, bows and arrows.
Richardson and her colleagues from Kentucky are so convinced archery is here to stay that they've asked the Kentucky High School Athletic Association to sanction the sport. After all, 152 of the more than 530 NASP affiliates in Kentucky are high schools, and rules requiring at least five members of the opposite gender to participate on each team make the sport appealing to Title IX advocates.
KHSAA officials say they will next survey members at the end of the 2007-08 school year to track participation figures and determine what sports will be added to the association's sanctioning slate. If archery makes the cut in Kentucky, Richardson predicts that NASP officials in at least 30 other states will ask their high school athletic associations to make archery an official sport, too.
According to Richardson, only three U.S. colleges offer archery scholarships. But with the growth of NASP programs around the country (and particularly in Kentucky), that number is likely to change. "I'll be surprised if we don't have 15 colleges in Kentucky offering scholarships a year from now," she says.
Acknowledgment of archery as an official high school sport - offering the prospect of collegiate scholarship opportunities - would boost its status both nationally and internationally. Fewer than 620 boys and girls participated in non-NASP interscholastic archery competition during the 2004-05 academic year, but more than 250 Junior Olympic Archery Development clubs exist around the country. In its 2005-08 strategic plan, the National Archery Association credits NASP with creating a talent identification system that recognizes skilled archers and provides the proper training for them to become Olympians.
SGMA International reports that more than one-quarter of all archers in 2005 were first-timers, and 51 percent were under the age of 18. Surveys of NASP pilot-program participants reveal that 62 percent had never shot a bow before, and although 73 percent of them do not own archery equipment, 49 percent of them want to purchase the gear. Those surveys also claim that more kids now enjoy their physical education classes and that attendance is better on days when archery is taught.
But what happens when the program ends? "Whether young people become archers or not," Grimes says, "after learning archery skills in their gymnasium, they will be more inclined to support the sport and its participants because they understand the issue better."