Some form of lightning prediction or detection is better than none, experts say.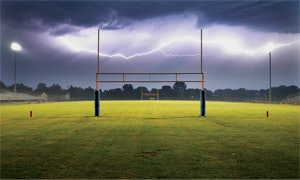 Robert Esmail didn't know what hit him. One second, the 48-year-old was walking with his friend Steve Plutz on Elgin, Ill.'s Wing Park Golf Course; the next, he was abruptly thrown back by a deadly bolt of lightning. No bright flash. No sharp crack.
Amazingly, Esmail remained conscious during the entire June 2 episode and later told the Chicago Tribune that the strike felt like a blow to the chest from either a baseball bat or a linebacker. The bolt entered his right hip, where it left a three-inch-long "red and raw" mark, and exited his body via his foot. Plutz, who also was struck, died two days later from injuries to his brain, heart and lungs.
The incident, which occurred on city-owned property, prompted Elgin municipal leaders to reconfigure their priorities and move the planned installation of lightning prediction systems to the top of their to-do list. By mid-July, the city council approved spending $65,000 for lightning prediction devices at The Highlands and Wing Park golf courses, as well as popular Lords Park. "A long blast signals that people should take cover. A series of shorter blasts signals an all-clear," parks and recreation director Randy Reopelle told the Tribune. "We're going to have to implement an education program to train people how to react."
Lightning education has been a goal of outdoor sports and recreation administrators for the past decade, ever since Park Ridge, Ill., located 27 miles from Elgin, became the first community in the country to introduce lightning prediction technology to parks in 1997. That initial $49,000 investment came after 20-year-old Scott Wade was struck by lightning while officiating a youth soccer game.
"It doesn't always take a tragedy to get officials to move; unfortunately, it takes a tragedy and a lawsuit," says Bob Dugan, president of Sunrise, Fla.-based Thor Guard, the only manufacturer currently producing a lightning prediction system that identifies electrostatic energy conditions conducive to lightning activity and emits an instant warning. According to Dugan, facility operators are often under the false impression that if they don't have any sort of protection, they can't be sued in the event of a strike. But the suits keep coming, and so do the damages. "Most of those suits are settled out of court in favor of the plaintiff," he says. "Relying on the `act of God' defense doesn't work."
Lightning, weather's most dangerous and frequently encountered hazard, caused almost 500 deaths in the United States between 1995 and 2004-but fewer annual fatalities have been reported in recent years, according to the National Weather Service and the National Oceanic and Atmospheric Administration. By comparison, lightning struck and killed more than 3,235 individuals between 1959 and 1994.
Nowhere is lightning more prone to strike in the United States than Florida, which the U.S. National Lightning Detection Network lists as having the most lightning flashes per square mile. That's one reason why Brevard Public Schools in Viera, Fla., spent a reported $350,000 during the summer to install lightning prediction systems at all middle schools, high schools and athletic fields in the district-17 sites in all.
Meanwhile, on the other side of Florida's Lake Okeechobee, the Broward County Parks and Recreation Division installed lightning prediction devices at six parks in 2005 and dedicated more than $92,000 to install systems at seven additional parks this year. The county is no stranger to lightning-related fatalities: On July 20, 38-year-old Edward Hidalgo was riding an ATV in the Everglades when he became the ninth person since 1993 to be felled by a lightning bolt within Broward County's borders. And the Broward County School District-following the October 2005 death of 15-year-old Monarch High School junior varsity football player Schaffner Noel as his team took shelter during a game delay-was among the first organizations in the nation to subscribe to Weatherbugr, a provider of live local weather conditions via the Internet and mobile communications devices.
Although grant money from various sources can be applied to the purchase of a lightning prediction system, which generally sells for between $6,000 and $9,000, Weatherbug and similar services such as WeatherDatar provide some degree of protection for schools and other organizations unable to make major financial commitments to weather safety. Plus, unlike lightning-specific equipment, the latter services alert subscribers to all varieties of pending weather emergencies-from blizzards to tornadoes.
Other lower-cost alternatives are handheld lightning detection devices such as SkyScanT and ThunderBoltr, which range in price from around $100 to $500 each. Whereas lightning prediction systems assess atmospheric conditions likely to produce future lightning strikes within a given area, handheld detection units pinpoint where lightning strikes have occurred within a predetermined radius and estimate their range, approach speed, time of arrival and severity.
The Georgia High School Association recently mandated that all 402 member schools provide at least handheld devices for all outdoor activities during the 2006-07 school year, and some principals and athletic directors have upgraded to permanent systems instead. Schools were asked to determine how many handheld units they needed (typically at least two or three) and find their own funding sources, says Gary Phillips, the GHSA's assistant executive director. The association also purchased 14 handheld devices for use by its staffers at state tournaments and other events.
Phillips says the idea to equip schools with some sort of protection stems from the 2004 boys' state track and field championships at Jefferson High School. When nasty storms moved in that May weekend, lightning struck a transformer that exploded into a ball of fire and plummeted to the ground, injuring several spectators and burning the hair off one coach's arm. "Here we were, asking schools to host all of these tournaments and outdoor activities, but we weren't helping them prepare for sudden weather changes," Phillips says. "We needed to do that. It's a minor imposition that in the end will make venues safer for everybody."
It's not too early for facility operators to begin thinking about next spring and how best to arm themselves-and the individuals responsible for overseeing athletic and recreation events-against Mother Nature's electrical whims. Some form of detection or prediction is better than none, experts say, because today's systems can alert people in charge of games, practices and other outdoor recreation activities to lightning threats not visible to the human eye. As Dugan warns, "Just because you don't see lightning doesn't mean it's safe."
Just ask Robert Esmail.