Incorporating athletic performance training aids that improve everything from hand-eye coordination to swing mechanics can boost a conditioning program's overall effectiveness.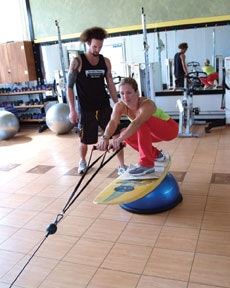 Any athlete - professional, amateur or aspiring - who enters one of the three Future Fitness Sport Specific Training facilities in central Connecticut had better be prepared to veer from his or her traditional workout expectations. Owner Pete Asadourian is just as likely to put a weighted hockey stick in someone's hand and ask him to stickhandle a golf ball as he is to put that person on a squat machine.
"Something like that gets an athlete in the right frame of mind," he says about peppering workouts with athletic performance training aids designed to assist in skills development for a specific sport. "If a hockey player has a hockey stick in his hand, he is suddenly a little more interested in the workout. You don't want to keep conditioning an athlete in the same manner all the time. The point is to throw in some variety."
With most Future Fitness clients - ranging in age from 5 to 80 and including past and present members of the NFL, NHL, NBA and Major Leagues - signing on for sessions that last several months, keeping things fresh is key to maintaining enthusiasm.
Asadourian's list of equipment reads like a specialty fitness store's inventory and includes agility and speed ladders, weighted golf clubs and hockey sticks, oversized basketballs, basketball rebounders, weighted running vests, slide boards and tethered baseballs.
That kind of diversity is becoming more common, says Gregory Florez, chief executive officer of First Fitness Inc., a Salt Lake City-based personal training, coaching and product-development consultancy that has been incorporating training aids into its programming for the past 15 years. "In the old days, we'd use cones to set up agility drills like an obstacle course, old tires for people to run through, and rope ladders that were dangerous, cumbersome and not biomechanically efficient," he says. "Today, we're using more sophisticated equipment that can replicate a variety of different athletic movements and be adjusted for different sports. They are an integral part of a program."
The training aids market has exploded in recent years. Google "baseball swing mechanics equipment," and you'll get no fewer than 330,000 possibilities - some relevant and credible, many others not so much. Fortunately, though, most fitness professionals "know how to sift through the junk pretty quickly," Florez says, noting that the real victims often are consumers who purchase a highly touted product for at-home use and wind up with something that quickly loses its luster, usually because it is unwieldy or lacks scientific merit. He suggests that both professionals and consumers thoroughly research all potential training aid purchases (especially "some newfangled product") to learn more about not only the piece of equipment but about the manufacturer. "Find out if the company has a pedigree and some science behind the product, and find out if there is some sort of tutorial support or hands-on training from the manufacturer to help uninitiated users," Florez says. Additionally, testimonials and endorsements often (but not always) equate to credibility and reliability - such as a product used by every NBA team, for example.
"Unfortunately, a lot of those claims are not substantiated with scientific evidence," says Walter Thompson, a professor of kinesiology and health at Georgia State University. Thompson suggests that potential users contact a given product's manufacturer and request proof of each claim it makes.
While ancillary training aids assist in the development of coordination, muscle contraction, speed of movement and range of motion - often to the point that an exerciser eventually exerts less effort per stride, stroke, swing, kick or throw - it's often difficult to gauge the exact effectiveness of a given training aid. "I don't think we can really attribute success to one particular device that we use," Asadourian says. "But each one is an instrument that helps an athlete reach the final goal. It's part of the recipe, if you will."
Adding the necessary ingredients to that recipe often requires trial and error. Because every athlete brings different skill sets, backgrounds and goals to a workout, incorporating sport-specific training aids requires some creativity. In some cases, a baseball pitcher who trains four or five days a week may conclude each workout by performing 10 minutes of exercises with a baseball tethered to a resistance band, striving to perfect his throwing style, build his rotator cuff strength or improve his range of motion. Similarly, a tennis player may wrap up a workout session by gripping a handled medicine ball and practicing her backhand swing or lobbing technique.
Other athletes might spend entire workouts going through a circuit of training aids that includes stepping through agility ladders, running parachuted wind sprints and handling weighted equipment specific to their sport. "If you're using a weighted hockey stick and then switch to a regular hockey stick, that thing is going to feel like a feather," Asadourian says. "Think about how much faster your hands are going to be. And in hockey, quick hands are essential."
Young athletes, especially, are ripe for athletic performance training aids that "make working out seem like play," Florez says. "Think about getting a 10-year-old on a treadmill or a piece of strength equipment. Yuck. I wouldn't have liked that." In addition to creating fun exercises for kids, training aids help develop muscle memory at an early age. Asadourian says he begins to incorporate 2-pound weights when working with 7- and 8-year-olds, but the training aids remain an integral element of their program throughout their stay at Future Fitness.
Although the risk of injury increases as individuals age, athletic performance training aids are generally considered valuable tools in preventing game-day injuries. "We don't want our athletes injured, so we take every precaution to put them through the repetitive motions they will be making out on the playing surface," Asadourian says.
That approach may be successful - Asadourian claims most of his professional clients have avoided serious injury in real-world competition - but Thompson still doubts the efficacy of some products that claim to help reduce playing injuries. "In order to reach the stage where something is a good and viable product for training," he says, "it's got to be independently tested."
Of all the sports in which training aids can be an asset, golf has to rank among the highest. The phenomenal success of fitness-conscious Tiger Woods has forced other PGA Tour professionals to reconsider their approach to physical conditioning, and recreational participants have done likewise. As Florez notes, many golfers are older athletes and have problematic backs and hips. Therefore, they often fail to complete a full swing rotation, which is where golf swing mechanics devices come in handy. "Some of the golf products by reputable companies have a lot of merit," he says. "I don't think this category is a flash in the pan, because the golfer is finally being considered a viable athlete."
While weighted clubs and devices that connect the club to a training device allowing users to improve their swing plane are common aids, the PowerGroove is among the more recent and sophisticated systems to enter the market. The apparatus, which looks like a weight machine that some observers say could even become a new fitness equipment category, was designed by Kellion Corp. to improve a golfer's swing through specialized muscle training. By performing exercises slowly, the user becomes aware of the incremental processes that occur during a swing. The repeated practice of that motion causes neuromuscular patterns to become more ingrained, the company says, resulting in more easily repeated, accurate swings.
Much like a golfer's swing, a batter's swing requires trunk movements not commonly performed using traditional strength-training equipment. Consequently, manufacturers and inventors have loaded the market with resistance training systems that involve attaching elastic tubing to waist and/or thigh harnesses that assist with everything from correcting a stance to fostering improved bat speed.
Other popular types of training aids include weighted baseballs and softballs (some as heavy as 21 ounces) developed to increase arm velocity; bat-handle devices attached to elastic tubing that provide resistance throughout the entire swinging motion and build upper-body strength; and wrist strengtheners, which can be rolled to boost grip and forearm strength. Many of these products also work well for hockey players, golfers, track and field participants and racquet sports enthusiasts.
Many athletic performance training aids, while targeting athletes in one or two primary sports, boast multiple applications to users in several different sports. A slide board, for example, is ideal for hockey players, but tennis players and skiers can also benefit from the dynamic range-of-motion exercises it allows. Likewise, life-size two-dimensional mannequins in a variety of different positions can be used to train hand-eye coordination and offensive and defensive maneuvers in football, soccer, basketball, hockey, baseball and volleyball. Greater balance and flexibility can be fostered through the use of BOSU balls, speed ladders and wobble boards. Jump ropes, parachutes and handled medicine balls - classic equipment that might be considered primitive by today's standards - also are enjoying a renaissance of sorts with their incorporation into sprinting drills, agility training and multiple sport-specific applications.
"Although there are some really cool things out there, people like to get back to basics, too," Florez says about this type of equipment. "We're taking some of those old training aids and creating adaptive programming for specific sports. We may have a guy stand on a BOSU ball with a club and try to maintain his golf stance for a period of time by using his core muscles."
Some surfers have even been known to balance a board on a BOSU ball while operating a functional strength-training machine. In fact, it's easy to draw parallels between functional strength training on individual machines and sport-specific training using specialized aids. Just like the versatilities of a cable-and-pulley system, the capabilities of, say, a BOSU ball are limited only by a trainer's expertise combined with a user's comfort level and ability to perform a given exercise or movement. "Balancing a surfboard on a BOSU ball is really cool," Florez says. "But man, if you try to get a 45-year-old person to do that, he or she could be really intimidated."
As long as athletic performance training aids are backed by science, integrated slowly and employed with solid, hands-on supervision, sport-specific devices can fit seamlessly with more traditional workouts. And because they lack multiple moving parts and electronics, they remain affordable and easy to maintain and store.
It may be too soon to predict what kind of longevity a product such as, say, the PowerGroove will enjoy. But Florez contends that the concept of training aids is still developing and evolving - with traditional conditioning products at the root. "A ball is just so flexible," he says. "You can use it to do strength training, balance training and core training. I think that's here to stay. Some of the other products, like exercise tubes and bands, jump ropes, and agility and speed products will always be around, too. They'll continue to be tweaked, and there will be better iterations of them, but they're not going anywhere."