The five winners of the 2006 National Alliance for Youth Sports' Excellence in Youth Sports Award have their priorities in the right place.
7th Annual Excellence In Youth Sports Awards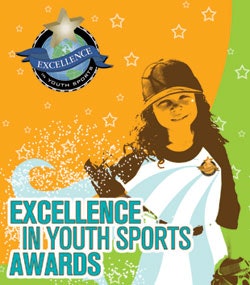 If you're a youth sports administrator, it hasn't been an easy year for you. After all, you've had to deal with high-profile incidents that no doubt made some parents think twice about allowing their kids to participate in community-sponsored athletics. Remember Mark Downs Jr., the 29-year-old Dunbar, Pa., tee-ball coach who paid an 8-year-old $25 to take a baseball and knock an autistic teammate out of the game? He was eventually found guilty of criminal conspiracy to commit simple assault and corruption of minors, and sentenced to up to six years in prison. Then there was 36-year-old assistant youth football coach Cory Petero, who rushed a field in Stockton, Calif., and decked an opposing 13-year-old player who had made a late hit on his son. Petero faced misdemeanor charges of child abuse and was later banned for life from the Delta Valley League.
Such stories of misguided priorities make the efforts of the 2006 National Alliance for Youth Sports' Excellence in Youth Sports Award recipients all the more remarkable. "There's always that nervous feeling on game day that the unexpected could happen," admits Tim Haskell, recreation coordinator for Henderson (Nev.) Parks and Recreation, home to one of this year's winning programs. "But all of our staff members have encountered difficult parents and coaches in the past, and they've been trained to be proactive to prevent situations like that from occurring."
Indeed, the Excellence in Youth Sports Award (developed by NAYS and Athletic Business) honors programs that do superior jobs of conducting diverse activities with a focus on providing safe and positive experiences for all participants - including children, parents, coaches and officials. It is open to military bases, parks and recreation departments, YMCAs and YWCAs, Boys & Girls Clubs of America, Catholic Youth Organizations and independent leagues and associations.
Here are this year's winners, in alphabetical order:
Each winning program receives an awards package that includes cash, merchandise and services from Baggo, BSN Sports, Forcefield Protective Headbands, Musco Lighting, Speed Stacks and TSS Photography.
Congratulations to this year's award winners, and thanks to all of the participating organizations that strive for excellence in youth sports.
The 17 organizations listed here have achieved Honorable Mention status for the 2006 Excellence in Youth Sports Awards.
Davis-Monthan AFB, Tucson, Ariz.
Dyess AFB, Texas
Eielson AFB, Alaska
Ellsworth AFB, S.D.
Elmendorf AFB, Alaska
Hill AFB, Utah
Kadena AFB, Okinawa, Japan
Lackland AFB, Texas
Luke AFB, Glendale, Ariz.
Mountain Home AFB, Idaho
Misawa AFB, Japan
Peterson AFB, Colorado Springs, Colo.
Ramstein AFB, Germany
Shaw AFB, S.C.
Spangdahlem AFB, Germany
St. Mary's County Department of Recreation, Parks and Community Services, Leonardtown, Md.
Whiteman AFB, Mont.
To receive an application for the 2007 Excellence in Youth Sports Award, send an e-mail to excellenceaward@nays.org
Beale Air Force Base Youth Center
Beale AFB, Calif.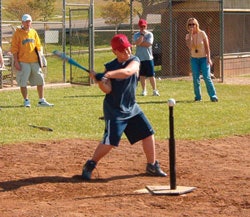 During the past year, administrators at Beale AFB's Youth Center have found new ways of relying on technology to make their programs safer, more popular and more effective.
First, they implemented a new background check system for volunteer coaches that provides three-day turnarounds - a far cry from the previous process, which sometimes took up to six months. Youth center employees receive online reports that can be printed and stored in coaches' files.
Meanwhile, the Air Force's new voluntary program, FitFactor, encourages 6- to 18-year-olds to track their physical activity on the Internet in exchange for incentive awards. And as long as the kids are already using the web, Beale administrators reasoned, why not encourage them to seek other healthy-activity ideas in cyberspace? Enter the decision to create a Beale AFB Youth Center page at MySpace.com (myspace.com/bealeyouthcenter), a popular but controversial online community that allows users to promote themselves by sharing photos, journal entries and streaming videos. Because the web site's primary users are youths, however, administrators must proceed with caution when creating, maintaining and moderating a MySpace page.
"We were kind of leery about it," admits Jeanene Graves, youth sports and fitness administrator for the center. "But we have employees who are involved in church-run youth programs, and they use MySpace and say that it works really well. If the site is monitored - and the kids using it are monitored - it can be a safe and effective tool." Graves requires all parents to sign a permission slip before their children (ages 14 and up) register as MySpace users, and an adult employee monitors computer usage inside the youth center, limiting MySpace access to Beale content only. Two teen groups work with the adult monitor to oversee the center's MySpace page and help younger kids navigate the FitFactor pages.
Additionally, the center offers programming that Graves says enhances its existing offerings, including coaches' training through the National Youth Sports Coaches Association, father-daughter dinner-dances, an annual family picnic and a new triathlon challenge modeled after one of the base's adult programs. The youth center also recently became a member of USA Track and Field.
"We're just trying to offer things that will get kids interested," Graves says. "The sports element will always be there, but we want to attract other kids who may not be comfortable on a sports field. Our kids have parents who are deployed, and they often move every two or three years and are thrown into new school and peer settings. Life is not very stable for them, so we try to provide the stability."
City of Henderson Parks and Recreation
Henderson, Nev.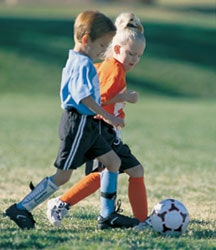 Shortly after Sports Illustrated named Henderson as Nevada's "Sportstown" in 2004, the city's parks and recreation department hosted a Youth Sports Festival and Summit, where an estimated 500 kids between the ages of 5 and 17 were introduced to about 100 sports and recreation organizations. Held in conjunction with the Sports Education Leadership Program at the University of Nevada, Las Vegas, the daylong event sought to introduce children from throughout the Las Vegas Valley to new activities and skills. Moreover, it brought together leaders from Henderson's neighboring parks and recreation departments to discuss better ways to promote youth sports through parental involvement, winning-isn't-everything philosophies and strict adherence to background checks.
"In a community that's growing as rapidly as ours, it is our responsibility to provide these kinds of programs," says Tim Haskell, recreation coordinator for Henderson Parks and Recreation and a Certified Youth Sports Administrator. (With a five-year population increase from 175,000 to 225,000, Henderson ranks among the fastest-growing cities in the country.)
That kind of take-charge attitude stems back to at least 2002, when the city teamed with UNLV to create a parent orientation organization called Youth First. The program will cost Henderson $3,000 over five years and lends added credibility to the city's emphasis on creating a positive youth sports environment. Any city with a major university likely has a program similar to UNLV's Sports Education Leadership Program, Haskell says. "And with the number of graduate assistants and seniors needing internships, there are people who can help."
A solid approach to parent education complements a strict background check policy for volunteer coaches. One recent check of a basketball coach revealed numerous drug trafficking charges that landed him in jail on more than one occasion during the past 10 years. "He was obviously terminated from his voluntary responsibilities," Haskell says. "But he objected, saying his non-youth coaching time should be spent doing what he wanted to do, and he thought that as long as drug trafficking didn't interfere with youth basketball and child development, then everything was okay. We didn't agree."
As Henderson's population continues to swell - the expectation is 600,000 residents by 2025 - the city's youth sports programs will strive to keep up. Another Youth Sports Festival and Summit is planned for 2007 as a way to help other communities continue to create stronger programs. Says Henderson recreation coordinator Ted Lockamon, "I know that several organizations have made changes for the better and are focusing on the things we talked about last time."
Hickam Air Force Base Youth Sports Program
Hickam AFB, Hawaii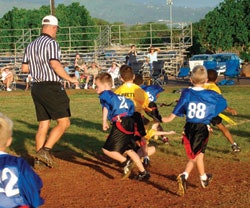 Operating out of one of the U.S. Air Force's most beautiful locales, Hickam AFB's Youth Sports Program takes advantage of Hawaiian tradition by incorporating what program administrators call "the spirit of aloha" into everything it does.
"'Aloha' means love," says B.J. Bentley, Hickam's director of youth sports and fitness. "When we say that the spirit of aloha is here, we mean that we spread our passion for sports and our love of the islands to everyone we meet."
Indeed, kids from Hickam AFB are enthusiastic participants in the Hawaii Youth Sports League, composed of teams from all five U.S. service branches stationed at bases throughout the state. Teams in most sports with players ages 7 and up travel from base to base, competing in four away and four home games. Kids and their families are responsible for their own transportation, but the good news is that the farthest distance Hickam teams travel is about 20 miles. "This gives our kids the ability to get out and see other bases, plus they can mix and mingle with kids from other branches and see how they live," Bentley says.
While children six and under are prohibited from traveling between bases to compete, Hickam's youth sports program caters to the base's youngest members by dedicating the 3,500-square-foot Kidsports facility to gymnastics and skill-development classes.
With most of the youths on base speaking up to three languages and belonging to military families with spouses hailing from as far away as Japan, Korea and Saudi Arabia, cultural challenges abound. For example, many girls from the Middle East have never participated in sports, so Bentley introduced a girls-only softball program in 2005 to help ease the transition. "Some of the mothers don't let their daughters play a sport that's coed," she says. "I'm trying to do specific things just for the girls, and hopefully it will get to the stage where the mothers will say it's okay for them to play coed sports."
Additionally, each sport kicks off its season at Hickam AFB with an opening day ceremony featuring other teams from the Hawaii Youth Sports League. Festivities include team introductions and a guest speaker (often a base general or a collegiate athlete), followed by up to a dozen games. "We want to get the kids all jazzed up and ready to play," Bentley says. "Youth sports is a big program here at Hickam, and a lot of the commanders and high-ranking personnel support what we do. But there's always room for improvement."
Indy Parks and Recreation
Indianapolis, Ind.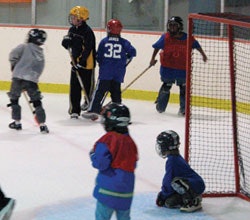 With more than 16,000 kids participating in Indy Parks and Recreation's youth sports programs every year, it was easy for department administrators to let parent education slide. But when Kent Knorr began noticing "basic red flags," such as parents yelling at players, coaches and officials, as well as uncomfortable grumbling in the stands, he knew it was time to make the parents a more integral component of the department's efforts.
"Parents were just out of sync with the way we were running our youth sports programs," says Knorr, manager of Indy Parks' sports and special facilities. "Our focus is on fun, recreation and fitness, and they were looking for future stars. The fact that we didn't have an issue that turned into a national news story wasn't because it was beyond the realm of possibility."
In a proactive effort to avoid making headlines, Indy Parks officials created a flexible parent education program tailored to specific locations within the department's coverage area. "The realities we face in a city this big make it tough to standardize exactly how this needs to be done, because it's not as simple as saying, 'There's a parent meeting tonight,' and then expecting 100 percent participation at a particular location," Knorr says. "In some locations, it would be difficult to do anything more than review the policies and procedures at registration and ask the parents to sign an acknowledgement of that."
The new approach to parent education stemmed from Indy Parks' 4-year-old Youth Sports Council, composed of Knorr and Jennifer Voreis, administrator of community recreation and sports, plus 15 other employees. Together, they oversee policies and procedures, review incidents, approve contracts with outside organizations and ensure that the city's youth sports programs provide safe and rewarding experiences for thousands of kids.
Modeled after similar councils in Florida, the Youth Sports Council recently faced a new challenge that "threw us for a loop," says Voreis, a Certified Youth Sports Administrator. The issue, still unresolved as of this writing, involves concern about adult participants who have regular contact with children in multigenerational programs, such as karate classes and speed skating/figure skating clubs. "We know that perpetrators look for places where they can have steady contact with kids to develop a friendly relationship before it turns into something else," Knorr says, adding that Indy Parks will likely create a potentially controversial policy that requires background checks not only on volunteer instructors of those programs but also on adult participants. "We are being proactive. I would rather be criticized for that than have to be reactive down the road."
Tinker Air Force Base Youth Center
Tinker AFB, Okla.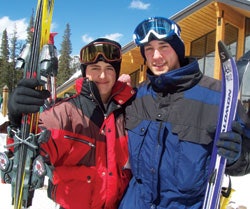 Youth sports administrators at Tinker AFB tried in vain, year after year, to prove their programs were worthy of an Excellence in Youth Sports Award. The closest they came was an honorable mention in 2005. That's when Mindy Whittington, the youth center's sports and fitness director, decided it was time to make a change.
"I felt we needed to take our sports program to another level," she says. Within the past year, Whittington created two policy handbooks - one for coaches and one for parents, both outlining everything from standard operating procedures to behavior expectations. In addition, the center installed kid-friendly fitness equipment, organized memorable special events and developed Parents Association for Youth Sports and Start Smart programs through NAYS.
That kind of dedication is even more essential in an environment in which one or both parents are often deployed to the world's most dangerous corners and kids may leave a team or program with little notice when their families are transferred. It's a challenge Whittington relishes. "I grew up as a military brat," she says, "and my husband is retired from the military. So I know a lot of what these kids and their parents are going through, which makes it easier to deal with kids on that level."
Tinker's youth center offers a few major distractions throughout the year, including an annual spring break ski trip for 13- to 18-year-olds (kids pay only a nominal fee, with the base picking up the balance of expenses) and Court of Dreams, a partnership with the NBA's New Orleans/Oklahoma City Hornets that allows parents, coaches and kids from the base to play a game on the Ford Center's court and then watch the Hornets compete in a regular-season contest.
Whittington also is trying to make the Air Force's FitFactor - a voluntary program introduced last year to encourage 6- to 18-year-olds to track their physical activity on the Internet in exchange for incentive awards - more enjoyable by adding stationary bicycles equipped with PlayStation 2 units, the interactive video game Dance Dance Revolution and a new rock-climbing machine.
"This year, it has been a lot easier to stay on task with all of these things in place," Whittington says about the positive changes she's made to the youth programs at Tinker AFB. "It also gives me a boost. I feel like we're ready to move forward."