In-house contests can help introduce fitness facility members to today's state-of-the-art cardio equipment.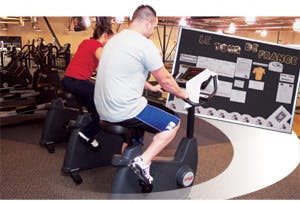 It lacked authentic Alps, an Arc de Triomphe and blood-doping allegations, but the stationary Le Tour de France staged last summer in Hays, Kan., nonetheless set the competitive pedals in motion for some 30 members of The Center for Health Improvement at Hays Medical Center.
Grinding it out on their choice of upright or recumbent bikes, participants logged 10 percent of the miles covered during each stage of the actual Tour. Those posting the fastest times in each stage received juice bar prizes and other incentives, and a yellow jersey awaited the overall winner. In the end, though, anyone who finished the center's inaugural Le Tour had earned the right to feel triumphant. "A lot of people were excited about it, and we had a lot of people lose weight and get stronger," says CHI fitness manager Stephanie Schaffer. "For people who hadn't really been on bikes before, it was just something new for them."
Fitness directors and club owners everywhere are using in-house contests to introduce cardio equipment to their members. "The only way I got people to use my stair-stepper was to have a contest on it," says Sharon Grzybowski, owner of World Gym Express of Fairfax, a 5,000-square-foot Virginia facility that offers just the one stair-stepper. "People who had never used it before discovered it wasn't quite as scary as they thought. Now they want another stair-stepper, because they're addicted. It's fabulous."
Cardio equipment lends itself to such special events since most pieces display user exercise data that can be easily tracked and compared against the data of their peers. It's feedback from cardio machines that makes possible the staging of The Calorie-Burning Challenge, a 12-week contest hosted by Courts Plus Fitness Center in Fargo, N.D. "We've had some requests for other things throughout the club to be included, but it's hard really for us to measure accurately how many calories participants are burning in each of those activities," says Hidie Larson, fitness director at Courts Plus, which offers tennis, racquetball and basketball/volleyball courts, as well as weight- and cardio-training facilities. "So we have kept it on the cardio equipment, where it's really specific and measurable for people. They can actually see how many minutes are going by and how many calories they're burning per minute."
That specificity comes in handy during Larson's Calorie-Burning Challenge, the third edition of which began Feb. 1. "I designed the program to get people to realize how many calories it takes to burn one pound of fat," she says. "We took that number and turned it into an amount of calories that they would have to burn in a certain number of weeks through cardiovascular exercise on our equipment to meet their weight-loss goals." The highest of the contest's three goal levels is 35,000 calories, or 10 pounds of fat, Larson adds.
Participants (about 50 of the club's 6,000 members, ranging in age from their 20s to 80s, are signed up for the current Challenge) pay a $25 entry fee, and may add a personal-training component that involves resistance exercise for an additional $25. Still, cardio machines carry the bulk of the calorie-counting weight. "The only way that the calories can be counted toward your goal is through exercise on the cardio machines or on our walking track," Larson says.
The program begins by gathering baseline weight and body-fat measurements from all participants, who are also asked to identify their favorite piece of cardio equipment. "Of course, we're going to recommend they use that piece, because we know that they're going to be successful on it. But we don't want them to be stuck on that piece for 12 weeks and get burned out or bored," Larson says. "We always promote cross-training among all the pieces of equipment that we have."
Elliptical trainers and treadmills are the preferred choice of most Challenge entrants, while elder participants enjoy the comfort afforded by the club's seated steppers. "They're not going to be burning as many calories," says Larson, "but it's really easy on the joints."
Additional motivation takes the form of $900 in cash prizes. Individuals in each of three age groups who show the greatest improvement in any of three categories - most calories burned, most weight lost and most body fat lost - receive $100. "There gets to be a healthy competition within the club to burn calories," Larson says. "We did the first Challenge last February, and 90 participants burned 1.73 million calories. Can you believe that? Our top loser lost more than 20 pounds. It was shocking. I never would have expected them to be as successful as they were with it."
World Gym Express, which hosts at least two contests a year, has staged a Tour de France every summer since the club opened in 2003. Launched strictly as a biking contest, members soon demanded that the contest include all cardio equipment, even as OLN broadcasts of the actual bike Tour remain a club monitor mainstay. Members are awarded miles for every minute spent on their equipment of choice, with the stair-stepper mileage often weighted during such contests to encourage its use.
Aside from that singular formula tweak, Grzybowski is a firm believer in keeping her Tour simple and accessible. Whereas Schaffer requires contestants in her center's Le Tour to program their bikes accordingly for "mountain stages," Grzybowski simply assigns miles per minute spent on any given machine, no matter the chosen resistance level. "I want as many people to participate as possible, and the more caveats you throw at them, the less likely they are to do it," she says. "I don't care what resistance level they're on, if they're on an incline, or if they're walking sideways talking to their girlfriend, I want them to pick up habits that they haven't before."
Grzybowski did stray somewhat from her contest template last August during the first-ever World Gym Express "Prison Break." Based on the Fox show centered around a correctional facility in Joliet, Ill., the contest began with Grzybowski placing all participants in a hypothetical jail. The first step toward freedom involved strength training - "You need to build up your strength before you break out of jail," Grzybowski says - with steps two through five dedicated to traversing the 287 miles between Joliet and Fairfax one cardio minute at a time. With the fifth stage starting in mountainous Wheeling, W.Va., contestants were required to log their treadmill miles at an incline. During each day along the escape route, participants were allowed one reach into a grab bag, with the chance that it might yield a coupon for a free protein drink or a note reading, "You hitched a ride on a train and cut 10 miles off this particular leg of your journey."
Once a contest begins, the actual competition might be the only incentive necessary. Says Grzybowski, "Every year, the same people will say, 'Well, you know, I'm not very competitive. I'm only doing this because you're asking me.' And you're like, 'Okay, well, thanks for doing it for me.' But then they are the first ones to fall over each other to make sure that they're beating their best friend or their husband."
While organizing any contest can force a fitness professional to deal with grab bags, spreadsheets and award ceremonies, they are widely viewed as indispensable motivational tools, particularly during down times on members' fitness calendars. "A lot of fitness facilities are a bit slower in the summertime, so if you can get some competition and incentives going inside your facility, I think everyone benefits," says Schaffer, whose facility has also staged a "Do"athlon, during which pairs of participants pit their combined efforts on the treadmill and bike against other teams. "Our members are always looking for something fun to get their juices flowing."
But beware potential member backlash if a contest doesn't suit everyone's liking, warns Grzybowski, who has consistently recalibrated her offerings in the interest of fairness. "In the middle of every single contest, I'll complain to my employees, 'This is it. This is the last one,' " she says. "But by the end of the contest, people are so positive and happy to be here: 'Thank you so much. This was a great thing that you did. I feel so good.' And then I'm already looking forward to July and the next one."