Possibly the most holistic approach to wellness ever witnessed in this country, full-scale healthy living communities are cropping up in master-planned developments and university residence halls.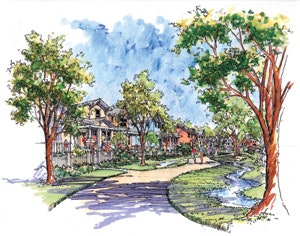 Perhaps it should come as no surprise that the son of Dr. Kenneth Cooper of Cooper Aerobics fame was no slouch. "I grew up in this environment where healthy living is what you did," says Tyler Cooper, also a doctor and public health practitioner. "You exercised, you tried to eat right - everything in moderation - but bottom line, you tried to take care of yourself and stay knowledgeable about your own health."
Fast-forward two decades to the mid-1990s, when after earning his medical degree in Texas, Cooper spent several years on the East Coast finishing his training. Regardless of whether Cooper was in Boston or Newport News, Va., most of the patients who walked into his clinics were, as he puts it, in "pretty bad shape." "I found that people want to be healthy, they want to be able to exercise, they want to feel good," says Cooper. "But my question for them was, 'Well, then, why don't you exercise? Why don't you try to eat right?' And invariably, the answers would have to do with lack of motivation, lack of knowledge or lack of time. People had the right ideas, but the action part of the plan was never put into place."
Enter Cooper Life, the Coopers' master-planned brainchild currently under development on roughly 50 acres of land in the burgeoning city of McKinney, Texas. As president of Cooper Life, Tyler Cooper hopes to offer anywhere from 800 to 1,200 residents an opportunity to live in the type of supportive environment he enjoyed during childhood, one in which people have no excuse but to live longer, healthier lives. In this community, expected to open in August, common roadblocks that preclude people from exercising and eating right have been replaced by a variety of tools meant to simplify healthy living.
Those tools include boutique family medical care coordinated by Cooper Clinic doctors (doctors who, by the way, will be available for house calls). These doctors will maintain Cooper Life residents' wellness files, accessible to residents through a secure community-exclusive online network. Residents will also use this network to schedule appointments with their assigned personal trainers and dietitians who operate out of the year-old Cooper Aerobics Center, a 75,000-square-foot fitness center and day spa, to which each Cooper Life household will get two paid memberships. The Cooper Aerobics Center will also host health seminars providing residents with the knowledge, medical expertise and support to achieve their healthy lifestyle goals. Finally, Cooper Life residents will have access to a full range of personal concierge services, many of which are expected to be handled by businesses relocating to Craig Ranch, the 2,500-acre New Urbanist mixed-use development of which Cooper Life is a tiny yet significant part.
Cooper Life residents will be afforded career and educational opportunities within the larger Craig Ranch development, with its professional office buildings and schools, all of which radiate from a vibrant town center featuring retail and entertainment venues. But just as important is Cooper Life's landscape design, which will encourage residents to employ healthier forms of travel. Green mews and trails will connect the neighborhood, and cars will be deemphasized, with all garages placed in alleys behind brownstones and condo buildings.
"Cooper Life is designed to be very urban, very walkable and self-contained," says Rusty Criminger, chief marketing officer for Wellstone Communities, builder of Cooper Life and other master-planned communities. "It is a community that we've all talked about, the world has talked about. Dr. Cooper literally changed the world of fitness 35 years ago, and he's about to change it again by creating an entirely new concept in living."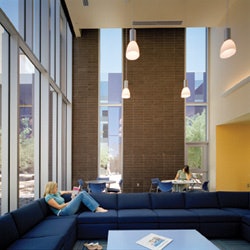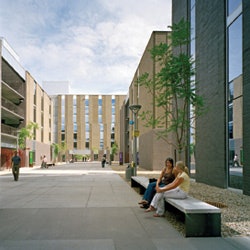 Cooper Life may represent the most holistic approach to wellness ever witnessed in this country, but it is far from the only such example. Full-scale (albeit much smaller) healthy living communities are cropping up nationwide, and are just as likely to be found in university residence halls as they are in master-planned developments.
Michigan Tech University, for instance, offers the Healthy Living House (HLH), a co-ed community located on the fifth floor of a residence hall. For an additional $30 per semester and a commitment to conduct a substance-free life, any student can sign up to live in HLH. Once there, residents turn to resident assistants and peer mentors to help them design and implement personal wellness, academic and fitness plans. They also participate in team-building activities, including a weekend fall retreat.
Meanwhile, Arizona State University has reserved an entire wing of its new $132 million Hassayampa Academic Village to accommodate that school's Healthy Living Community. Erected directly across the street from the campus Student Recreation Center, the residence hall houses four distinct "living and learning communities" designed to integrate academics into residential life. Students enrolled in ASU's most prominent academic colleges - including its schools of business, education and liberal arts - comprise three of the residential communities. The dorm's fourth living and learning community, the Healthy Living Community, is intended for any student pursuing a healthy lifestyle. Like their Michigan Tech contemporaries, these students are required to pledge abstinence from drug, alcohol and tobacco use.
While Hassayampa's Healthy Living Community obviously benefits from its close proximity to the SRC, it also relies on the expertise of the university's Wellness & Health Promotion Department. "Residential Life is committed to partnering with campus entities in order to provide the best service to our students," says Kendra Hunter, ASU's assistant director of residential education. "Because the people at Wellness & Health Promotion are experts in the field of promoting healthy lifestyles, we wanted to collaborate to provide resources and programs for our students."
For the same cost as living in a standard dorm, Healthy Living Community residents can immerse themselves in a total-body wellness program offering resources including lectures and workshops on topics such as safe sex and health-conscious cooking, nutritional menu offerings served in the residence hall's dining facility, and social activities promoting physical, mental, ethical and emotional wellness.
This past year, Hassayampa's first phase accommodated 900 student residents, and this fall another 1,000 students are expected to move in. Although Hunter won't disclose how many of those residents have specifically requested accommodations in the Healthy Living Community, she says that ASU soon intends to expand the concept to all university-operated residence halls. "Our goal is to have all of our living environments become healthy living environments," she says, noting that a forthcoming project may see Residential Life team with the School of Nursing to develop a residential college focused on allied health professions. "We are also working to identify staff to assist Wellness & Health Promotion, which will be embedded in all of our residential neighborhoods to promote healthy lifestyles in our halls."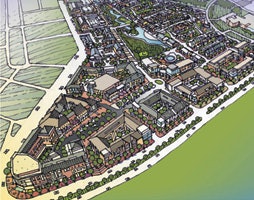 Despite such efforts to inculcate within young people a desire to lead healthier lives, most healthy living communities remain geared toward active adults - a group Frank Guengerich refers to as "age 55 or better."
As executive vice president of Silver Spring, Md.-based health club consultancy WTS International, over the past two decades Guengerich has been involved in a number of so-called active adult developments, few of which could compare to the bustling communities being built today - and for good reason. Although the residents of these communities are technically baby boomers, by no means are they ready to retire. "We're working with a home builder on a 600-home community called Historic Virginia, outside of Washington, D.C.," says Guengerich. "Folks who live there go to work. Their kids may not live at home, but they are accomplished, professional people. Some of them are retired, but they aren't sitting around playing bingo."
Rather, in their spare time, active adult community residents are taking horticulture classes, rock climbing and even whitewater rafting. "One of the communities we're doing in Atlanta has an outpost with an outdoor adventure center and mountain bike trails," says Guengerich. "These folks are truly learning things and being active."
It makes sense, then, that few active adult community residents are satisfied with being isolated from members of other age groups. Says Wellstone's Criminger, "Even in our active adult communities, we don't make age restrictions because our buyers feel energized by the presence of younger people, and younger people enjoy having them as neighbors."
That notion is central to Cooper Life's "cradle-to-grave" wellness philosophy and its multigenerational appeal. "Part of the thinking in the master design is that having young kids playing in the playground sparks excitement and makes people want to be outside," says Cooper. "Kids' playful nature can help decrease stress in adults."
While that may be true, Cooper admits that currently few families with children can afford to actually live the type of reduced-stress lifestyle offered by Cooper Life. After all, the ability to have others see to time-consuming errands (think running suits to the dry cleaners or taking the family car in for an oil change) likely will come with a hefty price, a price paid through a general association fee tied to Cooper Life homeowners' mortgages.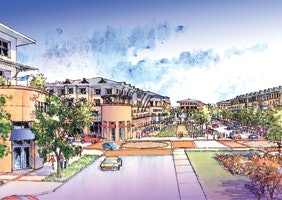 "I don't make excuses for that. To run what we want to do is going to cost us," says Cooper. "While I'm sure some families will be able to afford it, that question - 'How can we take this to the average, middle-class American family?' - is definitely on our minds. I don't know if we have an answer for that yet. But this is just the stepping-stone to hopefully take this concept to all categories. My goal, and my father's goal, is to be able to show that a community like this makes sense."
"We consider this to be the template for the community concept of the future," adds Criminger, noting that Cooper Life officials have been approached by more than a dozen entities about building similar communities in countries as diverse as the United Arab Emirates, South Korea and Italy. But he sees just as great a potential for the company to develop Cooper Life communities in aging urban cores stateside. "I think it's not only possible, but it would be outstanding in that kind of setting, where you can redevelop a brownfield area or an old industrial district."
If Cooper Life communities were developed in lower-income areas, more expensive services could be scaled back or otherwise consolidated to reduce program costs to residents. That said, developers could save money by taking advantage of and improving older cities' existing pedestrian paths rather than constructing new ones. "When I lived in Boston, I lived in the Back Bay neighborhood and walked absolutely everywhere," says Cooper. "I loved it. I'd walk six or seven miles a day as part of my daily routine."
Backed by research garnered from studying the health of Cooper Life's residents (participation in such studies will be voluntary), Cooper envisions a time when he'll be in a position to convince companies to subsidize construction of healthy living communities in order to help lower their healthcare-related overhead. "We want to tie in some research showing that if you live in this type of community, we can lower your risk of dying from chronic diseases," he says. "Companies like General Motors have such dramatic costs in health insurance and pensions that they can barely do business. Look at what's already been thrown at the problem. They've tried all these different mechanisms - managed-care programs, cost-shifting - and the next thing is just cutting employee benefits. We're now down to taking desperate measures."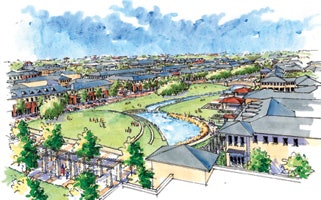 That may be, but Guengerich wonders if this society is ready to embrace the concept of communities like Cooper Life. He says that a relatively stagnant housing market has master-planned community developers "squirrelly," with many of them investing the bulk of their efforts on satisfying the active adult market. "It's much easier for people in that 55-and-older market," says Guengerich. "They get the concept and they have the money."
Nevertheless, at least one recent WTS project is targeting a slightly younger crowd (ages 40 and up) in pursuit of wellness. The Corazon Club & Spa, which opened last month in the Tartan West community in Dublin, Ohio, boasts a full medical spa and a physician's practice with rehabilitation services, not to mention healthy dining options.
Projects like Corazon may seem somewhat limited in scope compared to the goings-on at Cooper Life. But Guengerich believes it won't be long before healthy living communities make their way into the American mainstream. "As with anything, people have to see it for a while and then they'll feel like they're missing out on something," he says. "As opposed to just having master-planned communities where there might be a pool, a basketball court and a little rec room, more single-family households are going to demand having places they can walk to. There's no question that in 20 years, it'll be much more the standard."