U.S. military fitness professionals mull the best physical training methods to help keep troops in shape and in the ranks.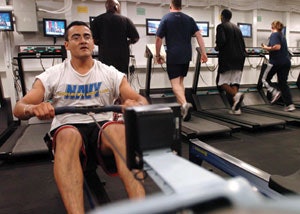 Even as the U.S. military is stretched thin by simultaneous wars in Iraq and Afghanistan, some active-duty men and women find themselves on a constant mission to trim excess fat. Simply put, today's troops are heavier than at any point in American history. And even as thousands of soldiers, sailors and airmen get booted out of the military for being overweight - more than 3,000 in 2003 alone - still more overweight individuals never get in. The Associated Press reported in October that 18 percent of men and 43 percent of women of prime recruiting age weigh too much to serve - record high numbers in both cases. "This is quickly becoming a national security issue for us. The pool of recruits is becoming smaller," Col. Gaston Bathalon, an Army nutrition expert, told AP writer Marilynne Marchione, adding that unless weight rules are relaxed, "we're going to have a harder time fielding an Army."
According to The Boston Globe, the Army in 2005 began relaxing weight requirements by administering a special fitness test for overweight recruits in six cities. As of February 2006, more than 800 potential recruits who otherwise exceeded the Army's body weight standards - or 73 percent of all who took the special fitness test - passed and moved on to basic training.
The Army does draw a line on who can take the special test - only men who measure below 30 percent body fat and women who fall between 32 and 36 percent body fat are eligible - but at least one fitness expert finds those parameters alarmingly forgiving. "Anything over 30 percent for females means that they're basically one-third fat. That's not good," says Wayne Westcott, who as fitness research director at the South Shore YMCA in Quincy, Mass., has conducted fitness research for all four branches of the U.S. military. "I don't think it's doing the Army any favors to have people who are that unfit, because fitness affects mental capacity, work productivity and stress management, as well as athletic performance and functional capacity on the battlefield."
"If you're in an emergency situation - whether it's in the Army, Navy, Air Force or Marines - and you have to rely on a person to save your life, you would hope that he or she would be physically able to save your life," adds Navy fitness program manager Marc Meeker, who spent a year as an afloat fitness specialist aboard the USS Carl Vinson. "A lot of people would comment on the ship, 'I only have to run 1,000 feet,' because that was the longest distance you would have to run on an aircraft carrier. And basically they're right. But the question is, would you be any good to us once you ran that 1,000 feet? Would you get there and be out of breath and unable to do anything to help us in an emergency situation?"
Before the U.S. military's weight problem itself reaches emergency status, fitness professionals have been actively strategizing how best to battle the collective bulge of men and women in uniform.
Like the other service branches, the U.S. Air Force now requires active-duty personnel to pass a regular fitness test. Conducted annually, the Air Force test involves a waist-girth measurement and a 1.5-mile run (which combine for 80 percent of an individual's final test score), as well as pushup and sit-up benchmarks (worth 10 percent apiece). Each individual's fitness level is then categorized as "excellent," "good," "marginal" or "poor." Launched in January 2004 as part of the Air Force's "Fit to Fight" campaign, the test has been on target in terms of identifying unfit personnel. "If you're an overweight individual, you're going to have a hard time passing this test," Westcott says. "You're going to have difficulty with the waist measurement and you're going to have difficulty with the run."
However, a six-month study culminating in April at Langley Air Force Base in Virginia helped Westcott identify what appear to be significant shortcomings in the Air Force's preparation of unfit individuals for retest. As it stands, the Air Force enters individuals whose fitness level is categorized as marginal or poor (roughly 3 percent of the Air Force population) into a 90-day fitness program before repeating the fitness test. The recommended training during that period places heavy emphasis on running and heart rate monitoring, with dropping weight off the individual and time off the 1.5-mile run as primary goals.
Westcott, along with Roger Reynolds, director of contract relations for the Division of Education at The Cooper Institute in Dallas, came up with a different approach, and put their theory to the test at Langley - home to some 8,000 troops, including (assuming the 3 percent estimate applies) as many as 240 who exhibit marginal or poor fitness levels. The Westcott/Reynolds findings, which were submitted this summer for publication in the bimonthly scientific journal Perceptual and Motor Skills and shared with Air Force representatives at the Athletic Business Conference last month in Las Vegas, suggest that a program that favors a combination of circuit training and cardiovascular training over cardio training alone not only lops significant time off the run for most men and women, it drastically reduces time invested in their workouts, as well. "We proposed a circuit-training program - not four to five days a week, as was the original proposal for the cardiovascular exercise, but three days a week," explains Westcott. "And it's not for an hour at a time; it takes only about 30 minutes to do the circuit."
The circuit closely resembles the type of express workouts popularized by the commercial fitness industry in recent years, but it's actually based on Cooper Institute research dating back to the 1980s, according to Westcott. Individuals engage in one strength-training exercise for a full minute, ride a stationary bike for another minute, then begin a new strength-training exercise. Ten different strength-training exercises comprise the complete circuit. "None of the activities involved their body weight, which is good, because when you're heavy, it's hard to move your body weight," Westcott says. "The cycle, unlike running, has nothing to do with body weight. So it's all relative to their own ability and not limited by their body-weight capacity."
At the end of the 12-week study, which divided participating Langley AFB personnel into separate study and control groups (57 individuals took the circuit-training-and-cardio approach, while 26 continued with the cardio status quo), those individuals in the latter group were not only less likely to stick to their running-intensive regimen, they showed no significant improvement in their total test score or any of its four components. "Their running time came down about 15 seconds, but it was not statistically significant and it didn't help them pass the test," Westcott says. "Now, the group that did the circuit strength training improved significantly in every category - pushups, sit-ups, waist girth, and they took their run time down by about 35 seconds, even though they hadn't done any running."
According to study supervisors Mike Skaggs and Jill Gibson, who oversee 15 Air Force bases as fitness program managers for Air Combat Command, only six circuit-trainers actually passed the test (compared to one runner), but huge strides were made even by those circuit-trainers who failed. While a score of 75 points is needed to pass, one individual improved his fitness level by 31 points to crack the 60-point barrier. "The biggest improvement that we noticed in all but two of the people in the study group was loss in waist circumference," Skaggs says. "The average was about two inches, but we had one person lose five inches. They all were ecstatic, because they could see a difference. Their clothes fit better, their energy levels were up, their spouses were making comments about how much better they looked."
Westcott points to one factor that likely influenced the Langley results: While those in the cardio group could put in their training time on their own, circuit trainers had to report at specific times to a class setting, where Skaggs, Gibson and other instructors were waiting to educate and motivate. Skaggs agrees. "That's probably the biggest factor," he says. "One of the reasons people don't meet the standards in the first place is they're just not very accountable for their own fitness." Adds Gibson, "We even had a couple people say, 'I really didn't want to come today, but I knew if I didn't you guys would be looking for me.' Once there, we encouraged them to push a little harder, and ultimately they would leave feeling like they had accomplished something."
For military professionals in all branches and of all ranks - the Langley study included everyone from commanders to airmen to office support staff - such daily accomplishments can influence lifelong careers. "I'm not trying to suggest that there aren't a lot of fit people in the Air Force," Westcott says. "These were people who at some point had passed the test, just not the most recent test. They need to do that, or they risk losing their job."
In the U.S. Navy, it's three fitness test failures and you're out. That's why Meeker takes seriously his role of getting and keeping sailors in good enough shape to pass semiannual Physical Readiness Tests. "Fitness is a priority, and Navy leaders are really cracking down now," Meeker says. "They're saying, 'We believe in fitness and this is what we want. We want a fit force, not a fat force.' "
The Navy PRT is similar to the Air Force test, and Meeker, like his Air Force counterparts, has sought the best means by which to prepare unfit servicemen and women to pass it. The Navy had adhered to Cooper Institute protocols until only a few years ago, when Meeker saw fit to chart his own course. He calls it "24 Weeks to Success," a detailed guide to progressive workouts that build toward PRT passage by combining circuit and cardio training - right down to recommended split times in the 1.5-mile run. A second guide authored by Meeker, "Beyond 24 Weeks," presents a 16-week maintenance program for Navy personnel who have elevated their fitness to a satisfactory PRT level and want to keep it there. "Beyond 24 Weeks Advanced," a third edition released this fall, is written for sailors who want to take their physical fitness even further. All three courses are available on CD, allowing sailors the convenience of printable nutritional information and workout logs. "We're not trying to say that this is the only program you can ever do," Meeker says, "but this basically tells them what they need to do for an extended period of time."
Nutrition is one area neglected by the Langley study, according to Skaggs. "Just through conversations with individuals, we found that their eating habits didn't really change. In fact, some of them were eating more because they were exercising more, but they weren't necessarily putting the right stuff back into their bodies," he says. "I think we would have had a lot more success if we had had a weekly dietary counseling component. Even if they had been required to record what they were eating in a food journal, they probably would have been a lot more cautious about what they ate. Again, it's that accountability thing, just like it is with the exercise."
For Meeker, education is the best ammunition against excuses of any kind - even if that means teaching sailors how to work out with resistance bands on board a submarine or minesweeper that lacks the designated fitness areas and strength and cardio equipment common to aircraft carriers. "There's always a way to work out," he says. "If you can't get on a treadmill, can you jump rope? Can you do step-ups? Can you do something? We're giving them the opportunity and the tools. The biggest thing is trying to find how to reach the most people in any given situation, so there's no excuse for them not to work out."
Few would question the U.S. military's commitment to giving America's men and women sufficient tools to stay in top physical shape. Witness the Marine Corps, which boasts 53 major fitness facilities concentrated on its 19 major installations. Camp Pendleton, located just north of San Diego, provides its 35,000 troops access to no fewer than 12 major fitness facilities, including the largest the USMC has to offer - the 63,000-square-foot Paige Fieldhouse, which opened two years ago. "When we build a fitness center, we try to build it to a standard comparable to what one would find outside the base gate," says Catherine Ficadenti, director of the USMC's Semper Fit program.
In fact, as of October, all new construction of military fitness centers - regardless of branch - was expected to adhere to the same exacting design standards (see "Rules of Engagement," Nov. 2005, p. 44). That might lead some observers to see the so-called Unified Facilities Criteria program as one less excuse for any of the four individual branches to fall anywhere short of maintaining the fitness levels of their active-duty troops. "One of the things that we wanted to be sure of when we did our study was that the format wouldn't require any more resources than what the fitness centers already have on hand, other than time and instructors," Skaggs says. "To me, the results were pretty obvious, and we got what we wanted out of the study. We showed that individuals could improve their fitness with less time away from work. And that time factor was critical to their positive thoughts about exercise."
Skaggs hopes such positive thoughts ultimately ascend to the top levels of Air Force command, and that one day a circuit-centered approach to physical readiness takes full flight. "Obviously, it's proven that there is a more efficient way of helping people meet the standards," says Air Force fitness program manager Margaret Treland. "A lot of times, the Air Force gets locked into the way it's always done things. It sometimes takes an outside entity conducting a study to give the proof needed to say, 'Hey, maybe there is a better way.' "