U.S. military fitness professionals mull the best physical training methods to help keep troops in shape and in the ranks.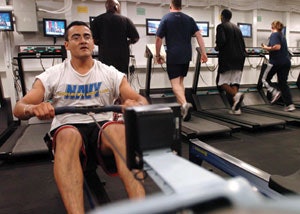 Even as the U.S. military is stretched thin by simultaneous wars in Iraq and Afghanistan, some active-duty men and women find themselves on a constant mission to trim excess fat. Simply put, today's troops are heavier than at any point in American history. And even as thousands of soldiers, sailors and airmen get booted out of the military for being overweight - more than 3,000 in 2003 alone - still more overweight individuals never get in. The Associated Press reported in October that 18 percent of men and 43 percent of women of prime recruiting age weigh too much to serve - record high numbers in both cases. "This is quickly becoming a national security issue for us. The pool of recruits is becoming smaller," Col. Gaston Bathalon, an Army nutrition expert, told AP writer Marilynne Marchione, adding that unless weight rules are relaxed, "we're going to have a harder time fielding an Army."
According to The Boston Globe, the Army in 2005 began relaxing weight requirements by administering a special fitness test for overweight recruits in six cities. As of February 2006, more than 800 potential recruits who otherwise exceeded the Army's body weight standards - or 73 percent of all who took the special fitness test - passed and moved on to basic training.
Log in to view the full article