A new game teaching sports, fitness and life lessons jazzes up a California after-school program.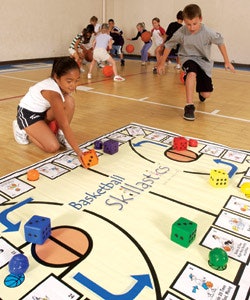 It's only mid-March, but on a late Tuesday afternoon in Fontana, Calif., the mercury has already reached 94 degrees. A third of the approximately 90 children enrolled in Cypress Elementary's after-school program, the product of a partnership between the city of Fontana and the Fontana Unified School District, are trying to enjoy their scheduled 45 minutes of outdoor play time, but a few children complain to community services supervisor Frances Hernandez about the heat.
After seeking relief by herding the group of rambunctious kids inside the school's air-conditioned gymnasium, Hernandez divides the children into six teams and instructs them to sit down while she unpacks a nylon duffel bag containing a folded-up synthetic leather floor mat and colored beanbags and dice. As a program assistant rolls a rack of basketballs from the storage closet, Hernandez sets the materials in the middle of the gym floor. Meanwhile, the children know what's next. They begin to bounce and wriggle, barely able to conceal their eagerness to play one of their favorite games: Basketball SkillasticsTM.
Within minutes, the gymnasium is buzzing with activity. One player from each team runs up to the large, central mat, upon which 26 basketball drills are depicted in colorful illustrations. Each player rolls one of six oversized, colored dice and moves his or her team's beanbag the appropriate number of spaces on the mat. One player lands on a square instructing her to dribble the ball 20 times with the left hand. She runs back to share those instructions with her team members, all of whom must also complete that task before a second player can return to the central mat for another roll of the dice.
Various other tasks are being completed at the five remaining stations throughout the gym. At one basket, some kids shoot right-handed layups. At the court's opposite end, another group shoots left-handed. But everywhere, basketballs are bouncing and children are concentrating - the kids practically unaware that they're exercising, honing eye-hand coordination and fostering teamwork. "We'll run the game for 35 to 45 minutes, but sometimes it goes longer," says Hernandez. "If the group really gets going, they don't want to stop."
Skillastics is the latest craze of Fontana's after-school program, made possible by the California Department of Education's $550 million After School Education and Safety (ASES) grant program. Fontana has used a small portion of the $2 million it received in the first of the three-year program to purchase $190 Skillastics games - which include versions for basketball, soccer and fitness, as well as a HalfPint game for preschool-age children - for all of its 24 after-school program sites, including three middle schools.
After pilot-testing Basketball Skillastics games at two elementary-school sites last year, Hernandez jumped on the opportunity to expand the offering to all of her free after-school program sites, in large part because the games focus less on competition and more on participation.
The reason for Skillastics' non-competitive nature has much to do with creator Sandy "Spin" Slade's childhood playground experiences - which, actually, weren't all that bad. As a kid, Slade was slender and athletic, often prompting team captains to select her first for whatever game was being played on a given day. "I got picked first, so I had confidence," says Slade, who went on to earn a scholarship to play basketball at Fresno State before spending two decades traveling the world as a basketball entertainer. "But I had a soft spot for those kids who were picked last. You could see their shoulders round and their confidence drop because it was the sort of thing where someone would say, 'Okay, I'll take Steve if I have to.' "
Throughout her career, Slade dazzled crowds at professional basketball games and even on David Letterman with her exceptional ball-handling skills (she can still spin eight basketballs simultaneously). But it was the trips to schools across the country that made the greatest impression on Slade, who too often encountered children whose disinterest in sports and fitness reminded her of the kids on her childhood playground. "When I go back to some of my class reunions, those kids are now obese," she says, fearful that history is repeating itself with the current generation. "Why should the kids who are picked last want to participate? They have a bad taste in their mouth about being physically active."
With Skillastics, which fulfills three of six National Association for Sport and Physical Education standards, Slade aims to help all kids perceive fitness as fun so they'll get hooked and embrace it as a lifestyle. "My ultimate goal is to plant that positive seed so kids who normally would not want to participate will start having a positive experience and remain active," she says, noting that Skillastics seeks to get kids to exercise their minds as much as their bodies. "It's teaching leadership and communication skills. We all have to learn how to talk to other people, how to take turns, how to work as a team in business or in anything else that we do in life."
What's most intriguing to Hernandez is that in Skillastics the kids are responsible for delivering those life lessons themselves, not the program supervisors. "It has a twist to it," she says. "This game requires a team effort, which fits into what we wanted to do with our kids. There's a lot of interaction and education with the program, as opposed to us saying, 'Okay, we're going to do five jumping jacks,' and that's it. It's a lot different than just having the kids watch me."
Instead, the kids are running the show, sometimes to Hernandez's chagrin. "That's my only complaint," she says. "They want to play it all the time."