Philanthropic work is proving priceless as health clubs and their members grow older.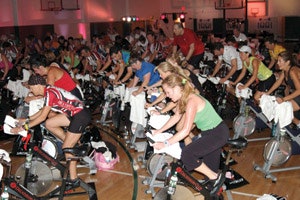 Twenty years ago, the people who most symbolized a youthfully exuberant health club industry were Olivia Newton-John and Jamie Lee Curtis, not Bill and Melinda Gates. This stood to reason: The typical club entrepreneur back then had about as much money in his or her pocket as the typical aerobicizing club member had clothing on his or her body.
Much has changed, obviously. The club industry has grown up, club owners have gotten older - and club members have, too. The preoccupations of twenty-something gym-goers have given way to the concerns of middle age; you hear club members talk about "giving something back" a lot more than "hooking up" these days - and what's more, they have the cash to give.
Says Pete Jones, general manager of Pacific Athletic Club in San Diego, who opened his first club in 1977, "At first, as with any small business, you have a huge debt service and so forth, and you're mainly concentrating on survival. As the industry matures, as the customer matures and becomes more sophisticated, after awhile clubs can start addressing things that they couldn't afford to before. And philanthropy is one of those things."
Pacific Athletic Club is one of eight clubs under the umbrella of Western Athletic Clubs, which since 1990 has been a wholly owned subsidiary of The Atlantic Philanthropies, a foundation formed by Chuck Feeney, co-founder of Duty Free Shoppers Group Ltd. So it wouldn't be totally wrong to say that WAC has philanthropy in its DNA.
But philanthropy is more a product of nurture than nature, and in the past decade WAC has cultivated its philanthropic tendencies to become a model enterprise. This was especially the case when, four years ago, WAC brought in Jeremy Howell, chair of the exercise and sports science department in the University of San Francisco's sport management graduate program and a former WAC employee, to direct WAC's philanthropic program.
"I would say it was always a company with a corporate soul," Howell says, even though he notes that the club's mission statement ("We Enhance People's Lives") already mandated community outreach as one of its listed core values. "Like most companies, philanthropy was more random, at the whim and largesse of managers and executives, and there wasn't what I would call a structured approach internally as to how you make philanthropy work as part of your business."
Howell and WAC executives set out to do just that, settling on what could best be described as an organic approach. "We restructured it so it filtered down to every employee," Howell says. "Each area or department of the club is involved, each club is involved, and the corporation is involved, too."
Through his involvement in the process, Howell has settled on what he believes are five keys to successful corporate philanthropy:
1. Decide on an annual budget. The first step is determining how much of your net income will be set aside for philanthropic purposes. In WAC's case, the figure they settled upon as a minimum was a rather higher than normal 5 percent.
2. Specify your areas of philanthropic involvement. WAC chose to support projects that promote healthy aging; improve the lives of disadvantaged children and youth; prevent and treat disease; and continue the education of fitness professionals for community outreach.
The reason for putting it all in writing? "It's not so you know what to say yes to, it's so you know what to say no to," Howell says. "The whole point when you go out to the community is not to upset people. They used to get upset when giving was at the whim of a president or manager: 'Why them and not me?' But now they don't get upset if they're turned down, because they see there's a strategy to what we're doing."
3. Include your employees. Howell calls them the club's "creative talent," so it's vital that employees are fully invested in the program. One way WAC accomplishes this is through old-fashioned, quid pro quo volunteerism. For example, one program partners the clubs with local breast cancer clinics, through which patients get free personal training sessions. WAC pays select trainers to work for an hour, in return for the trainers volunteering their time for an additional hour. "That's better than taking a $50-an-hour trainer and saying he or she will get paid $25 an hour," Howell says. "It keeps the ethos of volunteerism alive." An added benefit, beyond the obvious boost to cancer sufferers, is that your best employees are inclined to stay with the company, since they feel as though they're doing something good, and can take advantage of company-paid continuing education to help them help others.
4. Get members and vendors involved. This doesn't mean that you should greet members at the door with your hand out. Instead, members should be asked to participate in fund-raising events within the club, such as tournaments, so that they can experience their partnership with the club as benefiting local organizations. An example might be Pacific Athletic Club's annual group-cycling fund-raiser, Rock on the Lawn, where members pay $25 for an hour to ride their stationary cycles outside, with the $10,000 to $12,000 in proceeds going to the Challenged Athletes Foundation.
As for vendors, WAC donates its outgoing fitness equipment to fire stations, schools and the like, and distributors are told that if they want WAC's business, they'll have to deliver the old equipment to the recipients.
5. Give up your ownership. Howell says he'd love it if, in five years time, all of WAC's competitors had partnerships with breast cancer clinics that replicated his company's program. He'd be even happier if no one could remember just where the program originated. "If you're going to work with other organizations, it's really important that the organizations own the program as well," he says. "If you try to own it and brand it, you get too caught up in the business of the program and not the philanthropy of the program."
Howell runs the business of WAC's program, dispensing matching grants to philanthropic organizations that fit the company's areas of support, as well as monies to WAC clubs for them to distribute as they see fit. In all, the company gave away about $1.3 million last year, some in small one-time dispersals, some in three-year installments to ensure the recipients use it to become more self-supporting (organizations get the second year's gift if they demonstrate they can find a matching grant, and the third if they can show their program will be sustainable).
Each club designates a community outreach director from its pool of employees who typically works half-time in that capacity. According to Lisa Graf, general manager of Courtside Club in Los Gatos, WAC directors of philanthropy meet quarterly to exchange ideas and find ways for the different clubs to collaborate on programs. The individual clubs focus primarily on fund-raising events of their choosing, everything from various exercise-related "-thons" to the recent "Princess" project, organized by Courtside, that distributed 200 prom dresses to teens in San Jose who couldn't afford one. Jones says his club tries to avoid large events that might inconvenience members, not to mention the "slippery slope" of just writing checks to worthy causes.
Another thing the clubs don't do is market their generosity, except to members. Each club details current and upcoming programs in its monthly newsletter, and Pacific Athletic Club features an impressive three-wall "Caring for the Community" display of framed thank-you notes from the various people and organizations the club has helped. But outside the club, it's a different story.
"There is a certain cynicism out there now that a company is only doing philanthropy as a marketing ploy," Howell says. "WAC doesn't connect its philanthropic efforts with its marketing department. I do think it's important that the topic is addressed, because it's easy for companies to slip into marketing mode. Yes, marketing your good works might raise awareness of the club - but it doesn't do anything to enrich the culture of a club."