The Underground Railroad Bicycle Route aims to diversify cycling.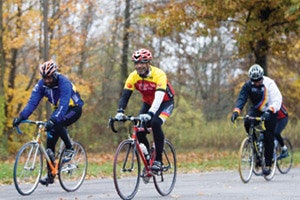 On Aug. 5, when Dr. Stephen Thomas pedals into Owen Sound, Ont., to conclude a seven-day, 273-mile ride from Buffalo, N.Y., he and more than 100 other bicyclists will be honored at a public festival. Their jubilant entrance will starkly contrast the hushed arrival 150 years ago of countless, unknown slaves fleeing oppression in the American Deep South.
These freedom-seekers followed the legendary Underground Railroad, the northern terminus of which is located in Owen Sound. Thomas and his riding companions will commemorate that historic journey by following a similar path, which is now known as part of the Underground Railroad Bicycle Route.
The result of a collaboration between the nonprofit, Missoula, Mont.-based Adventure Cycling Association and the University of Pittsburgh's Center for Minority Health, the Underground Railroad bike route spans nearly 2,100 miles, beginning in Mobile, Ala. After three years of research, the entire route has been mapped and was traveled for the first time last month, as a group of 17 test riders led by two tour guides set out on their 42-day trek through history.
"It is an opportunity to lift up a very sad part of our history, the history of slavery," says Thomas, director of the Center for Minority Health. "But it's also a very proud part of history showing how black people and white people came together to create a pathway for freedom."
That path could have taken any number of directions, says Ginny Sullivan, Adventure Cycling's new routes coordinator. "Initially, we thought, 'Where do we begin?' We could've picked one slave and followed his or her course, or we could've picked Harriet Tubman and tried to duplicate something that she did."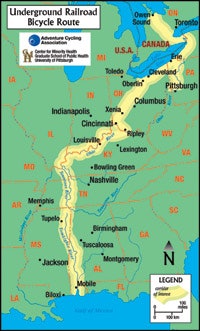 In the end, Adventure Cycling chose a course charted by the memorable "Follow the Drinking Gourd" song, which advises travelers to stick closely to waterways and heed the Big Dipper constellation. That said, Adventure Cycling's route starts out on a number of Southern back roads that hug the banks of the Alabama, Tombigbee, Tennessee and Ohio rivers. As it nears Louisville, Ky., the route jumps over to former rail lines now functioning as recreational trails, and takes a total of four trails to reach Ontario.
Along the way, the route directs riders to historical markers outlining the significance to the Underground Railroad of out-of-the-way towns such as Erie, Pa., where the local library has volunteered to serve cyclists as a "railroad station." As riders pass through town, not only will the Erie library direct them to such travel necessities as fresh water, clean campgrounds and grocery stores, during the inaugural ride it is hosting an all-day event, bringing in local biking clubs, Underground Railroad historians and health care professionals to discuss issues related to minority health.
For his part, Thomas sees the Underground Railroad bike route as a way to remedy health disparities between majority and minority populations. "The Ku Klux Klan's not killing us like it used to - today, it's a burger and fries," he says. "We know more now than we've ever known about how to prevent chronic disease - heart disease, diabetes, many cancers - but that message is not reaching minority communities. The Underground Railroad Bicycle Route is our most compelling national campaign. It takes our message across the whole country."
By recognizing and raising awareness of history that is sacrosanct to the black community, Thomas hopes to engage African-Americans and lure them to the trails. "African-Americans have a long legacy with the bicycle," he says, citing turn-of-the-century world champion cyclist Marshall "Major" Taylor and the Iron Riders, a Buffalo Soldiers troop that used long-distance rides through Yellowstone National Park to pilot-test the bicycle as a means of military deployment. "Why is it that we are not participating in higher numbers at a time when major urban cities are building bike trails and all kinds of greenspaces? You go out on these rails-to-trails conversions and you rarely see black people."
Both Thomas and Sullivan acknowledge that some blacks are scared away by the cycling culture, but neither of them accept that as an excuse to remain inactive. "Cycling can appear very intimidating," says Sullivan. "You walk into a bike shop and there are hundreds of styles of bikes. It's a little overwhelming. But it's like buying a car - once you start doing your research, you get comfortable with the different kinds." Adds Thomas, "What I've found is that these retailers aren't keeping black people away. They just never see us."
Now, he wants to see African-Americans head to bike shops and recreational trails in droves. "The Rails-to-Trails Conservancy has been successful in passing legislation and building these trails," says Thomas, who serves on the conservancy's board of directors. "My concern is that if the American people aren't on those trails, we won't continue to have the support to maintain them. So the time has come to drive people - black people, white people - to the trails and to see a proliferation of bicycles, not only as a means of transportation, but also as a means to increase physical activity."