Several organizations are combating "nature-deficit disorder" and reconnecting children with the great outdoors.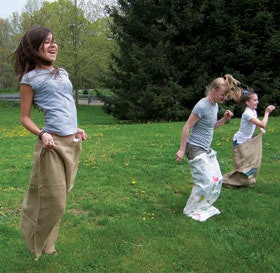 Betsy Townsend couldn't quite put her finger on it, but she knew something was wrong with her teenage stepson's antisocial behavior. "When I got married he was eight, and he would play outside. Then, I watched him go through a transition and get into video games," she says. "We would pick him up from his mother's house, he would bring a friend along and they would have their earphones on in the car. Then they would get to our house, go to his room and spend another three hours not speaking to one another. I just thought, 'I hate this. For teenage boys, this is not a good thing.' "
Her stepson now grown, Townsend still feels a measure of guilt for not doing more to coax him out of his shell. But now armed with empirical evidence asserting that disconnect from the great outdoors can have adverse effects on childhood development, Townsend works to empower other parents to get their kids out of the house. She co-chairs No Child Left Inside of Greater Cincinnati, a loose coalition of local nature organizations, park and recreation agencies, school systems and public health organizations working to reconnect children with nature.
Log in to view the full article