Several organizations are combating "nature-deficit disorder" and reconnecting children with the great outdoors.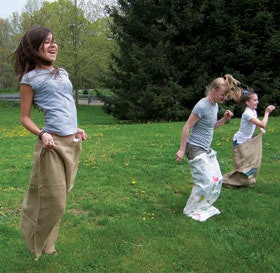 Betsy Townsend couldn't quite put her finger on it, but she knew something was wrong with her teenage stepson's antisocial behavior. "When I got married he was eight, and he would play outside. Then, I watched him go through a transition and get into video games," she says. "We would pick him up from his mother's house, he would bring a friend along and they would have their earphones on in the car. Then they would get to our house, go to his room and spend another three hours not speaking to one another. I just thought, 'I hate this. For teenage boys, this is not a good thing.' "
Her stepson now grown, Townsend still feels a measure of guilt for not doing more to coax him out of his shell. But now armed with empirical evidence asserting that disconnect from the great outdoors can have adverse effects on childhood development, Townsend works to empower other parents to get their kids out of the house. She co-chairs No Child Left Inside of Greater Cincinnati, a loose coalition of local nature organizations, park and recreation agencies, school systems and public health organizations working to reconnect children with nature.
The Cincinnati coalition is one of several organizations around the country taking action since hearing the message of Richard Louv, chairman of the nonprofit Children & Nature Network and author of the 2005 book Last Child in the Woods. In his book, Louv argues that members of society's youngest generation are suffering from a "nature-deficit disorder." While children are generally afforded plenty of opportunities for structured play through school and community sports and recreation programs, they aren't spending nearly enough time engaged in unstructured outdoor play (think chasing butterflies). "There are a couple of factors working here, one of which is that parents are very afraid of 'stranger-danger,' " says Louv. "The key to changing that is, first, embracing this emerging body of knowledge about how good nature is for child development - for cognitive, emotional and physical health. But then the trick is helping parents get over their fear. We really have to think of how they can be encouraged to get outdoors."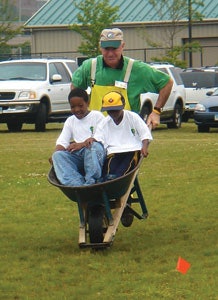 The Connecticut Department of Environmental Protection, which manages 137 state parks and forests, has struggled with this question, too. "Our concern is that we have these beautiful state parks and unless children come to love them as many of us adults do, they won't invest in our parks when they grow up," says Cyndy Chanaca, the Connecticut DEP's No Child Left Inside coordinator.
Last year, the Connecticut DEP came up with one solution - a game it calls the Great Park Pursuit. The flagship of its No Child Left Inside initiative (nochildleftinside.org), the game is essentially a statewide scavenger hunt. It's held over seven consecutive weeks in May and June during which participating families (at least one team member must be older than 18 and another must be younger than 18) register online to receive clues about particular state parks. Each week, players must decode the clues in order to locate the selected state park, where on the weekend they'll participate in designated activities such as nature hikes, woodcarving or potato sack races. Teams are awarded points for each park they visit.
The Great Park Pursuit was a big hit last summer, with 400 registered teams hailing from all over the state - although according to Chanaca, about half that number ended up playing the game and only 100 families completed each assigned task. Those teams were named semifinalists and given a chance to win one of three grand prizes, which were awarded after semifinalists took a quiz consisting of game-related questions. The three teams with the highest scores completed one final activity to determine prizewinners. "Our top family took the camping package because although the wife had camped as a child, she, her husband and their three children had never been camping together," says Chanaca. "Since they won, they've been camping a lot."
By late April, 700 families had registered for this year's game. Word spread with the help of Hartford's CBS affiliate station, which ran public service announcements publicizing the game. Bank of America gave $10,000 to cover the cost of park passes for foster families, and a local water utility is providing bus transportation from three major cities so that urban families without cars can fully participate in the game. The Connecticut DEP also enlisted the support of Anthem Health Plans Inc., which distributed water and trail mix at event sites, and numerous parks friends groups.
Buoyed by the success of their neighbor state's program, state parks departments in Massachusetts and New Hampshire launched their own Great Park Pursuits this summer. Borrowing directly from the Connecticut DEP's playbook, the Massachusetts Department of Conservation and Recreation had signed up at least 200 families by May 1. "We've been doing small things to promote our parks, but this is the first time we've done something like this," says Massachusetts DCR acting commissioner Priscilla Geigis. "This is a big deal for us." Meanwhile, nearly 60 families had registered for the New Hampshire Division of Parks and Recreation's six-week-long game. "We want to get kids back outdoors and raise awareness of our state parks," says Amy Bassett, New Hampshire DPR's marketing director. "I mean, they're right here in our backyard."