Increased interest in energy conservation has colleges and universities committing to wind power.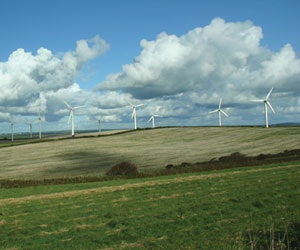 The interest on college campuses in energy conservation brought on by the skyrocketing price of fuel has taken many forms - from the updating of university fleets with the purchase of hybrid vehicles to the specification of energy-efficient windows, lights and HVAC equipment in university buildings.
It has largely been an underground movement - that is to say, few people are aware of such efforts. But with the news that Wartburg College has committed to powering its new $30 million sports complex in part with wind energy, the drive may be picking up speed.
That's not to say that wind power is unheard of in the institutional setting. For example, through the Environmental Protection Agency's College & University Green Power Challenge, schools compete to purchase the highest number of kilowatt-hours of renewable energy. New York University, the University of Pennsylvania and Pennsylvania State University, the three top finishers out of 33 schools that took part in 2006-07, purchased a combined 314 million kWh of green power during the school year. All of NYU's 118 million kWh were generated by wind turbines, while wind power generated 29 percent of Penn's electricity during the competition. In 2003, Penn became the nation's largest nongovernmental purchaser of wind power, and has since extended its wind power contract from three to 10 years. According to the EPA and school officials, the long-term pact is likely to drive construction of a new 12-turbine, 20-megawatt wind farm in Pennsylvania.
Wartburg, however, will enjoy a wind harvest before its bigger, Ivy League cousin. The Waverly, Iowa, college will pay $2 million to Waverly Light and Power over the next 20 years from its funds earmarked for energy costs to help pay the cost of building a turbine, which will offset the use of traditional energy sources for the Wartburg-Waverly Sports and Wellness Center. Set to open in September, the 200,000-square foot center will be home to the college's sports and recreation programs, as well as Waverly Parks and Recreation programs.
"This project will affect the college, our community and the state of Iowa," Wartburg President Jack Ohle said in making the announcement. "It puts the college in the company of only a handful of institutions across the nation that have made similar commitments to this type of renewable energy."