Incremental change may help gay and lesbian coaches cross the threshold into openness.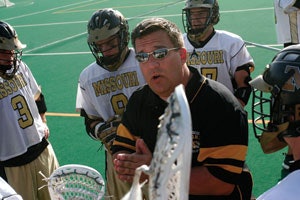 Kyle Hawkins sometimes stopped to think whether a sentence he had just spoken to members of the University of Missouri men's lacrosse team sounded "singsongy." When retrieving an errant ball on the field, he consciously tried not to run "like a girl."
Hawkins isn't effeminate, but he is gay. And as the head coach of those Mizzou club lacrosse players, he had led the Tigers to a combined 121-49 record and a conference championship in his first eight seasons in Columbia. Yet, despite that success, those years were filled with self-doubt. Hawkins had not yet publicly revealed his sexual orientation, and how players perceived his mannerisms weighed heavily on him. "Those kinds of things definitely crossed my mind when I was closeted," Hawkins says. "It was torturous."
But being out of the closet for the past year didn't leave Hawkins off the hook. He heard homophobic epithets from fans, opposing coaches and even one official. He closed practices to local media, even as he felt obligated to grab the national pulpit regarding his experiences as one of the few openly gay coaches in all of college sports. His roster shrank from more than 30 players to fewer than 20 (though he didn't believe his sexual orientation was the reason) and, as a result, he suffered his first losing season in more than a decade as a head coach. Then, on May 4, Hawkins was "completely shocked" to learn that his contract with the team would not be renewed at the end of the month.
Still, Hawkins - who hasn't spoken to his parents since Oct. 31, 2004, the day he told them he is gay - contends he is happier today than he was a year ago. "You wake up one day, and you're like, 'Am I really living my life worried about what other people think?' " he says. "It's my life. I can do my best to explain to people why I'm willing to live openly. A lot of them understand. A lot of people in the sports world don't."
In the collegiate sports world, at least, that may be changing. Gay and lesbian student-athletes are, in general, greeted with more tolerance today than 20 years ago. Within the past few years alone, Andrew Goldstein, an all-American lacrosse goalie and team captain, came out during his playing days at Dartmouth College, as did Joey Fisher, a club ice hockey goalie at the University of Georgia. Until his graduation in December, Adam Goslin played both football and baseball at Washington University in St. Louis while openly gay. According to Cyd Ziegler, president of outsports.com, "dozens" of collegiate student-athletes are out, though exponentially more remain closeted.
"There's no reason to believe that the percentage of gay people in sports is any different than the percentage of gay people in general society," Ziegler says. "Even the most conservative estimates put that number at two percent. That means on every college football team in America there is at least one gay player. Looking at all of the athletes in all NCAA sports, you're talking about thousands of people."
The number of gay coaches, meanwhile, is more difficult to gauge. "It is a lot tougher for a coach to come out of the closet than an athlete," Ziegler says. "The first thing that pops into a lot of parents' minds is, 'What is he doing to my kid? Is he in the locker room when my kid is getting undressed?' And because the coach is in a position of power, unless he has 100 percent support from the administration, coming out truly jeopardizes his job."
A still-closeted Hawkins looked to outsports.com for support, "begging" peers for advice on such issues as whether he should take a stand against the on-field use among players of the word "faggot." Once out, his own players addressed the issue. "One of my kids asked me, 'We throw around gay and fag all the time. Does that bother you?' The honest answer is no, it doesn't bother me. It's part of the culture. I know that those who are saying it are doing so to inspire people, not to tear people down," Hawkins says. "But when I was closeted, it bothered the hell out of me. It kept me in the closet."
Since outing himself on outsports.com, Hawkins estimates he has been in communication with 50 to 60 coaches - mostly college coaches, some high school coaches and even a couple of professional assistant coaches. "The people who have contacted me tend to be from the major sports - football and basketball - and they tend to be from the South," says Hawkins. "I'm not saying that there are more gay people in those sports and in the South, but I would argue that men's team sports and the South are not conducive to feeling comfortable, and so coaches in those sports and in that region are reaching out to each other trying to find help."
Often, they have nowhere else to turn. Rarer still is the openly gay athletics administrator, and some feel tolerance leadership within the straight ranks has been lacking. "I think there are still a lot of male administrators who are really uncomfortable addressing this issue," says former Oberlin College AD Michael Muska, whose 2000 Chronicle of Higher Education essay, "Reflections of a Gay Athletics Director," remains one of the few discussions of the topic in print. "I think women athletes and women administrators are more willing to take on this issue. I just don't know if I've seen it on the men's side."
During his closeted days in the 1980s, Muska was a successful track coach at Auburn and Northwestern, garnering conference coach-of-the-year honors three times. "Even today, I think it's very difficult to be a Division I men's coach and feel comfortable being out," he says.
Muska, who has worked with the NCAA on several sexual-orientation initiatives, left Oberlin on his own terms in 2002. He still conducts sensitivity training with sports teams on a dozen or so campuses each year - "far fewer than I probably should be visiting," he says. Still, significant events at the national level have provided some encouragement. In January 2000, the NCAA added "sexual orientation" to its own non-discrimination clause. And just last October, the association co-hosted with the National Center for Lesbian Rights the first-ever think tank on how best to curb negative recruiting - the practice, in this case, of using an opposing coach's sexual orientation against her in order to sign a coveted student-athlete. "You'd like to think that those are the kinds of things that will lead to change," Muska says. "It's incremental. Unfortunately, to me, it's not happening fast enough."
Helen Carroll, the NCLR's sports projects director, served as an openly lesbian athletics administrator for 12 years. As one of the first women's coaches to come out, she won a Division II national basketball championship at the University of North Carolina at Asheville in 1984. At that time, she estimates, the majority of women's coaches were lesbian. Now, she's not so sure. "The percentage of women coaches is lower than ever before," Carroll says. "I strongly believe one of the reasons for that is the fact that when a lesbian coach loses her job for whatever reason, she often is replaced with a man so that the administration doesn't have to deal with negative recruiting."
While it's widely believed that women comprise a higher percentage of the gay collegiate coaching pool than men, lesbians tend to stay closeted, according to Carroll, who was the target of negative recruiting tactics herself. "It's no surprise that coaches stay closeted in this day and age," she says, "because they absolutely cannot afford to lose out on the very top talent across the nation."
Hawkins likewise feared his openness would adversely affect his ability to recruit, as well as the quality of officiating that his players received. But he has few regrets about coming out. "Just the time lost, really," he says. "And I do regret that I wasn't brave enough to stand up to the term 'faggot' before. If I had a closeted kid on my team and I allowed someone to unknowingly call him a faggot on the field, if that added any stress - or months or years to his staying in the closet - then my bad."
Hawkins' greater concern now is that his firing could discourage closeted coaches everywhere from coming out. Reaction from those within his online support network was immediate. "You know what the e-mails from those guys said? 'This is why you don't come out, you idiot,' " Hawkins says. "If it did anything, it put a lock on the closet door for some of those people."
For Hawkins, at least, it appeared as of this writing that several coaching doors were opening to him. Within days of his Mizzou dismissal, he says, discussions began with varsity programs in all three NCAA divisions, as well as with a European national team. "I built this program and I built a life here in Columbia," he adds. "But being forced to leave has opened up so many incredible opportunities. I just feel like I'm going to be in a better situation than I was in. People will know up front who I am."