Football fantasy camps provide fans with insight and schools with a friend-raising opportunity.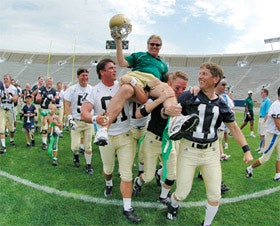 When former University of Notre Dame quarterback Pat Steenberge hosted a fantasy football camp five years ago on his alma mater's campus in South Bend, Ind., he was told he was nuts. Not because he staged the camp - believed to be the first of its kind in the country - but that the $3,500 he charged each camper wasn't nearly enough. And those comments didn't come from officials within Notre Dame's Monogram Club, which stood to gain the most from revenue generated by the camp (proceeds fund scholarships for the sons and daughters of former players), but rather from the campers themselves.
That's because Steenberge, president and founder of Global Football, a company that within the past decade has staged amateur football games in 15 countries, had succeeded in giving 27 alums, longtime fans and established boosters a glimpse into what it's like to suit up for their beloved Fighting Irish, even if only in a flag-football setting. In defense of his pricing, Steenberge pleads ignorance. "I didn't know," he says. "We weren't selling widgets."
As with the fantasy camps offered by many Major League Baseball clubs and now even some National Football League teams, Steenberge was selling an experience, and a growing number of individuals - including several in their 60s - have eagerly bought into the idea of running around like an adrenaline-charged college recruit for five days. (Due to the inherent personal-injury risk posed by such activity, Steenberge purchases a $5 million insurance policy, and campers must sign a university-drafted liability waiver.) By its second year, Notre Dame's camp roster swelled to 48 participants. Years three and four saw the 60 available roster spots sell out in short order. Come this summer, separate sessions spanning late June and early July had to be scheduled to accommodate 90 total campers - each paying a registration fee now approaching $5,500. "What they do is extremely significant toward increasing our overall scholarship endowment fund," says Monogram Club executive director Jim Fraleigh, who estimates the camps have contributed "well in excess of $100,000 over the years."
Coaches and administrators, though a tough sell at first, are now completely invested in the enterprise. "We weren't aware of anybody else at the college level doing anything like this," says John Heisler, senior associate athletic director at Notre Dame, which turned down Steenberge's initial pitch prior to the 2001 swan-song season of former coach Bob Davie. "We certainly thought there might be interest in it. It was just a matter of trying to figure out how we could frame the experience appropriately."
Few schools - Michigan State, Marshall, Ole Miss and Texas Tech among them - have attempted to frame their football experiences through fantasy camps, and fewer still devote five days to the visiting campers. Penn State is one, but that's because Steenberge runs its camp, too (the second annual event took place June 6-10, with revenues bolstering a general athletics fund). According to PSU alum and repeat camper Eric Rosario, a 30-year-old program manager for Microsoft in Seattle, his behind-the-scenes access in State College beats any vacation he's ever taken. "I went to Bali for five days. I got to lie on the beach and eat all different types of food. Bali was great, but this is way better than Bali," he says. "This is something I'm passionate about. I have to be part of it."
So dedicated was Rosario to being part of last year's inaugural PSU camp that he participated less than five months after undergoing reconstructive ACL surgery. "I think I was the second or third person to sign up," says the onetime Division I-AA linebacker. Rosario, who was hit by a car in January, underwent shoulder surgery two months prior to this year's camp. Yet, there his name was on the 2007 roster among four fellow "sophomores." Also back for a second year was David Lipson, 63, who hit it off so well with Bill Kenney, a 20-year veteran of the PSU coaching staff, that he invited Kenney to lunch two weeks after last year's camp and cut him a check large enough to fully endow a football scholarship.
Steenberge says he never thought his camps would create those kinds of connections. Then again, he never thought anybody would attend more than one. Three Notre Dame campers - so-called "5th-year redshirts" - have never missed. "I really thought it would be a once-in-a-lifetime thing," Steenberge says. "When guys started coming back for a second and third year, I had to ask, 'Why are you guys doing this? Basically, it's the same practices, the same game.' They tell me, 'It's the relationships.' "
"It's like a family now," says Rosario, who adds that he trades at least one e-mail per month with Penn State quarterbacks coach Jay Paterno. "They remember you. It's great."
As informal as the interpersonal relationships might become, the respective Notre Dame and Penn State camp itineraries are timed to the minute - with a welcome reception and separate meetings and practice sessions for offense, defense and special teams spanning Wednesday through Friday of camp week. Along the way, coaches draft players onto separate teams, and a fourth practice session allows each group to strategize for a Saturday scrimmage on the stadium field. During off-field hours, campers are treated to presentations on such germane topics as recruiting, as well as catered meals in special stadium clubs featuring former players and coaches as keynote speakers. "The most fun these guys have is hearing the war stories from the former players and coaches," Heisler says. "They aren't reading them in a book. They're sitting next to these guys at dinner." Socializing often continues for hours. Adds Steenberge, "One year, I was sitting in the hotel lobby, and I had John Lattner, Jim Seymour, Tom Gatewood, Kris Haines and Derrick Mayes - really the best receivers at Notre Dame during their respective decades - all sitting around having a beer, and there were about eight guys just sitting and listening to stories. It was one of those magical moments."
Game day is all about authenticity. At Notre Dame, a team mass is held at the famed campus grotto before campers make the traditional trek by foot across campus to Notre Dame Stadium. There, they dress at lockers stocked with official Notre Dame game jerseys and pants, as marching band music is piped into the room. One year, legendary coach Ara Parseghian even delivered the pregame pep talk. "It was like the guys didn't even care to go out and play; they just wanted to hang out with this icon," Steenberge says. When it's time to take the field, players slap the "Play Like a Champion Today" sign and head for the stadium tunnel. At Penn State, on the other hand, players board an old blue bus for the junket from their hotel to Beaver Stadium, where they dress in relative silence - details Steenberge himself needed to learn from PSU staff prior to last year's camp. Tailgaters formed a gauntlet between the bus and locker room doors, adding an unscripted facet to the fantasy experience for campers. Says PSU football marketing director Guido D'Elia, who contacted Steenberge about staging a camp in State College, "You could just see the tears in the eyes and the extra hop in the step of every one of them."
On Sunday, the campers head their separate ways, each one toting close to $1,000 worth of gear - from a helmet right down to their own pair of Nike (Penn State) or adidas (Notre Dame) cleats. Many will stay in touch in the hopes of reuniting at tailgate parties in the fall or at next summer's camp. In fact, Steenberge was fielding questions about 2008 roster spots before the 2007 camps had even begun. And coming this September by special camper request: Fantasy Bowl I, a game pitting veterans of each school's camps willing to pay another $1,200 for the chance to meet on a synthetic-turf field adjacent to Beaver Stadium during the same kinetic weekend the real Penn State hosts the real Notre Dame. "It will add one more ring to the circus," says D'Elia.
If this all is beginning to sound a bit extravagant, Steenberge says he is just filling a void. "These are well-heeled fans," he says. "They're already big supporters of the university, and this just totally wraps them into it on another level. Nobody had the chance to dress in the Notre Dame locker room or play in Beaver Stadium before. It had never been offered. There's so much media coverage now that fans have more inside info than ever, but they can't personally get inside. This allows them that access. And it allows the school to take a captive audience of 60 guys and for five days tell the university's story like it has never been told."