Through administrative teamwork, Middle Tennessee State football rises from the Academic Progress Rate abyss.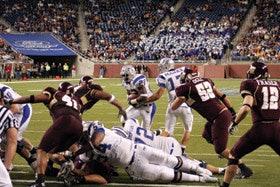 Days removed from a victory in his debut last fall as Middle Tennessee State University head football coach, Rick Stockstill gathered the Blue Raiders after practice on the eve of their departure for a Sept. 9 date with the University of Maryland. One of them would not be making the trip, the coach told his team. The reason? The player had arrived late to one of his classes. The academics doctrine of Stockstill, who had already kicked two players off the roster permanently for skipping class, could not be communicated more clearly.
"I told them coming in that if they don't go to class, there are going to be consequences," Stockstill says. "It doesn't matter if you're the starting quarterback or the third-team kicker, whether you're on scholarship or a walk-on. Everybody is treated the same."
The coach and his attitude could not have arrived in Murfreesboro too soon for Middle Tennessee State. Three years earlier, the school's football program ranked dead last among its Division I-A peers in the NCAA's inaugural Academic Progress Rate (APR) report, a very public manifestation of the association's new system of tracking term by term the number of student-athletes in any given program on pace to graduate within five years (see "A Matter of Degrees," July 2004, p. 65). Essentially, each scholarship student-athlete who remains eligible to compete and stays at his or her school contributes two points toward a team's per-term total. That sum is then divided by the total points possible to create the team's APR (like a batting average, but without the decimal point). The NCAA projects that teams achieving an APR of 925 will graduate roughly 60 percent of their student-athletes (taking into account non-academics-related attrition factors), and 925 represents the association's current "in good standing" cutoff. To date, only contemporaneous penalties in the form of lost scholarships have been meted out to schools failing to reach that APR benchmark. (A scholarship must remain unused for one year for each athlete who is neither eligible to play nor retained by the school - a so-called oh-for-two scenario.) Beginning next spring, a rolling four-year APR average will determine historical penalties (for those falling below a 900 APR average) ranging from lost practice time and post-season ineligibility for individual teams to compromised NCAA membership status for entire athletic departments.
MTSU's initial score of 812 was so abysmal that it ranked next to last even after Division I-AA football programs were thrown into the mix. If not for the formation on campus the previous year of an Academic Strategic Planning Committee, which succeeded in doubling from two to four the number of academic counselors available to MTSU's 300-some student-athletes, as well as expanding and upgrading the school's Student-Athlete Enhancement Center, the Blue Raiders' football score could well have slipped into the 700s, according to Mike Moleta, MTSU's associate athletic director for compliance. Says Moleta, "That first year, we had 38 players who negatively impacted our football APR, including 18 oh-for-twos."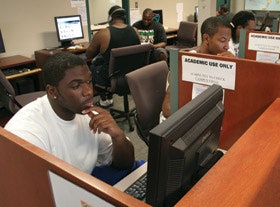 Now in his sixth year at the school, Moleta is credited with sparking Middle Tennessee State football's dramatic APR resurgence - the program earned follow-up scores of 893 and 949 - with his Academic Game Plan, a system that requires student-athletes to report to academic counselors weekly, semiweekly, biweekly, monthly or not at all, based on their current grade-point average. Jim Rost, another architect of the turnaround, arrived last fall after stints at Louisiana State and Southern California to assume the directorship of the Student-Athlete Enhancement Center. He brought with him a program that considers all incoming freshmen, as well as any student-athlete below a 2.5 GPA, to be at risk academically. These 125 or so students are required to attend nightly objective-based study halls where Rost, armed with a database containing syllabi information for every one of them, checks to make sure their work is getting done in a timely fashion. "The paradigm for my profession for years was, 'We'll provide some support and if they take advantage of it, great,' " says Rost, who reports to MTSU's student-affairs office. "Well, I feel that the NCAA has put it on us to take it to another level from a dedication perspective. We just don't leave the office at 4:30 because it's 4:30. I was here until 9 o'clock every single night last year to make sure things were running the right way."
In fact, the MTSU way of running things is now considered exemplary. Says NCAA director of membership services Julie Cromer, who invited university officials to present the MTSU case study at two APR workshops this spring, "They set out to change their culture, not just spend more money. And it clearly has worked."
To make it work, Rost isn't above resorting to internal punishments to ward off those of the NCAA variety. Under his system, athletes who commit acts of academic negligence (such as missing a class, a study hall session or a counseling appointment) accumulate demerit points that lead to disincentives - among the most effective of which is forcing teammates to endure an early morning run while the offender sits idly by and watches. For his part, Stockstill made an appearance at every study hall during the fall semester to help ensure absenteeism was rare (Rost says there were only five no-shows the entire year), then assigned himself and his assistants to a monitoring rotation in the spring. "I think the more that you as a coach can show that education is important to you, the more the athletes are going to believe it should be important to them," Stockstill says.
"The kids bought into the system," adds psychology professor Terry Whiteside, MTSU's faculty athletics representative. "At first, they were doing it because they felt they had to - extrinsic motivation. After a while they started being successful in the classroom, and everything about them changed. I know it sounds corny, but they got intrinsically motivated: 'I can do this!' "
That can-do spirit, bolstered by results, has become nothing short of infectious. "The big thing is attitude," says athletic director Chris Massaro, when asked what advice he has for peers who find themselves teetering at the APR abyss. "Academic success has to be important to everybody on campus, and it was for us from the president on down. And then you have to have a system of accountability to make sure that there's quick intervention if somebody starts to slide. It's like any problem - if you can identify it early enough, it's manageable."
The attitude among coaches, faculty and administrators alike is that MTSU's once-embarrassing situation is now under control. Rost anticipates that when the next APR report is released in May, the football program will garner a score of 974, which would translate to a four-year average of 907 - safely above the NCAA's historical penalty threshold. But don't confuse control with complacency. "Regardless of whether we have 1000 APR scores across the board, we're not going to let up in our support of student-athletes," Rost says. "I think that's the feeling of the whole MTSU community. We still have a long way to go, but there's a reason we're being successful: Everybody rolling up their sleeves and pitching in. I don't see that going away."
"We now have a culture in which we're going to graduate these kids," Whiteside says. "When I meet with all the teams at the beginning of the year, I tell them, 'At Middle Tennessee, we expect you to win. But we demand that you graduate.' Our goal is for them to walk across that stage at graduation with a diploma in one hand and championship rings on the other. You can do both."
For proof, look no further than Stockstill's football team. Despite playing last season with 13 fewer scholarships than the NCAA maximum of 85, the Blue Raiders garnered a share of the Sun Belt Conference championship and the school's first-ever bowl bid. "We were demanding of them, and they put out the effort," the coach says. "I'm happy that they bought into our way of doing things. They understand now the importance of getting an education."