Through administrative teamwork, Middle Tennessee State football rises from the Academic Progress Rate abyss.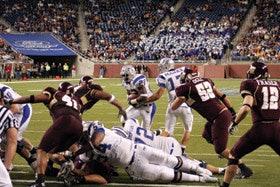 Days removed from a victory in his debut last fall as Middle Tennessee State University head football coach, Rick Stockstill gathered the Blue Raiders after practice on the eve of their departure for a Sept. 9 date with the University of Maryland. One of them would not be making the trip, the coach told his team. The reason? The player had arrived late to one of his classes. The academics doctrine of Stockstill, who had already kicked two players off the roster permanently for skipping class, could not be communicated more clearly.
"I told them coming in that if they don't go to class, there are going to be consequences," Stockstill says. "It doesn't matter if you're the starting quarterback or the third-team kicker, whether you're on scholarship or a walk-on. Everybody is treated the same."
Log in to view the full article