Avoiding outdoor track and field meet delays takes a lot of preparation and a little good weather.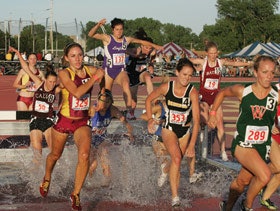 Kansas is not known for its clement weather (think The Wizard of Oz). And in April, hordes of eager high school track and field athletes were just into the first day of the state championship meet when an unexpected thunderstorm suspended the action for two and a half hours. The delay could have been disastrous for the meet's organizers, who were already dealt the Herculean task of staging 132 track and 84 field events for 3,600 male and female athletes in six different classes - all within two days.
By the end of the 13-hour opening day, however, meet officials had made up more than an hour of the lost time, successfully staving off the ire of water-drenched athletes, coaches, parents and fans. How did they shave off so much time? "We get great volunteers," explains Rick Bowden, assistant executive director of the Kansas State High School Activities Association, which oversees the annual event. "That's pretty much it in a nutshell."
That may not be as easy as it sounds, however, since a good work ethic and a positive attitude don't necessarily constitute a good volunteer. That's especially true with most local-level meets, which are not sanctioned by the NCAA or USA Track and Field, groups that provide trained officials and course clerks. Volunteers at local meets need hands-on experience with specific track and field events, says Bowden, who directs about 200 volunteers each year at the Kansas state meet. "Experience is definitely more important than numbers of volunteers," he says. "Every year we try to get new faces and get more people involved, but we make sure only to put them where they have some background."
Some of the most critical personnel involved in keeping any track meet running smoothly and on time are public address announcers. The same announcers have been calling the Kansas state meet for decades. "They've got to be knowledgeable people who understand the events," says Bowden. "Our announcers are really experts on the history of track in Kansas."
Al Ackerman, athletic director at the University of Wisconsin Oshkosh, was the event director when the university hosted the NCAA Division III outdoor track and field championships this year. He says a good announcer is one of the two key ingredients in keeping a track and field meet on course. The other, he adds, is a well-planned, though slightly malleable, schedule: "You need the good PA announcer to make sure your schedule is happening, but you have to have a realistic schedule to begin with." Ackerman, a former NCAA Track and Field Committee chair, says many meet organizers make the same critical scheduling mistake: They get locked into a schedule that doesn't reflect the makeup of the meet.
"People will put their schedules out when they invite schools to their meet," he says. "But they don't go back and change those schedules once they have all the entrants in. Let's say you provide 20 minutes to run the 200 meters, but when the entrants come in you have 40 heats for the 200. I'm using extremes here, but you're not going to be able to run those 40 heats in 20 minutes." Ackerman suggests any potential agitation from slight alterations to an events schedule in the weeks preceding a meet pales in comparison to the agitation caused to athletes, coaches and fans by extreme delays on meet day. "Don't be afraid to veer off the original schedule, because it really does need to change just based on the number of people running in each event," he says.
Scheduling becomes even more problematic at smaller meets, where athletes within a class or division often split their time between track and field events, causing competition time conflicts. Says Bowden, "Long jumpers and triple jumpers tend to also be sprinters, so we have problems any time we're having preliminaries in the track events." And every moment of meet-day scheduling confusion represents a moment lost.
A possible solution, one the KSHSAA has been pondering, is holding track events for half its classes at the same time as field events for the other half. That's opposed to having all track and field events for the same classes at the same session (either morning or afternoon). While that strategy may help keep individual events on time, it would also require more time of multisport athletes and their coaches. "It would eliminate a lot of those conflicts, but it would make for a longer weekend for a lot of people," Bowden says.
Problems with peripheral activities (ticket sales, concessions and parking) also have the potential to throw a meet off its stride. Ackerman suggests finding and retaining repeat staff and volunteers - especially those already familiar with a meet's facility - to work such jobs. "Certain activities are going to be pretty much the same from one event to another," he says. "Selling tickets is selling tickets. Selling merchandise is selling merchandise. You shouldn't have to reinvent the wheel every time you host a meet."
For all that can hold back a track and field meet, there are even pitfalls if a meet runs too efficiently. Says Bowden, "Parents will get pretty upset if we put out a time that their kids are going to run, we run it a half-hour early, and they miss it. A 15-minute window is about all I have to play with."