In a controversial move at Oregon, varsity baseball returns, while wrestlers struggle for survival.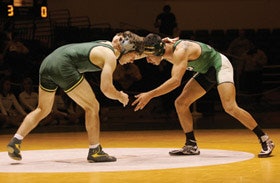 It's a homecoming that many are celebrating. On July 13, first-year athletic director Pat Kilkenny announced that Ducks baseball will return to the University of Oregon after a 26-year hiatus. But the news ruffled more than a few feathers in Eugene and beyond. That's because Kilkenny also revealed that the upcoming wrestling season would be the school's last. "My second-favorite sport is baseball, so I think adding baseball is a magnificent thing for the University of Oregon to do," says former UO wrestling All-American and current head coach Chuck Kearney, who has dedicated more than two decades of his life to the program. "We're struggling to understand why it has to come at the cost of wrestling."
And so a bittersweet saga has unfolded, complete with the subplot surrounding women's competitive cheer, which like baseball will assume varsity sport status in 2008-09. Kilkenny, a former business leader and high-ranking UO donor, says the shakeup makes sense for an athletic department that - despite its position among fewer than two dozen in the nation that sustain themselves financially - remains "fragile."
"The guarantee we made to our administration is that we would continue to take steps forward from a financial perspective," says Kilkenny, who met in April with members of an ad hoc committee of potential donors led by former UO baseball coach Mel Krause. "The baseball community not only had to provide operating capital for the reinstatement of baseball, it also had to provide us with operating capital for the additional women's sport. So we had leverage."
Leverage is not a foreign term to wrestlers, but Krause's baseball support network clearly got the jump on the local wrestling establishment. "The statement that the baseball community made spoke loud and clear," Kilkenny says. "We had 150 financial commitments that we didn't solicit but that were part of this ad hoc group. And out of that group, we confirmed only one donor as having been meaningful to the university in the past. Part of my charge is to expand the donor base, so that was pretty compelling."
The reorganization will reportedly increase the athletic department's 2007-08 budget by $300,000, as the new programs are established well in advance of actual competition. "As a wrestling coach, you understand that when sports are listed and wrestling is at the bottom, it's not necessarily because of alphabetical order," Kearney says. "It's not a priority at a lot of schools, and the wrestling community has allowed that to happen, and we need to do something about that - not just at Oregon, but at all schools. There are hard decisions that have to be made, and we understand that. But we much prefer tightening the belt to eliminating a program."
One thing on which Kearney and Kilkenny can agree is that UO wrestlers lack a permanent campus home. They surrendered their wrestling room to a new athletic training center in November, and practiced last season in gym space on loan from the UO Student Recreation Center. But when asked if his student-athletes were beginning to feel like kids at the card table during Thanksgiving dinner, Kearny says, "The mentality inherent to our sport is that we're not real concerned about lavish training facilities. Our needs are pretty simple - a room with mats in it."
Kilkenny characterizes the program as saddled with much greater physical-plant deficiencies, however. "We needed a solution that was going to require, by our best guess, somewhere between $4 million and $7 million to build a practice facility for our wrestling group," he says. "So we started looking at that, and with the baseball group talking about their interests, that's when we decided to put together a committee to analyze our sports offerings."
Perhaps no two sports are as different as wrestling and competitive cheer, and Kilkenny sees them on diverging trend lines - citing the significant number of collegiate wrestling programs eliminated in recent years, while claiming competitive cheer is "one of the fastest-growing sports that women participate in nationally."
According to NCAA participation statistics, varsity wrestling has experienced a net loss of 133 programs in all three divisions since 1981-82, the biggest drop by far of any sport. In 2003, the University of Maryland became the first NCAA Division I-A school to sponsor competitive cheer as a varsity sport, yet the NCAA still doesn't sanction it as such. "No doubt we're significantly out in front of the crowd" in terms of competitive cheer, Kilkenny says. "We hope that since Oregon does tend to do some innovative things on the sports side, we'll foster more interest on the West Coast."
Meanwhile, an estimated 33,000 high school wrestlers are already competing in the Pacific Northwest, with ever-diminishing avenues for advancement. Oregon will become the latest of six Pac-10 Conference institutions to drop wrestling since 1979. Once it does, only eight four-year colleges in the region will offer those 33,000 wrestlers roughly 200 total roster spots. Says Kearney, "In my mind, that's the bigger crime, that a market that's out there is being denied opportunities."
Kearney, who coached an individual NCAA champion in 2006, adds that he is encouraged - even touched - that the two high school wrestlers who signed letters of intent to attend Oregon will forgo their option to withdraw and instead join a full roster of returnees (existing wrestlers were free to transfer without penalty). "One of the parents said that in this recruiting process she liked Oregon best for its academics, the kids in the program and the honesty and integrity of the coaching staff," Kearney says. "Her take on it was that one year of that was better than none."
Despite having both shoulders to the mat and the count running, supporters of Oregon wrestling still hope for a reversal. "I don't believe that wrestling is gone at the University of Oregon," says Trent Kroll, head wrestling coach at Hood River (Ore.) Valley High School. "I think we can and will get it back, but we're going to have to work hard at it now."
"Right now, we're attempting to make ourselves financially sustainable, to take that burden out of the argument so we can be looked at again," Kearney says. "We have another season, and we're obviously looking to put our time and energies into coaching that team and making it the best season we possibly can. But the rest of the time we're going to spend trying to raise money."
An independently launched website (saveoregonwrestling.com) began accepting online donations July 20. Meanwhile, Kilkenny's late summer was spent searching for a head baseball coach, touring ballparks, and studying collaborative relationships between collegiate and professional teams. He also reviewed written correspondence from within the wrestling community, as more than 1,000 pieces arrived on his desk and that of UO president Dave Frohnmayer in the two weeks following the announcement. "They were from all over the United States," Kilkenny says. "A lot of the input we received was very thoughtful and that - along with the impact on our student-athletes, our coaches and their families - has made this one of the tougher things I've done in my life."
Kearney contends that the very nature of his sport - perhaps more than any other - prepares individuals for life's challenges. "In wrestling, you have to be resilient to be successful," he says. "You have to be able to take tough times and bounce back, and you have to be accountable. In my estimation, that's what makes wrestling so valuable in our educational process. We need those traits in our communities. I think that Mr. Kilkenny and Dr. Frohnmayer are seeing that demonstrated, and I'm hoping that it makes them rethink."