Mobility-impaired veterans converge on Milwaukee for a week of Olympics-style competition, camaraderie and rehab.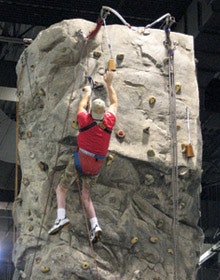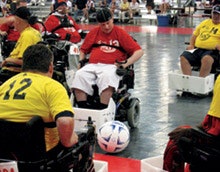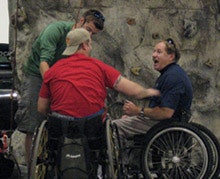 As chief of the spinal cord injury unit at the Clement J. Zablocki Veterans Affairs Medical Center in Milwaukee, Dr. Ken Lee had grown accustomed to the duties of a rehab physician, regularly meting out tough medicine to his patients. From Lee's perspective, by encouraging military veterans to work hard during their recovery from mobility-impairing combat injuries, he was simply doing what was best for them - helping them prepare for the everyday challenges presented by life in the civilian world.
At least it was that simple before Sept. 12, 2004, the day that Lee, also a colonel in the Wisconsin Army National Guard, was severely injured while serving as a medical company commander in Operation Iraqi Freedom. Seven months into his Baghdad tour, Lee's convoy was attacked during a routine equipment run by a suicide car bomber. Lee, one of three seriously wounded soldiers, sustained numerous shrapnel injuries to his legs and arms.
After being evacuated to a U.S. Army hospital in Germany, Lee underwent a months-long rehabilitation at Washington, D.C.'s Walter Reed Army Medical Center. During his time in the recovery ward, Lee's life was forever altered in two ways. "My entire perspective has changed," says Lee as he gestures to the dozen or so half-dollar-size scars that pockmark his right leg (Lee didn't lose much mobility and today walks only with a slight limp). "I had been a National Guardsman for 19 years before being called up. After coming back home, veterans look at me completely differently. Their respect for me has increased, so I respect them more. A lot of these guys are my patients, but now we've become very close friends, too. We have a unique bond."
It was also at Walter Reed where Lee, as he was emerging from one of his five operations, received news that prior to his deployment he had submitted the winning bid for Milwaukee to host the National Veterans Wheelchair Games, an annual event that brings together mobility-impaired veterans of all generations for a week of Olympics-style competition, camaraderie and, yes, physical rehabilitation. "At first, I said, 'Yes!' " recalls Lee. "But then doom set in. I thought, 'Oh my God, what have I gotten myself into?' "
Lee had committed himself to a gargantuan undertaking. Hosting the 27th annual Games, held over five days in late June, involved accommodating the accessibility needs of 575 wheelchair users with impairments ranging from spinal cord injuries to amputations to various neurological conditions. They traveled from every state, as well as Puerto Rico and Great Britain, to compete in 16 events - including track and field, archery, basketball, bowling, power soccer and quad rugby - at 10 different venues in and around Milwaukee. (In response to the types of injuries sustained by veterans of the wars in Iraq and Afghanistan, there was also a track and field exhibition for prosthetics users.)
Thankfully, Lee got plenty of help. Sizable donations poured in from Wisconsin corporations and professional sports teams, and local veterans service agencies put aside their organizational differences to form an alliance, united as "Veterans Serving Veterans." Event organizers had hoped they could round up 2,500 local volunteers to stage the Games. Well before the start of competition, 3,100 individuals answered the call. "We had to shut down our sign-up web site because we had so many volunteers. These people came out of nowhere," says Lee. "Not a single athlete waited in line. Not a single athlete had a problem getting around. The community response was phenomenal."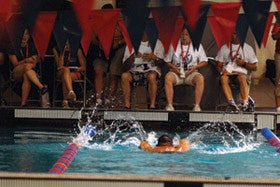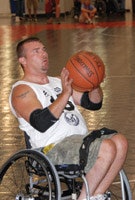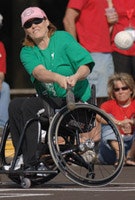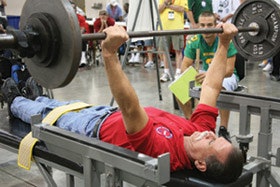 Outside the Midwest Airlines Center, the downtown convention center that served as the Games headquarters and competition venue for eight events, there were less conspicuous signs (at least to able-bodied individuals) of greater Milwaukee's support of the Games. In the weeks leading up to the event, 22 Milwaukee County Transit buses used to shuttle athletes to and from the Games were retrofitted to accommodate eight wheelchair users each, their seats and poles removed and wheelchair-securing devices installed. The city's Department of Public Works repaired sidewalks and rough spots of pavement and modified curbs at 11 downtown intersections that were expected to be well used by Games participants, and a stoplight was installed at an intersection adjacent to the hotel where many athletes stayed. The rooms at another hotel were made more accessible for its 150 wheelchair-using guests. Bathroom doors and some furniture were removed, bed heights were changed, and extra luggage stands and refrigerators were installed for guests who couldn't use closets to hang their clothes and needed to keep medicine cool and close by.
Because making his hometown more accessible had been a longtime goal of his, when Lee read the Milwaukee Journal Sentinel article outlining the city's transformation for the benefit of Games athletes, he cried. Still, Lee is no softy when dealing with his patients - whether he's helping design the Games' slalom event, which requires wheelchair users to navigate a course featuring common obstacles such as door thresholds and narrow ramps, or answering their special requests regarding hotel room accommodations. "Sometimes I'll get asked, 'Dr. Lee, I don't have this little thing I need. Can you get it from the hospital?' " he says. "I'll tell them, 'No. Think about it: If you were traveling on vacation and there was no Dr. Lee, what would you do?' Their rehab is rethinking. Every year at the Games, we challenge them to learn that there are many things they can do when we're not around and, instead of finding an excuse, they can find a way to overcome their obstacles."
Upon observing the resolve of quadriplegic power wheelchair users of all ages as they dart across a sport court in pursuit of an oversized soccer ball, it becomes clear that many Games participants don't mind getting the extra push from their rehab physicians. Fain Grogg, a Gulf War veteran, former Army Ranger infantry officer and T-12 paraplegic, has taken up the challenge from VA doctors in his native Johnson City, Tenn., with unbridled enthusiasm.
If it weren't for his age, Grogg - whose spinal cord was actually damaged in a car wreck, as opposed to combat - could be the Games' poster child. He is 42 years old, but that fact hasn't deterred his quest to qualify for a spot on the United States Paralympic team, which is generally populated by athletes half his age.
In Milwaukee, Grogg competed in four Paralympic qualifier events - hand cycling and the 400-, 800- and 1,500-meter wheelchair races. A few days before capturing gold in the latter three races, he put the entire experience into perspective. "Today, a guy told me, 'We fought for our country as soldiers. Now we're fighting in the best way we know how, and that's by competing,' " Grogg said, moments after finishing a grueling ascent up a 50-foot climbing wall in a crowd-pleasing exhibition. "I know that no one from my Paralyzed Veterans of America chapter is here. All of these people I just met in the past couple of days, and yet you saw how much cheering there was. I got halfway up there and my arms were shaking; they felt like Jell-O. But I said, 'I've got to get to the top.' That's really what the Games are all about."