As an increasing number of schools reach for the college sports summit, debate intensifies regarding the current makeup of Division I.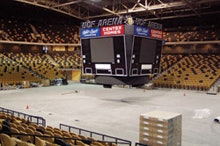 The University of Central Florida will become the first school in Division I history to open new venues for both football and basketball within the same academic year.
A summer-long marketing campaign at the University of Central Florida carried the theme "The Knights Are Coming Home," a nod to the school's ability this fall to host football games on campus for the first time in its history. Now in its 12th season as an NCAA Division I-A institution, all indications are that UCF has truly arrived on college football's biggest stage. It christened the $55 million, 45,000-seat Bright House Networks Stadium with a Sept. 15 game against the University of Texas, the nation's fourth-ranked team in most preseason polls. "We're talking about Texas," says UCF associate athletic director for communications Joe Hornstein, whose school put a scare into the visiting Longhorns before losing, 35-32. "That says a lot about this university and the program, that we are even able to have a team like Texas agree to play here."
And the firsts aren't confined to the gridiron. On Nov. 11, the men's basketball team will host Nevada in the inaugural game at 10,000-seat UCF Arena, a new multipurpose campus venue, thus distinguishing the university as the first ever in Division I to open new facilities for both football and basketball within the same academic year. If that weren't enough, both venues and their student-athlete occupants are sporting new Knights logos in 2007-08. Says Bill Carr of Carr Sports Associates, a Gainesville, Fla.-based consultancy that assisted the UCF athletic department with its strategic planning, "I have never seen a school where more is happening all at once. It's just extraordinary."
To help put the confluence of events in perspective, Hornstein dusted off the 1993 press release announcing UCF football's intention to join Division I-A (after the school spent separate six-year stints in I-AA and I-AAA) and posted it on the athletics web site in mid-July. "Because we're doing so much that's new - new stadium, new arena, new look - you're going to hear the word 'new' quite a bit," he says. "But we don't want to forget where we came from."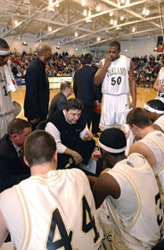 The early Division I success of Greg Kampe's Golden Grizzlies helped give their school instant name recognition.
Over the past 30 years, no fewer than 46 institutions - including 24 since 2000 - have left the comfort of the familiar for the allure of Division I (or I-A football) in at least one sport. (As of Aug. 1, the NCAA began referring to Divisions I-A and I-AA as the Football Bowl Subdivision and the Football Championship Subdivision, respectively - to mixed reviews.) The migration picked up such momentum in recent years that the NCAA on Aug. 9 announced a four-year moratorium on new Division I memberships, as well as reclassifications between the division's three subdivisions, effective immediately. "They acted quickly, because they knew if they made any public acknowledgement of the question that they would invite an avalanche," says Carr, who had been assisting as many as three institutions a year with reclassification decisions prior to the moratorium. "I think several schools on the fence would have moved ahead."
Twenty schools currently in the middle of the reclassification process (which takes between two and seven years, depending on the breadth of the jump) are unaffected by the freeze. "Division I is seeing an increase in schools in the queue toward active membership," says David Berst, the NCAA's vice president for Division I, adding that as many as a half-dozen schools will be eligible for entry in one future year alone. "It just appeared time for us to stop, take a breath and consider what a Division I institution ought to look like."
An NCAA-funded study released this summer took a financial snapshot of schools that moved either from Division II to Division I-AA or from I-AA to I-A within the 10-year period from 1993 to 2003. It found that while revenues increased as a result of such moves, expenses increased even more, thus debunking a common notion favored by administrators during the run-up to reclassification: financial sustainability. In fact, athletic department net profits for the 11 institutions that reclassified from I-AA to I-A decreased by an average $1.7 million. Meanwhile, net profits for schools jumping from Division II to Division I-AA dropped nearly twice as much as for peer institutions that stayed put. "Most of these schools are not being honest about their reasons for reclassifying," says study co-author Daniel Fulks, an accounting professor and faculty athletics representative at Division III Transylvania University in Lexington, Ky. "The president and the trustees will try to make it at least appear as though it's going to be profitable. We just haven't found that to be true. There are still fewer than two dozen schools in the country that are showing a profit on athletics. One of those is in I-AA. More often than not the motivation is a matter of ego."
The study authors do acknowledge some potential perks of reclassification - most notably, enhanced institutional prestige. "Many schools feel like they need to compete at the highest possible level athletically in order to give their institution the greatest visibility," says Carr, a former athletic director at the universities of Houston and Florida.
"Our university didn't make the jump to Division I to become an athletic power; it made the move to enhance its standing in the marketplace," says Greg Kampe, men's basketball coach at Oakland (Mich.) University, located in one of the wealthiest counties in the nation. "The university wanted to become a player."
Oakland jumped from Division II to Division I-AAA in 1999. While it's impossible to credit athletics solely for an increase in enrollment from 14,289 in 1998 to 17,737 in 2006, on-court success no doubt has played an integral role. In 2000, Kampe's program capped its first Division I campaign by winning a conference championship. In 2005, it earned a spot in the NCAA tournament, an achievement that still greets visitors on the university's home page. That year, Oakland played two eventual Final Four teams - Illinois and Michigan State - during the regular season and lost in the tournament to eventual national champion North Carolina. "A lot of the people who were against the move saw the publicity that we got and what it did for this school," Kampe says. "You can't put a dollar figure on that."
"You are who you play. How do you measure that?" echoes Carr. "There are some intangibles. Constituents feel better about the institution, and in today's marketplace, there's great value in that."
Adds Fulks, "We don't have any strong evidence that alumni and boosters are going to give you more money just because you're playing Florida and not Florida A&M. But there is intrinsic value. What we found in our research is that the diversity of the student body improves, the average entrance exam score improves and the high school GPAs of incoming students improve. And maybe that's reason enough."
Kampe, the Oakland coach since 1984, best explains the school's enhanced reputation within the scope of his own recruiting efforts. "People had no idea that Oakland University was in Michigan," he says, adding that one prospect's father asked Kampe if the coach could get him a tee-time at Pebble Beach. "Now, because of the success, they know who we are. What the university wanted out of this was name recognition, and we've gotten that. From that standpoint, it's been everything the university wanted it to be."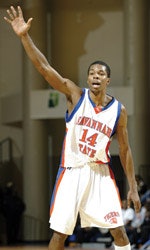 The sharks of Nova Following a heavily scrutinized 0-28 season, Savannah State turned to former Georgetown great Horace Broadnax to coach Lazarius Coleman and the Tigers.
Whether the recent "institutional creep," as Carr calls it, is welcome within the Division I establishment is another matter. "The more schools that are in Division I," he says, "the more schools that get a piece of the men's basketball tournament money."
Adds the NCAA's Berst, "It's true, Division I money is shared among Division I institutions, so it's obvious that including more schools dilutes the dollars available. But I have not heard institutions individually or as a group campaign against adding members."
When asked if the NCAA can flat-out refuse a reclassification request, Berst says, "The power is not very clear under the current bylaws. There is a subcommittee that evaluates programs and makes comments on steps taken, and it can actually hold an institution back for a period of time. But it's not very clear that there is a mechanism to say no."
Some feel the NCAA should be able to just say no. After losing all 28 of its men's basketball games during the 2004-05 season, its fourth in Division I, Savannah State University was singled out in a widely circulated Associated Press story as "the most striking example of a school that had no business jumping to Division I." It was only the second time in 50 years that a Division I basketball team had suffered through a winless season.
"The school moved to Division I in name," Horace Broadnax, who became Savannah State's head coach on the heels of the 0-28 campaign, told the Orlando Sentinel last year. "But the resources necessary didn't come with it." When Broadnax, a former star guard at Georgetown, arrived at Savannah State in April 2005, the program had no assistant coaches and only 5.5 scholarships devoted to men's basketball - 7.5 shy of the maximum allowed by the NCAA. Two years later, Broadnax has two assistants and his scholarship allotment has doubled. And if his team has not yet turned the corner on the court - going 12-19 last season - the men's basketball program is nonetheless turning a profit. According to U.S. Department of Education figures, Savannah State posted men's basketball revenues of $750,481 during the reporting year ending June 6, 2006, while expenses totaled just $414,670. The team drew a meager average of 1,100 fans to its 6,000-seat Tiger Arena, topping out at 3,727 when the University of Massachusetts came to town. But like many fledgling Division I programs, the Tigers' meal ticket takes the form of guaranteed payouts for traveling to play such established heavyweights as Illinois and West Virginia, which last season beat the Tigers by a combined score of 157-75.
"You can't say to Savannah State, 'We can't let you in because you're going to get pummeled,' " says Fulks. "What bothers me is not that they got in but that they're allowed to stay in. And it's not just Savannah State. There are so many pretenders in Division I that are not granting the minimum number of scholarships and not meeting the minimum attendance requirements. It's just a matter of nobody really wanting to do anything about it."
One potential action might involve creating "a more palatable way to move backward - either from Division I to Division II or from the Football Bowl Subdivision to the Football Championship Subdivision," Berst says. "It's very difficult for schools to do that right now. The more likely result is they drop the sport rather than fund it."
Another option is for Division I to adopt a Division II idea that makes reclassification contingent upon conference membership. Savannah State, which as an independent supplements its schedule with NAIA opponents out of necessity, played 17 of its 31 games on the road last season, including a 10-game stretch in which they were home only once. They lost all 10 by an average of 20 points. "A lot of schools are making the jump without being in a league, and that kills you," Kampe says. "You can't recruit anybody if you can't go to the NCAA tournament, and fans aren't going to come watch you play games if they're meaningless."
According to Kampe, his only demands of the Oakland University administration at the time of transition centered upon being in a conference and having a budget in line with the conference average. (The OU men's basketball budget - including scholarships and staff salaries - came in just shy of $300,000 during the team's Division II years, but now approaches $1 million.) The team is heading into the second year of an FSN Detroit regional television contract, and the school is raising funds to build a basketball practice facility, which at $15 million will cost more than the program's nine-year-old arena. The Golden Grizzlies will play 15 games at home this season, the most since joining Division I. "How about that?" Kampe asks. "We're to the point now where we can get home games." And here's where Kampe begins to sound like he's channeling the late Division I coaching legend and TV color analyst Al McGuire. "It's a blossoming flower. It's just growing and growing, and good things have been happening."
Savannah State can only hope to one day experience that kind of good fortune. According to athletic director Tony O'Neal, a former Bethune-Cookman College compliance officer who says he was drawn to Savannah State by "the opportunity to run a Division I program," the school has applied for membership to one conference, and sent feelers out to others. In the meantime, another season as a Division I independent awaits. "The excitement is huge, and the expectations are high," O'Neal says. He recalls recently crossing paths on campus with senior frontcourt player Lazarius Coleman, a survivor of the 0-28 season. "He's stronger and more knowledgeable. He knows that he can compete, and he's looking forward to the opportunity. That's been the motto of the program overall."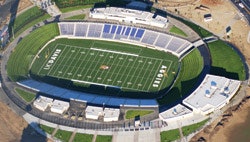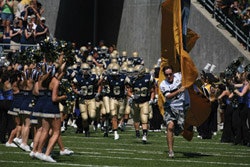 One of three institutions to achieve active Division I status in all sports this year, the University of California at Davis celebrated in September with the unveiling of a $30 million multipurpose stadium.
The opportunity to reap the rewards of Division I competition can take investments in time and money. Hornstein scans a paragraph from the UCF press release he pulled from the archives. It talks about escalating expenses and an annual budgetary increase of $2 million, but also about how "the increased expenditures will be more than offset by revenue realized through increased donations, road game guarantees, ticket sales, television, merchandise sales and other sources."
"A lot of what was originally said back on April 12, 1993, will come to fruition beginning this year, because now the university is staging football games," says Hornstein. "Expenses have gone up, but our opportunity to accomplish the revenue side of it has also gone up."
UCF had hoped to sell 20,000 football season tickets for the inaugural season at Bright House Networks Stadium, but sales were so brisk by late summer that a sellout total of 25,000 became the new goal heading into the Texas game, which was broadcast live on ESPN2. Compare that to a record 15,000 season tickets sold in 2006 (the season following the Knights' first-ever bowl appearance and their last season as a Citrus Bowl lessee) and fewer than 10,000 sold in 2005.
Likewise, Boise State University, which moved to Division I-A from I-AA in 1996, reports record football season ticket sales in the wake of its 13-0 season and stunning Fiesta Bowl upset of Oklahoma in January, and the school is close to selling out the luxury suites, club seats and loge boxes that comprise a $35.9 million renovation of Bronco Stadium. According to USA Today, the school has benefited from multimillion-dollar donations, a $3.5 million cut from the Fiesta Bowl, and bookstore memorabilia profits of $1.2 million. "But perhaps more important, we got a bounce in how Boise State is perceived by the state Legislature," BSU president Bob Kustra told reporter Jill Lieber Steeg in August. "For years, we've been the fourth-best-funded college in the state. There've been a lot of doubting Thomases who've asked, 'Should it really be the first university people think of when they think of Idaho?' We are now, thanks to the Fiesta Bowl."
As a mid-major conference representative, Boise State's ability to crash the Bowl Championship Series party last season was unprecedented, but it may not be enough to swing the pendulum away from the "haves versus have-nots" dynamic that Fulks has seen emerge in Division I. In fact, it could get worse as more schools enter the division. "We've found that schools that were already making money will make more money with the move, and those that are losing money will lose more money, because everything just gets bigger," he says.
"The message in this whole thing is that if an institution is going to move forward to Division I and be successful, the university itself must be prepared to provide resources to allow that to occur," Carr says. "You cannot depend entirely on external revenues for that to happen. It simply will not happen. It can't."
One can't help but wonder whether Fulks' NCAA-funded research produced the kind of results that the association wanted to see - a sort of disincentive to division-hopping. Berst acknowledges that the education process is ongoing. "We're trying to develop better data in Division I so presidents can make better-informed decisions on financial matters - not just what subdivision to belong to, but if you're going to pay your football coach 'x,' what do other institutions look like that are doing that?" he says. "Who do you want to compete with?"
In the meantime, new incentives to climb the competitive ladder seem to keep cropping up. Witness the Appalachian State University football team's monumental season-opening win over fifth-ranked Michigan - the first time since 1989, when the Associated Press expanded its college football rankings to 25 teams, that a Division I-AA school defeated a ranked I-A opponent. So historic was the victory that the AP for the first time ever opened its poll to include consideration of I-AA programs.
But while ASU collected $400,000 to travel to Ann Arbor that day, Michigan cleared $5 million in ticket sales alone, more than double what the Mountaineers can expect to pocket should the two-time defending I-AA champions sell out every seat in their 16,650-seat stadium this season. Moreover, the most recent government figures show ASU's football revenues from the 2005-06 season at $1.3 million, while Michigan's approached $38 million. Wrote CNBC.com sports business reporter Darren Rovell, "Putting this all in financial perspective makes it hard to believe that little Appalachian State could be a goliath."
"I think it's safe to say we all want schools to think twice before they make any move," says Fulks, speaking for NCAA officials and reclassification consultants alike. "We don't want there to be an assumption that it's going to be a cash cow, because it just isn't."