The Excellence in Youth Sports Awards program recognizes exceptional organizations that focus on safe and positive experiences for children, parents, coaches and officials.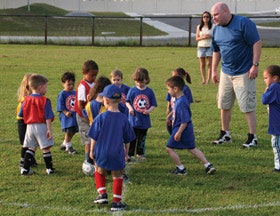 When St. Andrew's Parish Parks and Playground in Charleston, S.C., was named a 2004 winner of the National Alliance for Youth Sports' Excellence in Youth Sports Award, athletic director Tim Orvin was proud but not satisfied. "We want to run a successful organization by asking ourselves what else we can do to make things even better," he told Athletic Business at the time.
Three years later, Orvin has his answer. The municipal parks and recreation department has become the first two-time winner in the eight-year history of the Excellence in Youth Sports Awards program. "We honestly felt that we were a better department this year compared to 2004," says Orvin, citing the recent additions of such programs as spring track, girl's coach-pitch softball and basketball for 4-year-olds, as well as recognition as a Sports Illustrated Good SportsTM Community in 2005.
St. Andrew's Parish Parks and Playground joins the Botetourt County (Va.) Parks and Recreation Department, the U.S. Army's Fort Knox (Ky.) Child & Youth Services' sports and fitness program; and the youth sports programs at Misawa (Japan) Air Force Base and the Yokosuka (Japan) Naval Base as recipients of the 2007 Excellence in Youth Sports Award. The honor, developed by NAYS and Athletic Business, recognizes exceptional organizations that conduct a wide array of activities focusing on safe and positive experiences for children, parents, coaches and officials.
Each of this year's winning organizations takes the extra steps to set their programs apart from the norm. Like St. Andrew's Parish Parks and Playground, the Botetourt County Parks and Recreation Department also caters to a diverse population, offering programs that surrounding organizations don't provide, such as soccer and tee-ball for 5-year-olds. Indeed, several of this year's winners cite the value of nontraditional sports in getting the greatest number of kids involved and suggest forging partnerships with local youth groups, health clubs and golf courses to help fulfill staffing needs.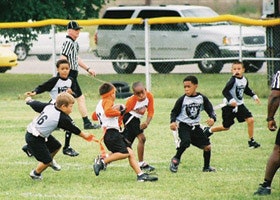 Operating youth sports programs today in any part of the world is more difficult than ever, with poor sportsmanship and other negative incidents still making national headlines. Then there are the overzealous parents who want their children to advance too quickly, making the jobs of program administrators and coaches more confrontational than they ought to be. "One of our greatest challenges is getting parents to buy into the fact that our programs are strictly recreational and that every participant, regardless of ability, gets to play a minimum of half of each game," says Terry Henderson, youth sports and fitness director at Fort Knox. Henderson's program also does not allow for the formation of select or traveling teams.
Quality programs can even be threatened from within. "We've struggled with bad sportsmanship and over-competitive coaches for years, but we stood our ground and kept pushing our philosophy with coaches, officials and parents, and it's paying huge dividends now," says Isaiah Mincks, Yokosuka's youth sports director, adding that the number of negative incidents at the base decrease every year while good sportsmanship is becoming more apparent program-wide. "Communication plays a vital role in a successful program. Discuss changes with coaches and parents, and let them know why you are moving the program in the direction you are."
Yahya Abdul-Qaadir, Misawa AFB's youth sports director, faces challenges of another kind in northern Japan. "We make it a point to focus on the entire community's needs," he says. To that end, the base invites local Japanese teams to participate in Misawa AFB's basketball, baseball and soccer programs when their schedules allow. Not only does that help bulk up the number of teams competing against one another, it also allows for cultural interaction.
Abdul-Qaadir and Mincks also must contend with the realities of overseeing youth sports programs on a military base during wartime, when parent volunteers may be deployed at a moment's notice. "It is important that our youth have activities to keep them active," says Mincks, who sometimes relies on adults to coach two or three teams at the same time. "Deployments can be very stressful times for families, so the better we run our program, the less our youth sports parents have to worry about."
Running better programs is what the Excellence in Youth Sports Award is all about, and applying for the honor required that this year's record 150 applicants take long, hard looks at their operations. It's a task previous winners have called one of the toughest they've ever faced, but the class of 2007 says it was worth the effort. "My advice would be to sit down and really evaluate your program with your staff members," Fort Knox's Henderson says. "As a team, identify your strengths and weaknesses. Once your problem areas are identified, do not try to tackle everything at once. Use short-term goals to increase your program's activities."
Angela Crawford, the administrative assistant who oversees Botetourt County's youth sports programs, offers a more succinct strategy: "Keep your organization's rules and regulations in the best interests of the children, and there is no limit to what can be accomplished."