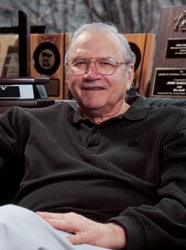 His players don't run sprints, hit blocking sleds or tackle each other during practice. Most don't even call him "Coach." But as heretical as his methods may seem within coaching circles, John Gagliardi has managed to win more college football games than any other coach in history. Last year, he became the first active coach to be inducted into the College Football Hall of Fame. Still, Gagliardi — the soft-spoken, octogenarian head coach at Division III St. John's University in Minnesota for the past 55 years — has no plans to retire. "I realize in the advancing years that I have to face reality," he says. "I can only coach for one or possibly two more decades." Paul Steinbach reached Gagliardi days removed from his 450th career victory (a 40-0 rout of normally high-scoring Gustavus Adolphus), and asked him about "Winning With Nos" — including no mandatory weight-lifting ("We encourage it, but we don't insist on it") and no whistles ("The way we practice, we don't need a whistle") — the unorthodox philosophy guiding the Johnnies.
Where did the catchphrase come from?
I was asked to talk at a coaches' convention after we won our first national championship in 1963, and they had heard about some of the radical things we do. I put a few of those things on a list, and it seemed to be very popular. Not so much with the coaches - a lot of them, to this day, don't believe it. But recruits seem to like it. So we just kept it up and added to it. Heck, it could be a longer list. We dare to be different.
Why don't you consider it essential to practice tackling?
It's not as if we are teaching high school guys. The kind of player we get has already made a lot of great tackles. You can be the best tackler in the world, but if you're hurt, you can't play. So first of all, we're preventing injuries. Secondly, you can't make the tackle if you can't get to the ball carrier. If you get there, we assume you're going to be able to tackle. So all we do in practice is defeat the offensive blocking scheme. That's not as stupid as it sounds.
Your 90-minute practices are also popular, as roughly one out of every 10 men who attend St. John's plays for you. How do you manage?
We try to hold the roster to the number of lockers we have — 190. We could have far more players than that. Many will never play a down, but they really enjoy being part of a team. They're getting something out of it.
How tempting has it been to test your methods at a higher level?
I've had some very good offers, but nothing in Division I. I like it here. You still have to win, because if you don't, they'll immediately say that the game has passed you by.
Any advice for young coaches in search of win number one?
When we won that 450th, someone asked me, "Is this the most satisfying win?" I said, "No. Number one was the most satisfying." You have to win number one, number six and number 57 to get here. They're all glorious. Treat every single one as a monumental triumph.