Arcade-style activities bring people to fitness, though they may have too much fun to notice.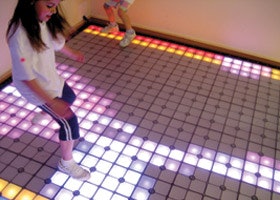 Something is happening at fitness centers. Past the metronomic movements of row after row of treadmill and elliptical users, people are ... having fun. Their laughter drowning out the low hum of machinery and ambient music, they're dancing, they're playing dodgeball, they're racing bikes with their buddies through virtual landscapes. They're getting fit, too - although this fact may not be foremost in their minds for the half hour they're at play.
The arcade-ification of fitness is under way - again. Although virtual reality bikes, dance games and other electronic gizmos had a previous incarnation in the mid-1990s, the pace of technology is finally catching up to all those churning legs, broadening the notion of what constitutes a workout in health clubs, public rec centers and schools.
Each successful product launch is something of a vindication for manufacturers who stuck by this class of equipment - any number of hybrid terms can be heard these days, from exertainment to edutainment to exergaming - after earlier, lower-tech prototypes failed to catch on. The only thing that remains uncertain is how to market these new products. Sell kids' games to adults? Or sell kids on fitness equipment?
For Brian Button, president and CEO of Expresso Fitness - which rolled out its latest virtual reality-enhanced stationary bike, the S2u, in October - the question isn't all that troubling. "I don't think there's that much difference between adults and kids, in terms of what they enjoy," Button says. "I'm overstating it a little bit, but we're all grown kids."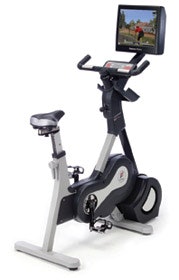 Dan Strayton is something of a pioneer in fitness' electronic age. Health Unlimited, his Mt. Airy, Md., health club, has long been a proving ground for next-generation equipment, whether in the main fitness area or in the "Tween Scene," the club's dedicated, recently expanded room for 7- to 13-year-olds.
Starting out with such standard fare as ping-pong tables and a basketball hoop, the Tween Scene now boasts a bouldering wall, an arcade-style basketball game, an interactive Sportwall, two Nintendo® Wiis, a Cybex Trazer®, Dance Dance RevolutionTM and a Lightspace® Play.
Strayton is particularly enthused about Lightspace, which offers a large number of games and activities that keep kids moving. "My kids love the virtual dodgeball game, where there's a light that's moving around trying to hit you," he says. "Kids have to run around the floor, jump over the light, stay out of its way. If it doesn't hit them in a certain amount of time it splits into two, so now there's two balls bouncing around for them to dodge."
When Strayton calls Dance Dance Revolution "the thing that really started all of this," he means his fitness center in particular rather than the industry at large. While DDR, which was introduced to Japanese video arcades in 1998, probably is the activity most responsible for giving exergaming its second wind in the club realm, the originators in the commercial fitness market predate DDR by many years. These included the Computrainer (1986, Nintendo), the eRow from Concept 2 (1987) and the highest-profile launch - and subsequently, the highest-profile bust - the Tectrix VR Bike (1994; joined the following year by the VR Climber).
What many of the first attempts at exergaming had in common was hardware that was big, heavy, difficult to maintain and much more expensive than equivalent machines lacking the electronics. Though the Computrainer and eRow survived, the VR Bike - heavily marketed and listing at $7,000 per unit - signaled an ebbing of exergaming's first wave with the 1998 acquisition of Tectrix by Cybex, which immediately Xed the VRs.
That unhappy ending had a chilling effect both on manufacturers and equipment purchasers - most of them, anyway. Strayton says that when Lightspace was introduced, "we pulled the trigger real fast. To some degree it was risky, because we didn't know an enormous amount about it, but it was the same with the Trazer. We knew they looked great for what we were trying to do in this room."
What Health Unlimited has done mirrors the gradual shift in focus that exergaming has undergone as it enters its second phase - from combating workout boredom in the adult fitness center exclusively to joining the fight against childhood obesity in the kids' area. Strayton, who purchased VR Bikes for his facility in about 1996, at a certain point moved them into the Tween Scene. He kept them running until he could no longer find replacement parts, he says. He imagines that his next high-tech purchase - he has his eye on the S2u - will similarly target both user groups.
"I'm probably going to replace three old uprights with three new Expresso bikes," Strayton says. "Ever since the VR Bikes died, I've been waiting for someone to step up and fill the gap. It seems like Expresso has done it."
There are many reasons to think that this generation of exergaming equipment will outlast the previous one. Computers' power capabilities have risen exponentially and hardware is more reliable. Monitors have moved from CRT to lighter and less-costly LCD technology, and graphics have gone from flat to fantastic. The games, too, have gotten more sophisticated, and the existence of the Internet has opened up all sorts of possibilities for programmers and club owners alike. The S2u, for instance, is live to the Internet, allowing users to race against other exercisers all around the globe and even compete against a "ghost rider" that represents their personal-best performance. As Expresso develops new routes for riders or makes improvements to old ones, all updates are immediately enjoyed by owners of bikes, wherever they are. Meanwhile, as it has for all computer equipment, the price has dropped significantly; the S2u lists for $5,145.
Tim Maguire, owner of Impact Fitness in Riverview, Fla., bought six of them, and is so impressed that he has configured his fitness center around them. The bikes are set up by the check-in counter, with the consoles facing club members as they enter. Maguire reports they're "a hit" - with younger adults, regular cardio exercisers, couples and even seniors. "Everybody wants to try them," he says.
Even with most of his club's fun and games tucked away in the teens' area, Strayton sees the potential for short- and long-term benefits for the entire membership. "Originally, the Tween Scene was basically a babysitting room for that age group, and the goal was always to eliminate that one obstacle to parents being able to come to the club to exercise," Strayton says. "Now because kids are loving it, they're dragging their parents here. The parents are getting more out of their membership, and the kids are, too. And if they grow up with this kind of interactive stuff, 10 years from now that's what they'll be looking for when they're ready to join a health club on their own. They won't be looking to just sit on a bike and pedal."