Rec departments can prosper as they wage battle against residents' collective bulge.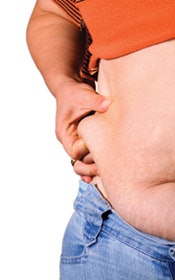 The public works director for the town of North Branford, Conn., who shall remain nameless, hadn't worked out in at least a dozen years, and he wasn't about to start again - certainly not in a public forum.
"He definitely didn't want to do it," says the town's parks and recreation director Pam Gery, referring to a public weight-loss challenge spearheaded by her department. "He scratched and cried. But he finally did join the program, and his whole life changed. He was up every morning, jogging at 4 a.m., because his competitive spirit really kicked in."
The wildly successful weight-loss program served as inspiration for three more and counting in North Bradford, despite the town's modest population of about 14,000 residents. It also represents a bulging trend as nationwide reports of an obesity epidemic and its potential health ramifications abound.
Often, such programs result from public shame caused by the morbidly popular annual reports from both media outlets and science-minded institutions charting the country's "fattest" locales.
"We live in the fattest country in the world, and Mississippi is the fattest state in the nation," says Mark Naylor, director of the Meridian (Miss.) Parks and Recreation department, which has been charged by the mayor's office with launching a citywide program called "Just Lose It, Meridian." The simple campaign - in which residents enroll online at a city web site and provide regular, albeit anonymous, updates of their weight-loss efforts - aims to enlist at least 1,000 residents who will pledge to lose a collective 10,000 pounds (10 pounds each) in a three-month period.
"What's in it for the rec department? Nothing," says Naylor, adding that his department lacks any facilities dedicated to fitness. "The mayor just thought it would be best if a program like this was run by the rec department."
Nothing" isn't always the answer. In fact, city-run weight-loss and fitness campaigns can serve as a boon to a recreation department, especially if that department has some direct involvement with the campaign's marketing and programming.
Take the North Branford weight loss challenges, in which the rec department partnered with a local nutritionist. Residents formed teams of three that paid a $675 fee, with proceeds covering the cost of half-priced individualized nutrition programs, and the remainder going toward the operation of the department's self-funded fitness facility. The program included weekly weigh-ins as well as regular group exercise programs and nutrition-themed lectures. Participants received free memberships to the fitness facility for the duration of the competition, and the teams that shed the most collective pounds by the end of a three-month period were awarded full refunds.
"We wanted people to be introduced to our facility, no doubt, but it was also a way that we could offer our residents a unique new program," Gery says. "I think people in town got really excited. We had neighbors pitted against neighbors. It was so communal."
Gery estimates that 80 to 85 percent of the program participants met their target weight loss goals, "whether seven pounds or 20 pounds," she says. "It's been really successful and really fun." And participants' losses have in some cases translated into the facility's gain, as Gery attributes new memberships to the facility with each incarnation of the program.
Cindy Hunt, recreation supervisor for the Mesa (Ariz.) Parks and Recreation Department, says it's no secret that her department's new fitness campaign is intended to market city facilities, though its primary goal is "to put together some programming that is going to get families out and living a healthy lifestyle."
Last year, Men's Fitness ranked Mesa the 10th "fattest city" in America. "This all started because some colleagues and I were very concerned with childhood obesity in our community," Hunt says. The program - dubbed Fit City Challenge 2008 - will feature monthly events such as walks or bike rides, each taking place at a different indoor or outdoor city facility or park. For example, a swimming event will take place at a city natatorium and the city's amphitheater will serve as the site of a large group exercise workshop.
"Each month is something different," says Hunt. "The challenges are at different venues so that people learn where our parks are and where they can go to regularly participate in recreation and aquatics." There is a fee for the program, and at the end of the year, there will be a raffle with prizes going to families that competed at various levels. The rec department is also obtaining sponsorships, and a department-run health and wellness fair will kick off the event. All of this, Hunt says, is intended to promote the department as a resource for healthy living in the community. "We're trying to get people back into our parks, walking and just being healthy."
Rec departments often find themselves on the periphery of citywide fitness or weight-loss campaigns, which can come down from some higher administrative power, typically the mayor's office. In such circumstances, they may find themselves working alongside other organizations - whether non- or for-profit - that have noticeably different missions.
"We are in a specific arena because we represent public recreation," says Sharon Neylon, outreach coordinator for Madison (Wis.) School and Community Recreation, which has worked alongside other community, fitness and health organizations as part of Madison's "Fit City" campaign. "But there are people representing private industry who are competing for customers." The issue is not necessarily conflicting interests, Neylon says, but rather the arranging of like services within an expansive citywide program. "I think the big issue is coordination."
Neylon says another issue to consider with municipality-wide fitness initiatives is whether the campaign is going to dictate new programming and services from participating organizations. "We came to realize that we don't need to dream up new programs - we don't have to say, 'Gosh, what can we do for Fit City,' " she says. "It's really a matter of getting people plugged into existing programs."
Neylon warns that citywide fitness or weight loss campaigns, however successful in terms of participation, can often miss their target audience - especially if marketed with images of fit-looking people adorned in tight-fitting workout garb.
"It is not the people already at the gyms that have an obesity problem," she notes. "You see all these pictures of people who are already active. We need to change our marketing strategy. What is keeping all those other people from getting off their couches and being active? We need to help them with that and give them options."
Mesa's Hunt likewise says the success of her department's Fit City challenge won't be measured in sheer numbers of participants. "Everyone is getting larger and less active," she says. "We are doing our best to change that."