As prerecorded music gets fans moving during games, some stadiums are experiencing movement, too.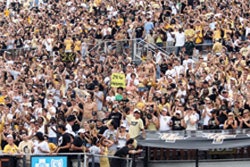 Bright House Networks Stadium has a spring in its steps. The University of Central Florida football team's new home saw sellout and near-sellout crowds watch the Knights win the 2007 Conference USA championship, and many of those 45,000 fans discovered that by jumping up and down in unison, they could cause the stadium's steel structure to heave slightly up and down, too. Particularly pronounced during the public-address playing of "Kernkraft 400," a pulsating techno-pop tune by Zombie Nation, the phenomenon even made for a crude YouTube video - under the heading "The Trampoline."
"There's noticeable movement," Bruce Merrick, chairman of Dant Clayton, the engineering firm that worked on the stadium, told the Orlando Sentinel in November. Visual and electronic monitoring, in place since the stadium's September debut against the University of Texas, has revealed no damage, however.
"Is it a concern? Everything's a concern from the standpoint of operating the stadium," says Joe Hornstein, UCF associate athletic director for communications. "When we saw the fan reaction to the song, the people who built the stadium wanted to know what the impact would be, not just in the present, but 50 years from now."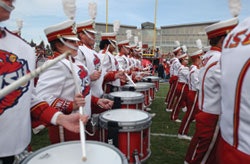 Music has been a huge part of collegiate sports pageantry nearly as long as there have been collegiate sports. But over the past 15 years, prerecorded music has assumed a more prominent role in the game-day entertainment script, and schools with older football venues have seen - and felt - specific music selections rock their houses.
The third-quarter playing of House of Pain's "Jump Around" causes the University of Wisconsin's Camp Randall Stadium, built in 1917, to shake under stress caused by students' literal interpretation of the lyrics. In 2003, the university pulled the plug on the song, but sensory data and computer modeling determined that the popular tradition posed no danger to the stadium, and it was reinstated. To this day, the stadium's press box moves sideways and the front edge of its upper deck moves up and down, but only by one-tenth to two-tenths of an inch - or just enough to be perceptible. "You can really feel it," UW civil and environmental engineering professor Michael Oliva told the Wisconsin State Journal in October. "It definitely is moving. There's no doubt about that." Still, Oliva estimates that it would take five inches of movement to create any structural damage, much less anything approaching collapse.
The UCF situation isn't even the first involving Zombie Nation. During an October 2005 game, Penn State University piped a portion of "Kernkraft 400" over the Beaver Stadium PA system no fewer than nine times, causing concern among university officials for the well-being of the then 45-year-old facility. Its grandstand was promptly outfitted with sensors, and new tunes were worked into PSU's prerecorded music rotation the following season. "Kernkraft 400" was limited to an average of 3.75 plays per game in 2006, according to PSU director of marketing and branding Guido D'Elia, who serves on the committee that selects game-day music. "We were concerned [at] the Ohio State game when you could feel the stadium moving or bouncing, and we cut it back," D'Elia told the Daily Collegian student newspaper at the time.
Central Florida cut back, too, but only because the playing of "Kernkraft 400" was causing damage to Bright House Networks Stadium's new aluminum bench seating. "We replaced a few chair backs during the year," says Hornstein, "but there was nothing that would make us stop playing the song."
According to the Orlando Sentinel, UCF students already refer to "Kernkraft 400" as a "fun tradition" - one that generates feelings on par with a runner's high, even as it sometimes causes worry about the stands coming down. "It's a sense of communal excitement," student Danielle Bennett told the paper. "If they take that away, what else are we going to do, clap and go 'woo hoo' ?"
One reason Iowa State University uses prerecorded music (including "Kernkraft 400" as the Cyclones take the field) is because sound from its marching band, located in the north end zone, doesn't always carry to fans seated on the south side of Jack Trice Stadium. "What I've found is that there are prerecorded songs that get our crowd up, so we use them to build atmosphere," says ISU assistant athletic director for marketing Mary Pink, who personally cues up the tunes during football games - largely based, for the first time last fall, on online poll results. "I view it as a combination of efforts. I definitely think the band adds to the pageantry of game day, but I think prerecorded music also has its place."
At times, the band-versus-canned debate has been taken to extremes. In the mid-1990s, a new basketball coach arrived at the University of Mississippi with the intention of creating an "NBA" atmosphere inside Smith Coliseum, using only computer-generated promos and prerecorded music. Says Ole Miss director of bands David Willson, "We tried it, and the crowd just absolutely revolted."
If you're one to wax nostalgic for the days when marching and pep bands provided the only musical backdrop on collegiate game days, be advised that even that arrangement is no guarantee against fans moving en masse. In the upper deck at the University of South Carolina's Williams-Brice Stadium, known to sway to the Gamecocks' on-field successes - "If it ain't swayin', we ain't playin'," former coach Joe Morrison is credited with saying -vibrations could be felt whenever the USC band struck up The Kingsmen classic "Louie, Louie" during the 1980s. That song has since been silenced because of safety concerns. The Wisconsin band's spin on "You've Said It All," the '70s-era Anheuser Busch beer jingle, caused fans to polka and Camp Randall's upper deck to quake sufficiently that the tune is now played only during the so-called "Fifth Quarter" post-game celebration, when most upper-level seats have emptied.
Potential for such dynamics should be anticipated during the stadium design process, but some existing facilities - including Williams-Brice Stadium - have been retrofitted with additional structural members, bracing or dampers to control vibration. Though rare, the consequences for inaction can be catastrophic. Witness the November collapse of a 56-year-old Brazilian soccer stadium, which killed eight and injured dozens more. "The primary directive of an engineer is to safeguard human life," says Prasad Samarajiva, project manager at Walter P. Moore and Associates, which has done diagnostic work for several schools, including Texas A&M University, where Kyle Field sways with fans singing the "Aggie War Hymn." "Beyond the safety issues, it becomes a business decision. Let's say the total budget for a stadium is $40 million, and just to take care of this problem you have to spend another $10 million. The owner has to weigh the value proposition of doing it. Safety? Absolutely. But when it comes to perception, it's a decision the owner has to make."
While Hornstein insists that UCF athletics administrators remain unmoved by the Bright House Networks Stadium bounce, he hopes that "The Tramp" nickname doesn't see the kind of staying power as, say, "The Swamp" has earned at the University of Florida's Ben Hill Griffin Stadium. "We're not going to fight it," Hornstein says, "but we're not going to perpetuate it."