A high school basketball player with a learning disability is denied his senior season.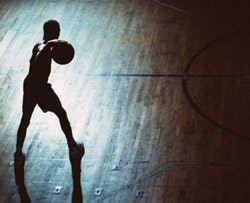 One of the biggest issues facing state high school activities associations is how to review cases involving high school athletes with physical or mental disabilities. For example, activities associations have created a number of rules designed to protect the health and safety of athletes, as well as to ensure fair competition. These include red-shirting regulations, age limitations and restrictions on the number of semesters an athlete can participate in high school athletics. However, with the enactment of federal disabilities legislation, those associations are finding that the line between lawful refusal to extend athletic eligibility requirements and illegal discrimination against individuals with disabilities is getting more blurred all the time. A case study of the issues involved is Newsome v. Mississippi High School Activities Association [2007 U.S. Dist. LEXIS 88478]. Jeremy Newsome was a 19-year-old recent transfer to Nettleton High School when he was diagnosed with a learning disability early in his senior year. As a result of this diagnosis, district administrators, together with his teachers and parents, developed an Individual Education Plan (IEP), as required under the Individuals with Disabilities Education Act (IDEA). Like most federal disabilities laws, the purpose of the IDEA is to increase the educational opportunities available to students with disabilities by providing them free, public education designed to meet their specific needs. In addition to providing students with the same educational opportunities available to other students, the IDEA also requires educational agencies to provide students with disabilities the same nonacademic and extracurricular activities and services [34 C.F.R. § 300.306(a)]. In developing Newsome's IEP, the Nettleton School District recommended that Newsome be allowed to play basketball at Nettleton, as he had at his previous school. The problem, however, at least according to the MHSAA, was that Newsome was regarded as a talented player on the varsity team at his previous high school. Consequently, the MHSAA determined that Newsome's transfer was for athletic reasons and ruled that he was ineligible to play basketball. Newsome sought a temporary restraining order to compel the MHSAA to permit him to play varsity basketball at Nettleton High School. For the Federal District Court for the Northern District of Mississippi to grant Newsome's request, it held that he must meet the standard set forth by the U.S. Court of Appeals, Fifth Circuit in Canal Authority of Florida v. Callaway [489 F.2d 567, 572 (5th Cir. 1974)]. Under the Canal Authority test, the court held that Newsome would have to demonstrate that:
There was a substantial likelihood of success on the merits of the case;
There was a substantial threat that he would suffer irreparable injury for which the law provided no adequate remedy;
The threatened injury to him outweighed any damage that the MHSAA might suffer; and
Granting the order would not disserve the public interest.
Because a temporary restraining order is such an extraordinary remedy, the court held, Newsome's failure to demonstrate any one of the four would be sufficient for the court to deny his motion. The IDEA, which formed the basis for Newsome's claims, establishes certain procedural safeguards, as noted in
Gardner v. School Board of Caddo Parish
[958 F.2d 108, 112 (5th Cir. 1992)], which must be exhausted prior to the filing of a civil action. Failing that, the plaintiff must prove that the exhaustion of those procedural challenges would be futile or inadequate. In this particular case, the court noted that the Mississippi Department of Education Office of Special Education's procedural safeguards require aggrieved parents to provide written notice of a request for a due-process hearing to the local school superintendent and to attend mediation and the due-process hearing. The student and his or her parents may be represented by counsel at these meetings. Once the mediator makes a decision, the losing party has the right to bring a civil action in response to issues raised in the due-process hearing. The court found that since Newsome had failed to provide the school superintendent with a written request for a due-process hearing, he failed to exhaust the procedural challenges available to him. Thus, the court ruled that Newsome had not demonstrated a substantial likelihood of success on the merits of his case. Although that alone was sufficient to defeat Newsome's claim, the court, apparently concerned that its decision might get overturned on appeal, also considered the second factor in the
Canal Authority
test - that if Newsome were denied the opportunity to play basketball, there was a substantial threat that he would suffer irreparable harm. Newsome argued that if he could not play basketball his senior year, his basketball skills and the likelihood of his being offered a college scholarship would be diminished. In rejecting that argument, the court held that such injuries could be compensated via monetary damages. As a result, the court determined that any restraining order would be inappropriate. The court's decision to reject Newsome's motion for a temporary restraining order is noteworthy for a couple of reasons. First, once participation in athletics becomes incorporated into a disabled student's IEP, most courts, citing
T.H. v. Montana High School Association
[CV 92-150-BLG-JFB (1992)], have ruled that the privilege of competing in interscholastic sports is transformed into a federally protected right. By requiring Newsome to exhaust all of the administrative remedies before he has the right to bring a civil action, this court's decision will likely cost him his federally protected right to play high school basketball. As a result, any decision rendered after the season started would likely prove inadequate. Second, the court's ruling that Newsome's injury (not being allowed to play basketball his senior year in high school) could be compensated for with a monetary award ignores the fact that as a senior, Newsome will never get the chance to play high school basketball again. Such a finding runs contrary to the rulings of the majority of courts that have considered the issue - that participation in high school sports is a once-in-a-lifetime opportunity for which no monetary award can compensate.